Vaccination may not fully stop transmission of Delta variant, early analysis suggests
'This may have implications for people's infectiousness, whether they have been vaccinated or not' said Public Health England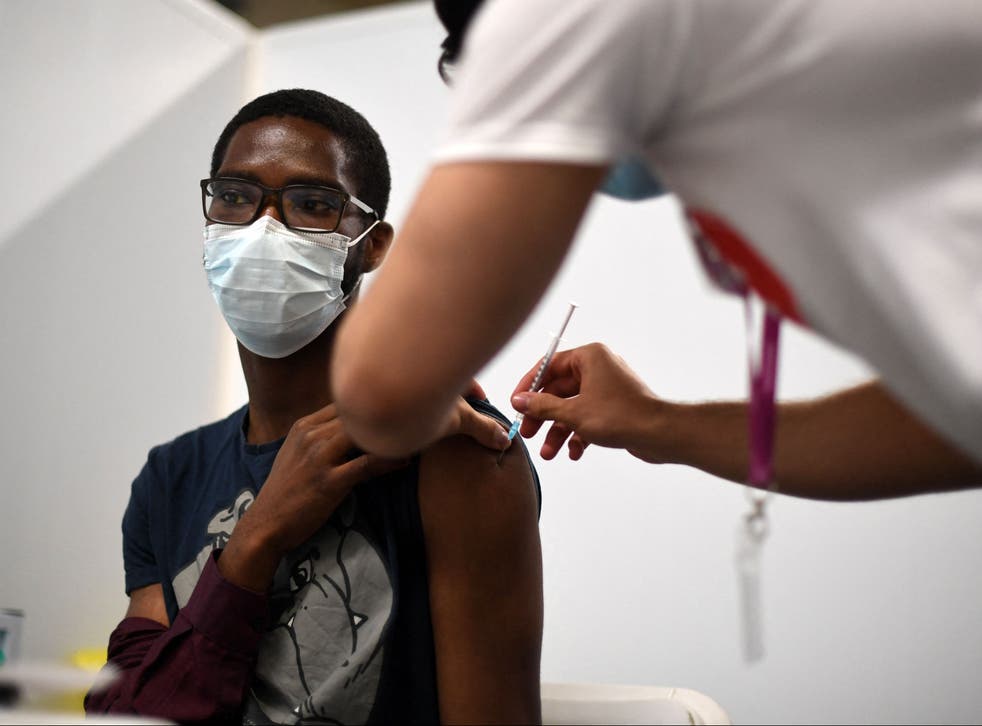 Vaccinated people infected with the Delta coronavirus variant may be able to spread it as easily as those who have yet to be immunised, early analysis suggests.
Although the Covid jabs appears to reduce an individual's overall risk of catching Delta in the first place, if infected there appears to be "limited difference" in the viral load between the vaccinated and unvaccinated, according to new research from Public Health England (PHE).
"This may have implications for people's infectiousness, whether they have been vaccinated or not," said PHE.
The vaccines have been shown to provide good protection against severe disease and death from Delta, especially after two doses, but there is less data on whether vaccinated people can still transmit it to others.
"Some initial findings ... indicate that levels of virus in those who become infected with Delta having already been vaccinated may be similar to levels found in unvaccinated people," PHE said in a statement.
However, PHE said this was "early exploratory analysis" and insisted that "further targeted studies" are needed to determine the extent to which vaccinated people can spread the Delta variant to others.
The findings echo those from the US Centers for Disease Control and Prevention, which last week raised concerns that vaccinated people infected with Delta could, unlike with other variants, readily transmit it.
The Delta variant, which originated in India, remains dominant in the UK and accounts for approximately 99 per cent of cases, the PHE added.
Peter Openshaw, a professor of Experimental Medicine at Imperial College London, said the findings of the PHE analysis were "disappointing".
However, he highlighted research which shows that the virus disappears faster in most people who have been vaccinated. "So the window for transmission may be narrower," he said.
"The vaccine is less effective against Delta than against some other variants, but there are even more evasive variants around in the world. We are keeping a very close eye on these variants, but for the time being you still get a lot of benefit by being double vaccinated."
Dr Simon Clarke, a microbiology professor at Reading University, told Sky News that the study was a "big deal". If vaccination "only blocks transmission by, say, 50 per cent you'll never get herd immunity even with a 100 per cent vaccine uptake," he said, adding that more studies are needed to find "a definitive answer".
Other experts have also warned that herd immunity is unlikely ever to be reached given the ability of the Delta variant to reinfect protected people.
But given the vaccines significantly reduce the severity of an infection, offering high levels of protection against hospitalisation and death, it's likely that the impact of Covid on society will fade with time, according to Paul Hunter, a professor in medicine at the University of East Anglia.
"Covid is here to stay but not as we know it, more like the other coronaviruses which are a cause of the common cold," he said last month.
PHE said that of confirmed Delta cases that had ended up hospitalised since July 19, 55.1 per cent were unvaccinated, while 34.9 per cent had received two doses of a Covid-19 vaccine.
Nearly 75 per cent of the British population has had two vaccine doses, and PHE said that "as more of the population gets vaccinated, we will see a higher relative percentage of vaccinated people in hospital".
Stephen Evans, a professor of pharmacoepidemiology at the London School of Hygiene & Tropical Medicine, said the small number of vaccinated people being submitted to hospital was not an indicator that the jabs do not work, "just that they are not 100 per cent effective".
Separately, PHE said another variant, known as B.1.621, first detected in Colombia, had shown signs of evading the immune response triggered by the Covid vaccines or previous infection.
UK news in pictures

Show all 50
PHE has labelled the variant "under investigation" but has not declared it a "variant of concern" - a designation that can trigger strong policy responses.
"There is preliminary laboratory evidence to suggest that vaccination and previous infection may be less effective at preventing infection with (B.1.621)," it said, adding there had been 37 confirmed cases of the variant in England.
"However, this data is very limited and more research is required. There is no evidence to suggest that (it) is more transmissible than the dominant Delta variant."
Join our new commenting forum
Join thought-provoking conversations, follow other Independent readers and see their replies