132 million-year-old dinosaur fossil found at factory in Surrey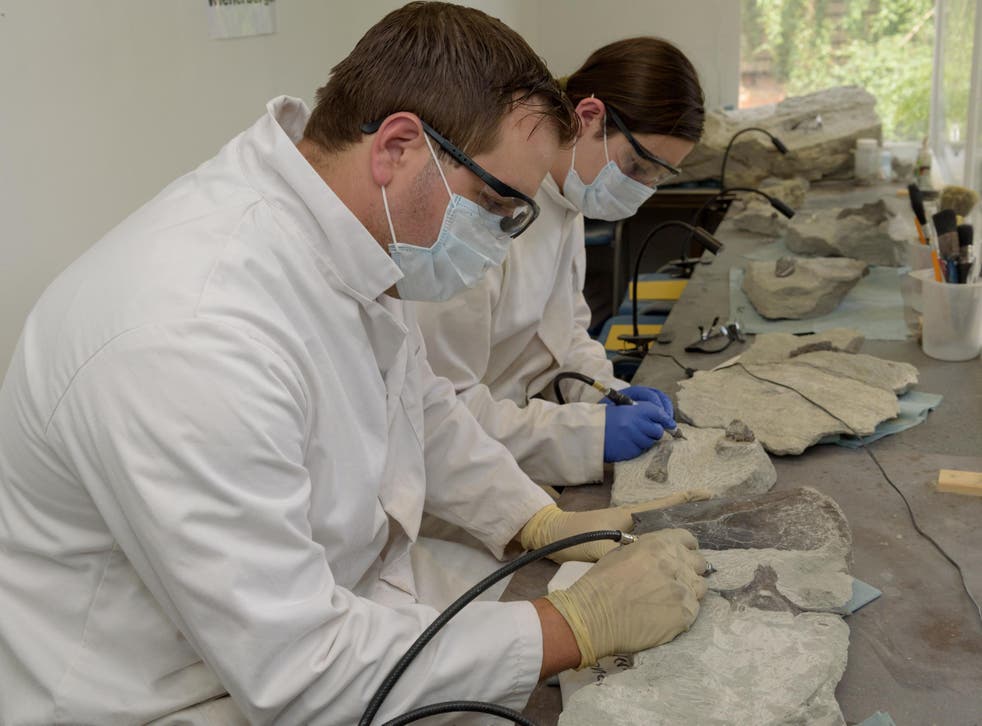 The fossilised skeleton of a dinosaur that lived 132 million years ago has been discovered at a brick factory in Surrey.
Scientists dug up the remains after a routine visit to the Wienerberger quarry in Ewhurst in February, where a bulldozer had dislodged a boulder with a piece of bone sticking out of it.
Palaeontologists Sarah Moore and Jamie Jordan excavated seven blocks of earth over a period of four weeks that contained a near-complete skeleton. They believe they have discovered an iguanodon dinosaur, a herbivore that grew up to three metres tall and 10 metres long.
The reptile weighed some 4.6 tonnes – about the same as an African elephant – and was preyed on by one of England's biggest predators, the baryonyx.
Dubbed Indie, the skeleton is now on public view at the Fossils Galore research centre in Cambridgeshire.
Science news in pictures

Show all 20
"The extraction process wasn't easy. Indie was hidden inside huge compacted clay blocks and was on a slope, making the process difficult at times," Mr Jordan said. "However, due to the hard work of the Fossils Galore volunteers, we were able to extract and transport the remains to our preparation lab where we continue to work on her today.
"We've created a fish bowl lab – a first in the UK – so that people can come and watch as we dust and analyse the findings, as well as asking the experts all about Indie and how she would have lived. Fossils Galore also has a display of living fossil plants in the back area so people can see the sort of things Indie would have eaten. We're truly excited about what these findings can tell us about our history."
Register for free to continue reading
Registration is a free and easy way to support our truly independent journalism
By registering, you will also enjoy limited access to Premium articles, exclusive newsletters, commenting, and virtual events with our leading journalists
Already have an account? sign in
Register for free to continue reading
Registration is a free and easy way to support our truly independent journalism
By registering, you will also enjoy limited access to Premium articles, exclusive newsletters, commenting, and virtual events with our leading journalists
Already have an account? sign in
Join our new commenting forum
Join thought-provoking conversations, follow other Independent readers and see their replies