The Independent's journalism is supported by our readers. When you purchase through links on our site, we may earn commission.
Newly discovered 'rainbow' dinosaur had shiny, colourful feathers like a hummingbird
Microscopic analysis of 160 million-year-old fossil suggests prehistoric reptile had iridescent plumage similar to that found in some modern bird species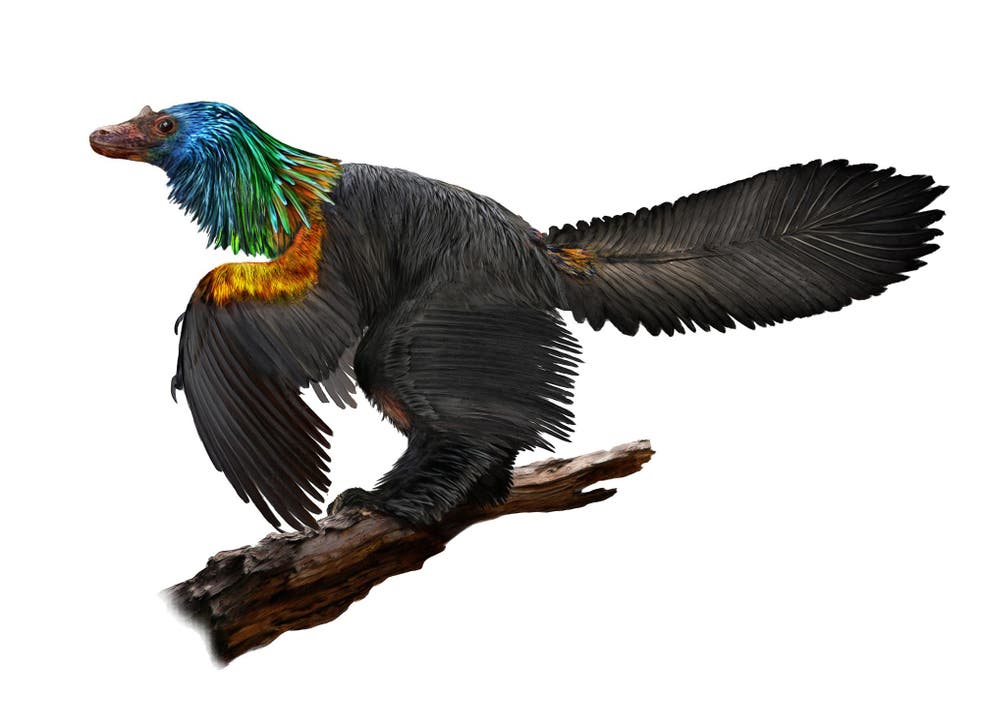 A duck-sized dinosaur found in China had a head and chest covered in shiny feathers similar to those seen on hummingbirds.
The creature has been named Caihong juji, meaning "rainbow with the big crest" in Mandarin.
When palaeontologists analysed a fossil of the dinosaur, first discovered by a farmer in north-eastern China, they found evidence of brightly-coloured plumage.
Iridescent feathers, which are found on some modern bird species, have a metallic sheen and change colour when viewed from different angles, giving them a "rainbow-like" appearance.
"When you look at the fossil record, you normally only see hard parts like bone, but every once in a while soft parts like feathers are preserved and you get a glimpse into the past," said Dr Chad Eliason, a bird researcher at The Field Museum in Chicago and one of the authors of the paper describing the dinosaur.
"The preservation of this dinosaur is incredible; we were really excited when we realised the level of detail we were able to see on the feathers."
Their findings were published in the journal Nature Communications.
When Dr Eliason and his colleagues examined the preserved feathers under a microscope, they could see tiny imprints of cells called melanosomes.
Melanosomes are the cells that contain pigment and give animals their colour.
At around 160 million-years-old, the pigment in the cells had long since degraded, but the scientists were able to determine the dinosaur's appearance based on the structure of the cells.
Comparison of the ancient melanosomes of the Caihong with modern bird species revealed close similarities with the cells responsible for the iridescent plumage seen in hummingbirds.
Iridescent feathers were found covering the dinosaur's head and chest, as well as around the base of its tail.
The skull of the Caihong is similar to that of the Velociraptor, but it also has a bony crest in the middle of its head.
The discovery opens up questions about how iridescence first evolved.
It could be that the Caihong's "rainbow" feathers were used to attract mates, just like modern peacocks use their colourful tails.
"I came out of the project with a whole different set of questions that I wanted answers to," said Dr Eliason.
"When I open up a drawer full of birds in the Field Museum's collections, now I want to know when those iridescent feathers first developed, and how."
Join our new commenting forum
Join thought-provoking conversations, follow other Independent readers and see their replies