Dying chimpanzee recognises old human friend before smiling and embracing him
'I have rarely seen such an admirable character in both humans and apes'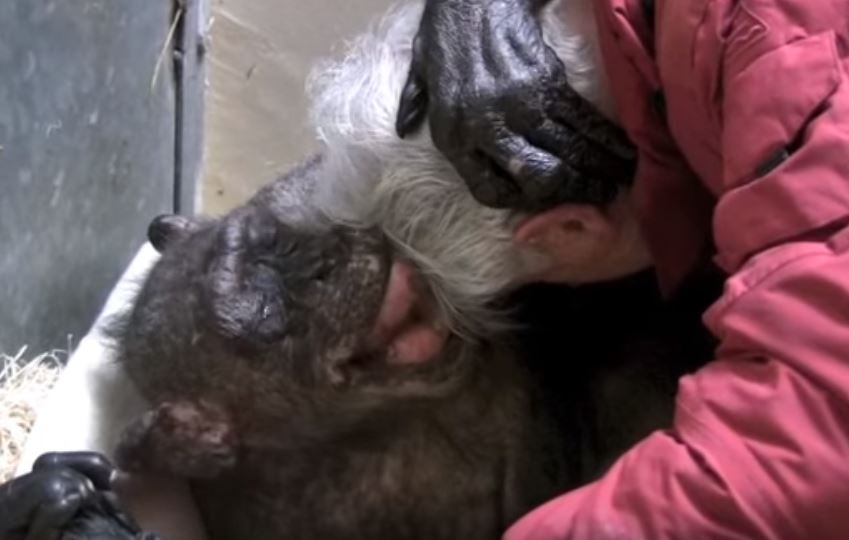 Footage has emerged of the moment a dying chimpanzee appears delighted to see an old human friend one last time.
Mama, a former matriarch of a colony of chimps at Royal Burgers Zoo in Holland, was refusing food from keepers until being visited by professor Jan van Hooff, whom she had known since 1972.
The 59-year-old ape, who had been unresponsive and curled up in a ball, reacted with joy after recognising the professor. Appearing to smile, she touched his face, held the back of his neck and brought his head down to hers.
Mama died just a week later.
Mr van Hooff, a professor in behavioural biology at Utrecht University, co-founded Mama's chimp colony – the first ever to be raised in a zoo - in the 1970s.
She was born in the wild, but became known as the "grand lady" of her colony due to her dominant nature.
After her death, Frans de Waal, a behavioural scientists who worked with Mama, said: "She had an exceptionally strong and dominant personality, so that no man who wanted to come to power could do so around her. She also brought consolation when there were tensions and mediated conflicts.
"She will be sorely missed, also by me, because I have rarely seen such an admirable character in both humans and apes."
Join our commenting forum
Join thought-provoking conversations, follow other Independent readers and see their replies