Some of the first animals to walk on land lived in Antarctica, scientists find
New species of Devonian tetrapod has been named after Desmond Tutu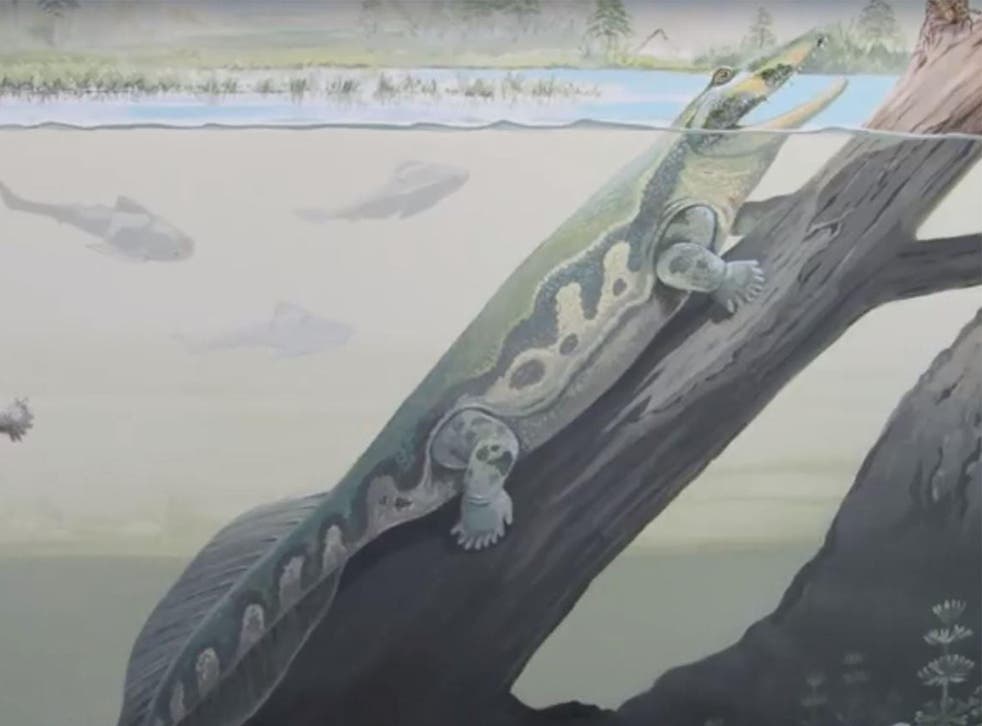 Newly-discovered fossils reveal that some of the first animals to walk on land lived in Antarctica, according to scientists.
The four-legged creatures, described as a cross between a crocodile and a fish, existed during the Devonian period around 360 million years ago.
It was previously thought that these tetrapods originated from tropical environments in Laurussia, the supercontinent that later split up into North America, Greenland and Europe.
But the fossils of two species unearthed in South Africa came from the southernmost part of Gondwana that was then located more than 70 degrees south - inside the Antarctic circle.
Although the area was not frozen at this time - plant fossils show that forests grew nearby - it would have experienced months of complete darkness during winter.
They have been named as Tutusius umlambo, after the late Archbishop Desmond Tutu, and the Umzantsia amazana.
Both appear similar to other Devonian tetrapods, with a crocodile-like head, stubby legs, and a tail with a fish-like fin.
Although the fossils are incomplete, it is estimated that the Tutusius specimen was one metre long.
They are the remains of Africa's earliest known four-legged vertebrates and provide insights into the evolution of our distant ancestors as they moved from water to land.
The fossils suggest that tetrapods lived all over the world during the Devonian period, according to lead author Dr Robert Gess.
"Whereas all previously found Devonian tetrapods came from localities which were in tropical regions during the Devonian, these specimens lived within the Antarctic circle," said Dr Gess.
"So it's possible that they originated anywhere and that they could have moved onto land anywhere. It really broadens the scope of possibilities."
The fossils also provide insights into the evolution of tetrapods from fish during this period.
African fossils hailed as the 'Rosetta Stone of humanity'

Show all 2
Dr Gess said that the Devonian tetrapods "ultimately pioneered the way for our ancestors up out of a dangerous, swampy world into the sunshine and a bright new future".
The discovery was made at Waterloo Farm near Grahamstown in the Eastern Cape after the South African National Roads Agency carried out controlled rock-cutting explosions along the N2 highway.
This cutting exposed dark grey mudstones of the Witpoort Formation that represent an ancient environment of a brackish, tidal river estuary that contains abundant fossils of animals and plants.
The research was supported by the South African DST-NRF Centre of Excellence in Palaeosciences, based at the University of the Witwatersrand and the Millennium Trust.
Join our new commenting forum
Join thought-provoking conversations, follow other Independent readers and see their replies