Elizabeth Holmes: Start-up star touted as Steve Jobs of biotech, but the science may not add up
This American dream looks to be bleeding out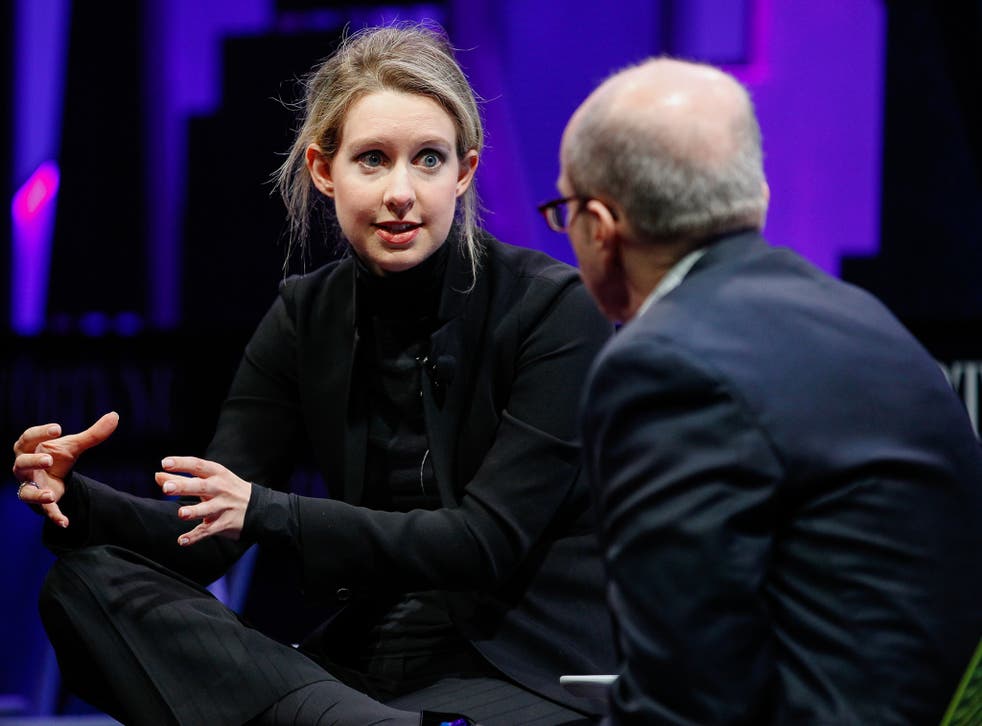 America loves miracles. If they come giftwrapped in a designer black turtleneck, are underwritten with the smile and promise of Silicon Valley technology, and bypass the fable of the churchyard to favour an unquestioning faith in the bible of venture-capital, then all will bow down.
The United States also worships the perfect; and in Elizabeth Holmes, a striking 31-year-old, whose start-up biotech blood-testing company is currently worth $9bn (£5.9bn), the confluence of phenomenon, brand perfection, and driven global saviour have produced a shining entrepreneurial superstar almost worthy of the Nobel committee creating a new prize category just for her.
In the fast-track rush for association with her success, President Barack Obama recently anointed her a United States ambassador for global business. She was brought on to the board of fellows of Harvard Medical School, Time placed her in its list of the 100 most influential people of this year, and the New York Times magazine gushed that she may be "starting a movement to change the health-care paradigm as we know it". Invitations to share her insight and tech wisdom came from the Clinton Global Initiative, the World Economic Forum at Davos, and the respected Ideas Festival in Colorado.
Wearing only the same semiotically heavy dark sweaters favoured by Apple's founder Steve Jobs and offering the not-small promise of "a world in which no-one ever has to say goodbye too soon", Holmes marketed her company, Theranos, as the Palo Alto equivalent of a marriage between St Francis Xavier and Louis Pasteur. Through the use of nano-diagnostic technology, just a finger-prick of blood would end the established practices of venipuncture, and banish the needle from standard phlebotomy. Holmes was offering medicine a game-changer and the company's slogan underlined the revolution it was pioneering: "One tiny drop changes everything."
For a 19-year-old Stanford University School of Engineering dropout, who went on to raise more than $400m in venture capital and 27 US patents in her name, this is the stuff of the American dream; the story of Theranos sounds so good, so uplifting, that it almost can't be true.
The new generation of enterprising entrepreneurs

Show all 6
And that just might be the case.
Just as the New York Times Style Magazine was describing Holmes as one of the US's leading "transformers", claiming Theranos was now running millions of blood tests for private individuals, costing as little as $10, and was offering its lab services in testing centres in California, Arizona and Pennsylvania, along with a national deal with Walgreens (a US equivalent to Boots), an article last month by an investigative journalist at the Wall Street Journal threw an almighty spanner into the works.
Insiders at Theranos claimed the wizard technology pushing the company towards a revaluation above $10bn was being used in just a fraction of the tests that were being bought across the US by consumers. Other serious issues inside Holmes' company also appeared to expose the performance and claims made for its innovative technology.
One former employee alleged in the WSJ that there had been manipulation – which Theranos has denied – of the proficiency-testing processes inside the company, which, if true, would violate regulatory rules for this highly competitive billion-dollar sector of US health care. Suddenly, with the jury out and hard-nosed commercial scepticism rushing in, Theranos needed to explain just what the hell was going on and if there was any truth in what the WSJ was saying.
Although Holmes' company website still looks to be in miracle mode – claiming "whether it's a few drops collected with a finger-stick, or the smallest venous drawn sample possible, Theranos tests mean less blood, an easier process, and a clear difference" – they were effectively pushed to disclose that Theranos would be scaling back its finger-prick method of collecting blood samples and acknowledge that only a limited number of tests using microsamples were going ahead. Following this initial disclosure, the company admitted that it had temporarily stopped using the technology that had brought Holmes fame and fortune. The proprietary method was not, however, being totally put on hold. It was still being used – to test for herpes.
As Holmes created Theranos and effectively is Theranos, the industry, investors, regulators, all expected her to launch an offensive defence, which she did. At a tech conference in Laguna Beach, just south of Los Angeles, she told delegates: "We know what we're doing and we're proud of it. We know the facts, and we know the integrity of what we've done."
She denied her company had simply fallen back and resorted to the use of the old technology it had previously dismissed, insisting that Theranos had "voluntarily" sought the official approval of the Food and Drug Administration (FDA), which was why her company was not using its new-era regime for all its blood tests. She laid down this gauntlet to her detractors, stating: "You don't do that if your data isn't good." She claimed the WSJ contained "misinformation", and had looked at so-called "damaging" emails which had been taken out of context.
Initial inspections of Theranos by the FDA last summer produced reports that finally saw light of day at the end of last month. Their content was not the rousing approval expected from a billion-dollar corporation on the cutting edge of medical science. The reports concluded that Theranos's miniature blood containers called "nanotainers" were not medically approved devices for tests beyond herpes.
The reports did not seem to panic Holmes. Her company issued a statement saying it would be "working" with the FDA for clearance. At another conference sponsored by the wealthy group of specialist hospitals based in north Ohio, the Cleveland Clinic, who this year formed a strategic alliance with Theranos, Holmes said her company would shortly be publishing new data which would validate the accuracy and reliability of its tests. She claimed this "data" would be more powerful than simply trying to rebut the negative articles that were now appearing across the US media. "Data is a powerful thing, because it speaks for itself," she said.
If that offensive strategy was based on the advice of crisis management specialists, it didn't work. Walgreens put on hold new testing centres that it had been planning to open, stating it would be re-examining Theranos's technology. This week it was reported that a $350m deal with the Safeway chain of supermarkets to put blood-testing clinics in 800 of its stores had fallen apart. It was alleged that some Safeway executives had questioned the accuracy of Theranos's results. Theranos said that this was not the case and said of claims that Safeway had exited a deal: "This information is inaccurate and misleading."
Regardless of the commercial combat that is now taking place between Holmes and critics who claim the reputation of Theranos is based on little more than a Palo Alto update of snake-oil and smoke and mirrors, the key question remains: how does a company, which claims it leads its industry in "transparency and quality", come to be valued at a staggering $9bn before its secret, step-changing technology has either been fully evaluated and verified by the FDA or there is published open data that can be tested and re-tested in peer-reviewed medical and scientific journals? These steps are regarded as standard practice in any innovation connected with medicine that can affect life or death. The answer lies somewhere between the conventional marketing wisdom that all you have to do to succeed is get people's attention, and what is now called the "Silicon Valley playbook".
Elizabeth Holmes did more than get the White House's attention, get Henry Kissinger and George Schultz to sit on her company's board, get the New York Times to claim she was standing up to law-makers and giving individuals fundamental rights to access health-care information. Holmes was doing what Hollywood and allied dream factories do best – she was offering more than just a new product, she was delivering a great story. As JK Rowling points out: "There's always room for a story that transports people to another place."
Steve Jobs' story is currently in cinemas with a script by Aaron Sorkin. It's a Palo Alto epistle and gospel that will resonate with those trying to figure out and decode Holmes as the latest evangelical tech messenger. Michael Cherny, an investment bank analyst, was among the first sceptics of the Theranos tale, who pointed out technical aspects he was uncomfortable with. His foundation fear was that everything was too perfect, too well-packaged. At the centre of this perfection is Holmes herself.
Jobs didn't need to tick any boxes in the Palo Alto playbook, simply because he created and lived it. The regime will be familiar enough to those who worship at the Apple altar: drop out of a top US college; don't let detractors get in the way of a seemingly unobtainable goal; deliver brand recognition by the serial use of minimalist, Zen-inspired black clothing; blur the difference between commercial success and improving humanity; and go far beyond mere customer loyalty using a cocktail of hyper-marketed belief and faith.
Last May, addressing graduates at Pepperdine University, Holmes – wearing one of her 150 black turtlenecks under an academic gown – was in full missionary mode. Sounding more Nelson Mandela than Bill Gates, she received an honorary doctorate of humane letters, telling the graduate class: "Do what you are afraid to do. Watch and you'll be amazed at how many people want to walk with you. It will be a dream day. Do not be afraid to do the hard things in this world. All we need is what is already within us." Her quasi-religious sermon was that courage, plus innovation, equals miracles.
Facebook's founder, Mark Zuckerberg, another Palo Alto billionaire, puts less store in the spiritual. Easing out Gandhi in favour of Mad Men, he said the product he created in his Harvard dorm was mostly about "building an image", giving people the opportunity to create their own brand. He said Facebook was about wanting to connect with an audience.
The Theranos website could easily be mistaken for the United Nations or the World Health Organisation. It contains the message that Ms Holmes is among "celebrated global women leaders", an "iron woman" who has pledged to break down the barriers of science, technology, engineering, mathematics and leadership.
When it focuses on what is on offer, it says its labs "extend our mission to make actionable health information accessible at the time it matters". It claims to have worked with over 9,000 physicians, with a certified clinical laboratory whose proficiency testing met or surpassed goals 99.5 per cent of the time for College of American Physicians (Cap) assays.
The Theranos test menu includes: amphetamines ($10), cancer antigen 125 ($14.31), chlamydia/gonorrhea panel, DNA ($24.12), cholestoral ($2.99), ecstasy ($10), and growth hormone HGH ($11.47). There are tests for hepatitis, HIV, marijuana, opiates, rubella, stool culture, syphilis, testosterone, toxoplasma and urine culture. Hundreds of tests are all carefully priced, because, as the company states: "You wouldn't go to a grocery that didn't have price tags. Why should getting a blood test be any different?"
But how do you get from this to $9bn? A book written in 1841 offers some insight. Charles MacKay's Extraordinary Popular Delusions warned that whole communities could suddenly fix their minds on one object, and go mad in its pursuit. He wrote that millions of people can become simultaneously impressed with one delusion, "till their attention is caught by some new folly more captivating than the first".
Apple's products all work and get round the problem of the next big thing by regularly creating it themselves. Holmes may have the story, the image and the tidy blonde look of youth challenging convention, but ultimately Theranos's products are not about consumer entertainment. As Tony Hancock joked in his famous "Blood Donor" television sketch: "It might be a smear to you, but it's life and death to some poor wretch."
With medicine and science intolerant of miracles, Theranos and Holmes are now at a crunch point. After years of awards, funding and fame, but little scrutiny, suddenly proof and hard, cold scientific logic are in play.
The lack of medical science expertise on its board, pointed out by the WSJ, has now, the company insists, been addressed. The two former US Secretaries of State, Kissinger and Schultz, have been reduced to "counsellors". The New York Times noted that the old board of 12 was now a slimline group of five governors that nevertheless still included a construction executive, a retired US Marine Corp general and a lawyer.
Theranos has also recently advertised for a new laboratory director. The current boss, Dr Sunil Dhawan, meets the California and federal requirements to head a lab, but his background in clinical dermatology, rather than in pathology or medical research, means that the under-attack company has to close any weak link.
So what will happen to Ms Holmes? If the FDA or the big medical journals rip into Theranos's box of tricks and find the company's claims have been exaggerated and over-sold, then Holmes has two options: she could salvage what she can and take her black-sweatered nous into another tech field. The US, unlike the UK, doesn't always bury those who fail. Or she could acknowledge that Theranos got its focus on minimally invasive diagnostics right, but just got over-ambitious too quickly.
The latter sounds unlikely for someone who claims that one of her favourite books is Will Durant's The Story of Civilisation. She once noted: "I've been fascinated and inspired by reading books about history, because there's so much wisdom in understanding how these great people and great leaders built organisations, led groups of people and effected change." If she was referring to her own legend, now may be a good time for her to rethink.
Join our new commenting forum
Join thought-provoking conversations, follow other Independent readers and see their replies