Elon Musk says we can still go and live on Mars despite scientific paper suggesting it is impossible
The SpaceX founder has suggested dropping a thermonuclear weapon on the planet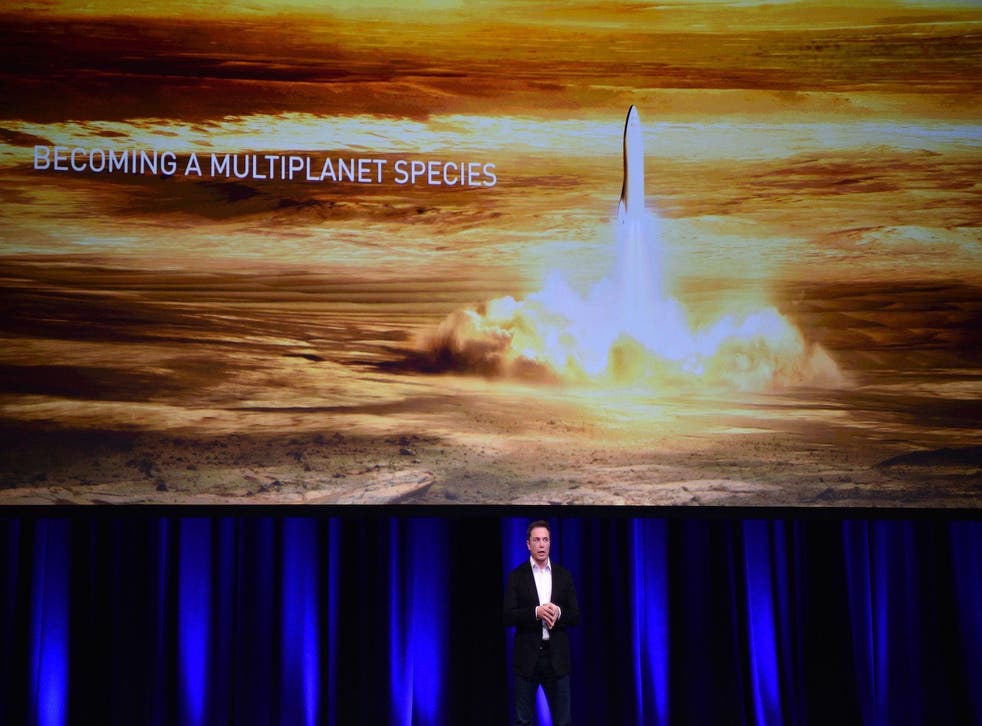 Elon Musk wants to go and live on Mars – and he is not going to let new scientific findings stop him.
The SpaceX and Tesla founder's dreams of terraforming and colonising Mars appeared to have come crashing to a halt this week, when scientists revealed a detailed study making clear there would not be enough carbon dioxide to create the atmosphere needed for humans.
But Mr Musk has once again denied the findings of qualified experts and suggested that the new paper does not undermine his plan to go and live on the red planet. He is one of the many people to suggest that we need to look to live on Mars – and that to do so we may have to terraform the planet by dropping a thermonuclear weapon onto it.
Nasa's most stunning pictures of space

Show all 30
The new paper, published in Nature Astronomy, looked to find whether there was enough carbon dioxide in the various pockets that have been identified on Mars to terraform the planet and give it a new atmosphere that could support us. It found that there was far from enough – only a fiftieth of what is needed, and would only be able to raise the surface temperature by less than 10 degrees Celsius, the authors wrote.
But Mr Musk said that the findings of the study were wrong and that there was more carbon dioxide waiting on Mars than the researchers had realised.
"There's a massive amount of CO2 on Mars adsorbed into soil that'd be released upon heating," Mr Musk wrote. "With enough energy via artificial or natural (sun) fusion, you can terraform almost any large, rocky body."
After being questioned over that claim, Mr Musk linked to a 1993 research paper that explored the possibilities of creating an Earth-like environment on Mars. Someone claiming to be an author on that paper then joined the conversation, to suggest that Mr Musk is right and that Mars could still be terraformed using carbon dioxide from the soil.
Scientists expect to learn much more about the soil, water and carbon dioxide on Mars in coming years, as yet more spacecraft head to the red planet.
Register for free to continue reading
Registration is a free and easy way to support our truly independent journalism
By registering, you will also enjoy limited access to Premium articles, exclusive newsletters, commenting, and virtual events with our leading journalists
Already have an account? sign in
Register for free to continue reading
Registration is a free and easy way to support our truly independent journalism
By registering, you will also enjoy limited access to Premium articles, exclusive newsletters, commenting, and virtual events with our leading journalists
Already have an account? sign in
Join our new commenting forum
Join thought-provoking conversations, follow other Independent readers and see their replies