Missing toy dog launched into space by Morecambe Bay schoolchildren sparks search campaign
Sam the Dog could be anywhere within a 40 to 50-mile radius of Burnley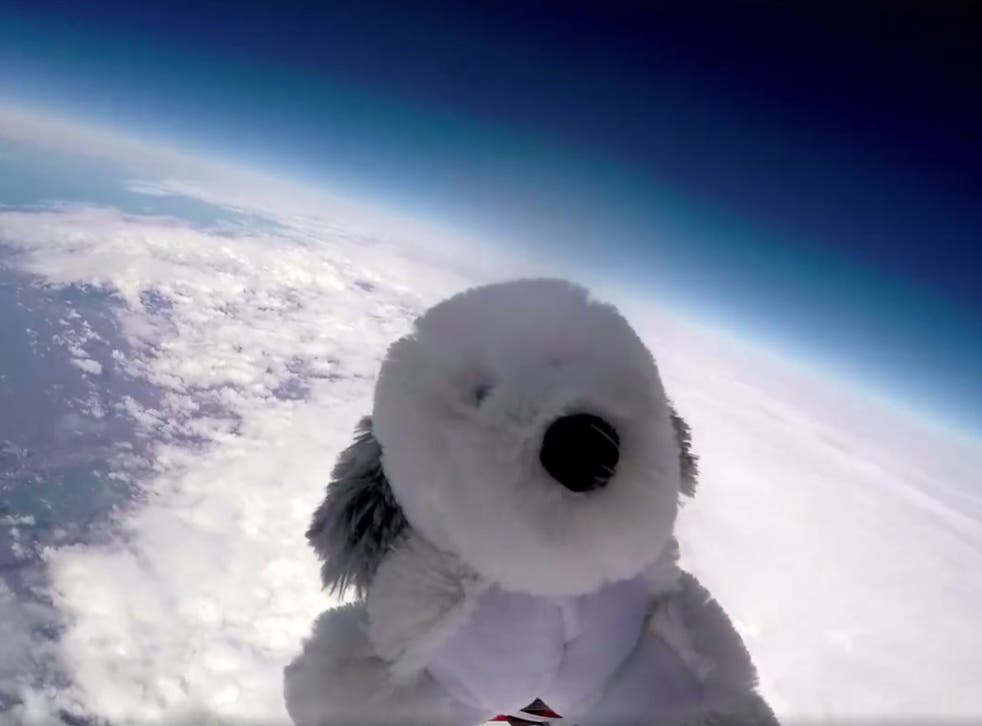 A group of schoolchildren are searching for a toy dog which went missing after they launched it into space.
As part of a science project, the pupils from Morecambe Bay Community Primary School used a giant helium balloon to see if they could send Sam the Dog, a cuddly toy mascot, to the edge of space.
With the aid of SentIntoSpace, a British company which specialises in such projects, they strapped Sam onto his spacecraft, along with a GPS tracker and a GoPro camera to capture the action.

The 'launch', which took place on 5 April at a hotel in the town, proved successful. Sam rose at a stately pace of 6 metres per second, eventually peaking at a height of 15 miles.
However, the problems began during his descent. The balloon popped and Sam's spacecraft plummeted to Earth, eventually landing in a field near Burnley, over 30 miles away from the launchpad. The GPS and camera were there, but Sam was nowhere to be seen.
Now, the school has mounted a campaign to find the dog, who could be anywhere within a 40 to 50-mile radius of the landing site.
Such a large radius means Sam could potentially have ended up in the Irish Sea - however, the team behind the launch say they are "confident" that he landed inland.
This still leaves them with quite a search, since the potential landing area stretches from Liverpool to York, taking in Sheffield and the Yorkshire Dales at the same time.
Twitter users are being urged to take part in the #FindSam hashtag as the search goes on, and anyone with information is asked to get in touch with Morcambe Bay's Midland Hotel.
As if a school full of sad children wasn't reason enough to go out and search for Sam, the person who finds him will win a complimentary stay at the hotel.
Join our new commenting forum
Join thought-provoking conversations, follow other Independent readers and see their replies