The Independent's journalism is supported by our readers. When you purchase through links on our site, we may earn commission.
Bizarre-looking 'fish with legs' found in New Zealand
Experts believe the strange creature is a frogfish, although they can't be sure until it's examined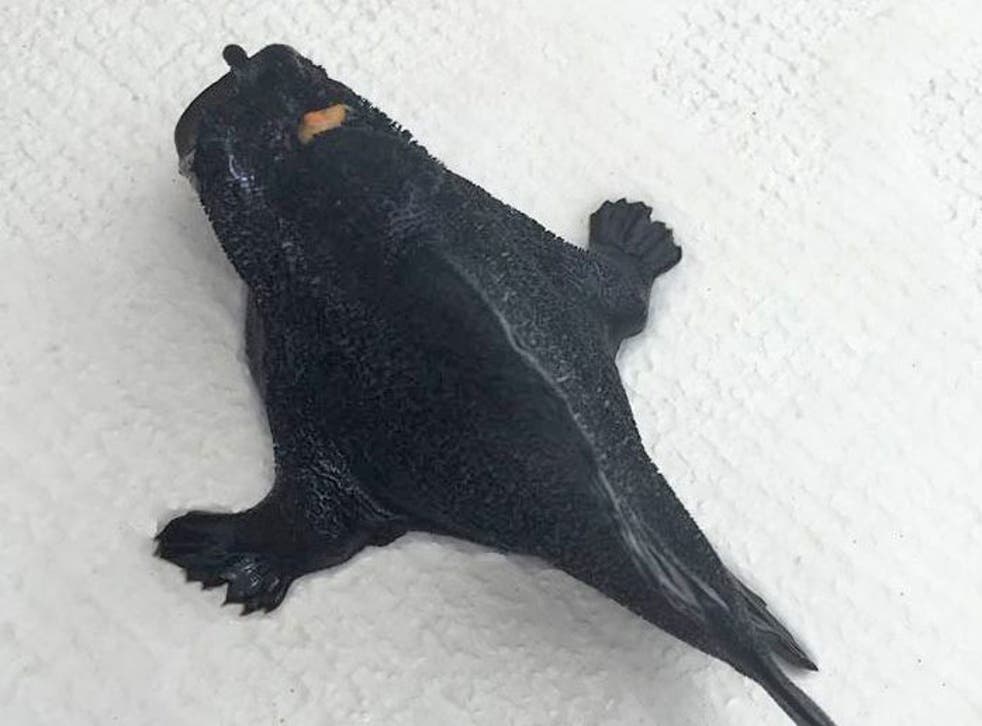 A bizarre creature that appears to be a fish with legs has been found in New Zealand.
The fish, a black, spiny-skinned animal, has two fins on either side of its body. However, rather than being attached close to the abdomen, the fins are turned down and stretched out, looking like two feet that could propel the fish along the sea bed.
The animal was found in the Bay of Islands area in the far north of New Zealand's North Island, in shallow water close to the shore.
The fish was picked out of the ocean by wildlife enthusiasts, and at sent the the Museum of New Zealand Te Papa Tongarewa in Wellington, in order to be examined by experts.
Posting a picture of the fish on Facebook, the museum said the "weird creature" is likely to be a species of frogfish, but its true identity will not be known until examinations have finished.
Frogfish are found all over the world, but a number of different species exist.
Typically covered in tiny spines to help camouflage themselves, frogfish have an extremely powerful bite - the fastest of any invertebrate animal on earth.
As the museum noted, their mouths open underwater at a speed almost equal to that of a flying bullet.
The rarest animals in the world

Show all 23
It would make sense if the unusual animal was a frogfish, as the species are known for their leg-like fins which they use to crawl around on the ocean floor, preferring this method of movement to swimming.
Unfortunately, the unfortunate fish died after it was taken out of the water, but hopefully it should make a good exhibit for the museum in the years to come.
Register for free to continue reading
Registration is a free and easy way to support our truly independent journalism
By registering, you will also enjoy limited access to Premium articles, exclusive newsletters, commenting, and virtual events with our leading journalists
Already have an account? sign in
Register for free to continue reading
Registration is a free and easy way to support our truly independent journalism
By registering, you will also enjoy limited access to Premium articles, exclusive newsletters, commenting, and virtual events with our leading journalists
Already have an account? sign in
Join our new commenting forum
Join thought-provoking conversations, follow other Independent readers and see their replies