Food really does taste better when it looks good, scientists claim
A salad version of Wassily Kandinsky's Painting Number 201 was tested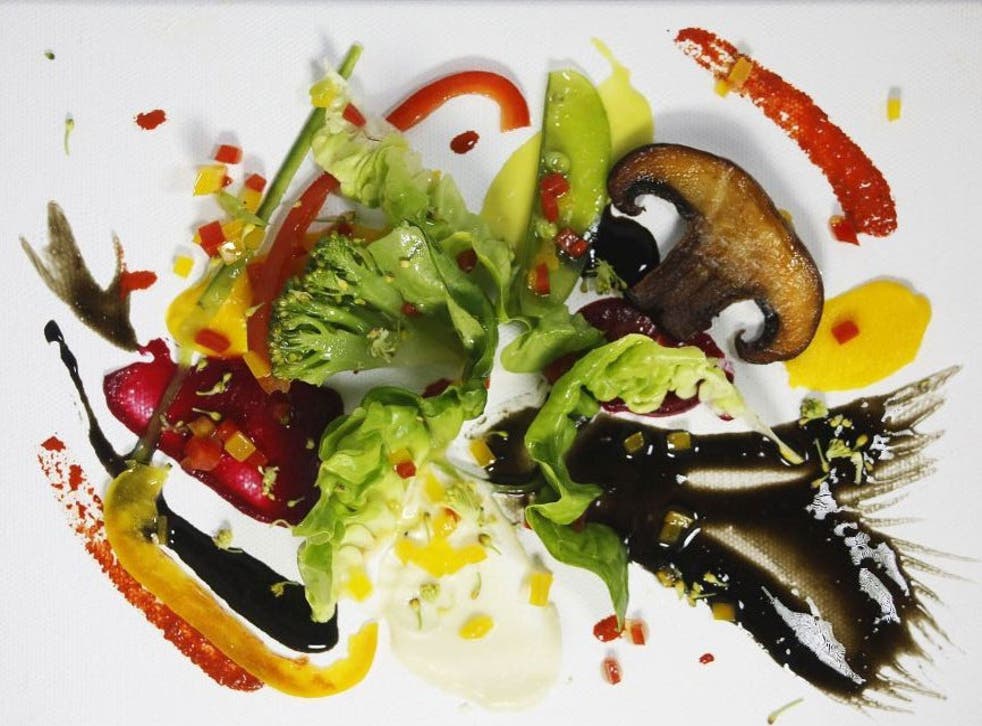 Scientists have finally proved that food tastes better when it looks good – and the trick even works on salad.
An abstract painting was used as the model by psychologists testing the theory.
People preferred the flavour of the artistic dish over the same ingredients jumbled together or placed neatly but uncreatively on a plate.
The 60 volunteers, aged 18 to 58, also said they would be willing to pay more for the salad based on Russian artist Wassily Kandinsky's Painting Number 201.
The research was led by Professor Charles Spence, from Oxford University's Department of Experimental Psychology.
A report in the journal Flavour concluded: "Eating the food led to an increase in ratings of the tastiness of the food in the case of the art-inspired dish, likely showing that the aesthetic value of this visual arrangement made the food more enjoyable to eat.
"The results of the study… provide evidence for the idea that there are differences in the expectations and consumption experience of a dish as a result of the various elements having been artistically arranged on the plate.
"Diners intuitively attribute an artistic value to the food, find it more complex, and like it more when the culinary elements are arranged to look like an abstract-art painting."
In pictures: Food porn - the dishes that look almost too good to eat

Show all 13
The salad included of a total of 30 ingredients, including Portobello mushrooms, broccoli, endive, red and yellow peppers, cauliflower, and mange-tout.
It also featured a variety of sauces, such as beetroot and carrot puree, cauliflower and lemongrass creme and mushroom essence with squid ink.
Jozef Youssef, a chef and food scientist who founded the experimental gastronomy project Kitchen Theory, contributed to the experiment.
Inspired by the results, he and staff from publishing house BioMed Central created a range of other dishes inspired by famous works from artists including Picasso, Magritte and Rothko.
Charles Michel, a freelance chef and researcher with the Oxford team, said: "Using artistic inspiration in the design of the culinary experience, even when used implicitly, can indeed enhance the enjoyment of food."
Additional reporting by PA
Join our new commenting forum
Join thought-provoking conversations, follow other Independent readers and see their replies