Dinosaur-era shark with snake's head and 300 teeth found off Portuguese coast
Species dates back 80 million years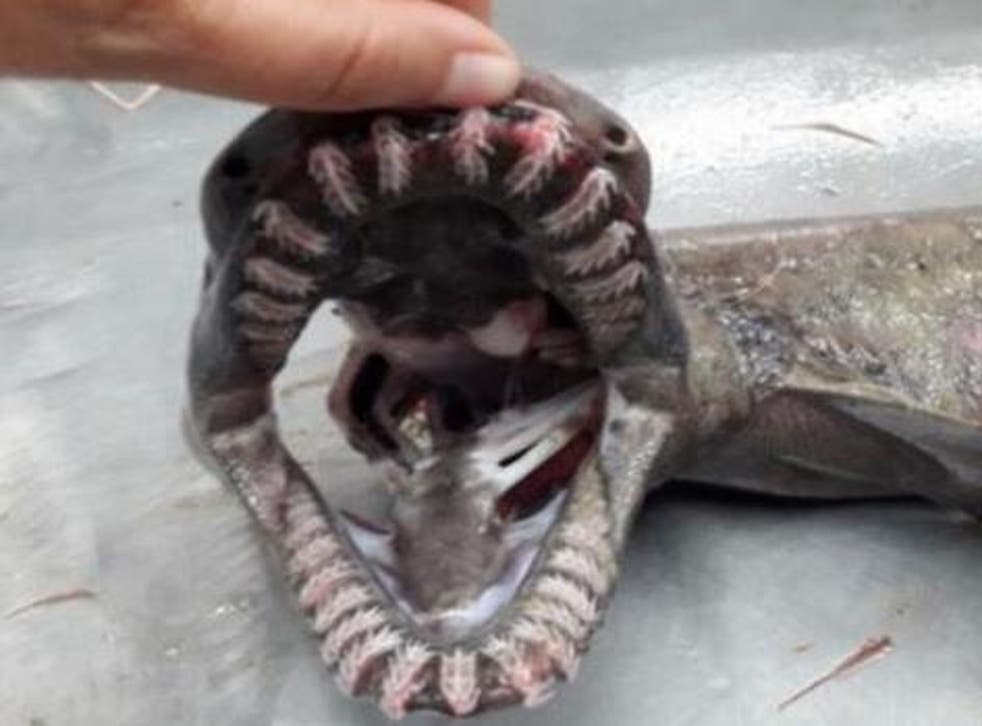 Scientists have discovered a dinosaur-era shark with 300 teeth and a snake's head off the Portuguese coast.
The frilled shark was caught by a trawler during a research project on how to minimise unwanted catches during commercial fishing, according to Sic Noticias TV.
The rare species dates back 80 million years.
While its peers, such as the Tyrannosaurus rex and triceratops, died out long ago, this shark, with its frilled teeth and long, slim body still swims at great depths of at least 700 metres (2,300 feet).
Beware the Bobbit - Blue Planet exhibits an absolutely savage carnivorous seaworm
Professor Margarida Castro of the University of the Algarve told Sic Noticias that the shark has 300 teeth, "which allows it to trap squid, fish and other sharks in sudden lunges".
According to the Institute for the Sea and Atmosphere, the captured shark measured 1.5 m in length and was swimming off the Algarve coast.
The shark usually lives in the Atlantic and in waters near Australia, New Zealand and Japan, as reported by the BBC. At such depths the shark is in constant darkness, crushing pressure and extremely cold temperatures.
Science news in pictures

Show all 20
It is not known why this species has survived when other prehistoric creatures have not. It has also been speculated that the frilled shark influenced 19th century sailors' stories of sea serpents.
Scientists have made other unusual discoveries in recent years including a long, toothy eel – likely a member of the snake-eel Opichthidae family – that was found washed up and decomposing on a Texas beach.
A man in Perth also recently found a sea squirt, or compound ascidian, resembling an animal's tongue, but which acts as a colony for small animals called zooids which feed and live together.
International researchers pulled up a range of deep-sea creatures earlier this year off the coast of Australia, including the toothy "faceless fish", a thorny red crab and a blue-eyed coffinfish that lures prey by dangling fluffy bait on top of its head.
Experts say more than 90 per cent of the world's deep waters remain unexplored.
Join our new commenting forum
Join thought-provoking conversations, follow other Independent readers and see their replies