The Independent's journalism is supported by our readers. When you purchase through links on our site, we may earn commission.
Giant penguin fossil found by palaeontologists in New Zealand
Discovery provides clues about the evolution of the large diving birds
Josh Gabbatiss
Science Correspondent
Thursday 14 December 2017 02:16 Comments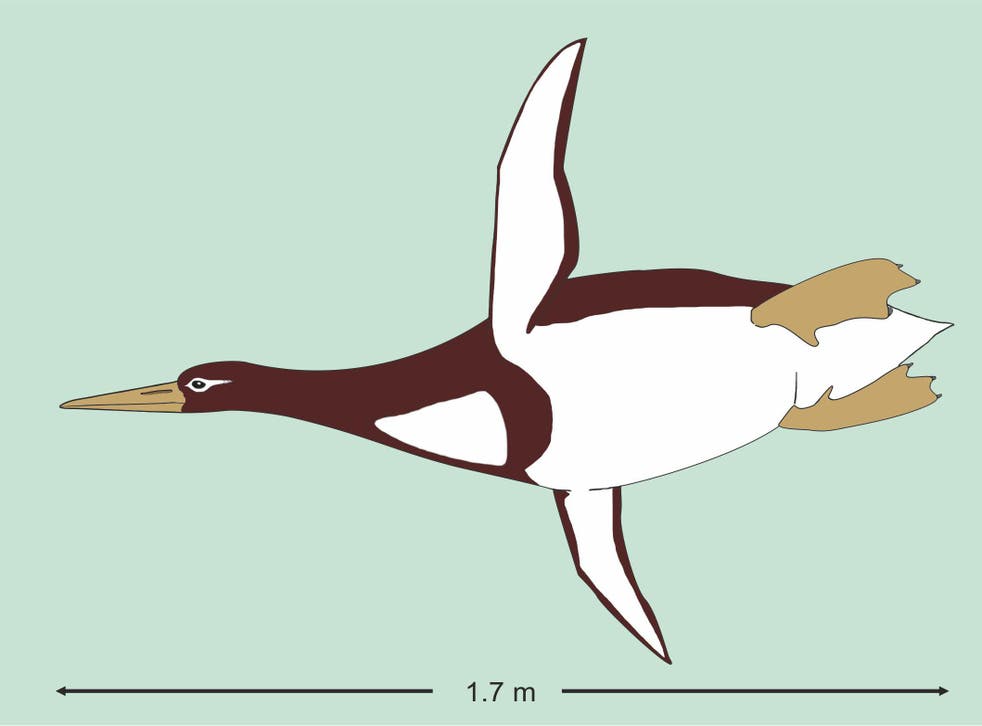 Bones belonging to an extinct species of giant penguin have been unearthed in New Zealand.
Based on available parts of the bird's skeleton, researchers who analysed the fossils estimate it stood at least as tall as man, at around 1.77 metres.
The new species, named Kumimanu biceae, lived around 60 million years ago, making it one of the oldest known types of penguin.
The remains, which are documented in the Nature Communications journal, provides new insights into the evolution of the penguin lineage.
This specimen is not the first giant penguin to be unearthed. In fact, "gigantism" – the evolution of great size – is common in the penguin family tree.
Remains of other large penguins, including one as tall as 2 metres, have been found in Antarctica, Australia and New Zealand.
The specimen's age has led the researchers to conclude that the penguin lineage evolved to be large multiple times, as this species appears to be quite distinct from penguins that appeared more recently in evolutionary history.
The discovery of this new species, combined with previous knowledge of the fossil record, has led the scientists to conclude that penguins evolved to be large shortly after they gave up on flight and took to the water.
Giant penguins appear to have become common following the end of the age of dinosaurs, as around this time predatory marine reptiles also became extinct.
Science news in pictures

Show all 20
This could have allowed penguins to occupy the positions in the food chain left vacant.
The demise of giant penguins, on the other hand, coincided with the emergence of whales and seals, which may have competed with them for resources.
However, the reasons for the gradual evolutionary shrinking of these birds in more recent times are still unclear.
Register for free to continue reading
Registration is a free and easy way to support our truly independent journalism
By registering, you will also enjoy limited access to Premium articles, exclusive newsletters, commenting, and virtual events with our leading journalists
Already have an account? sign in
Join our new commenting forum
Join thought-provoking conversations, follow other Independent readers and see their replies