The Independent's journalism is supported by our readers. When you purchase through links on our site, we may earn commission.
Scientists in China conduct 'successful' head transplant on rat
The animals survived for around 36 hours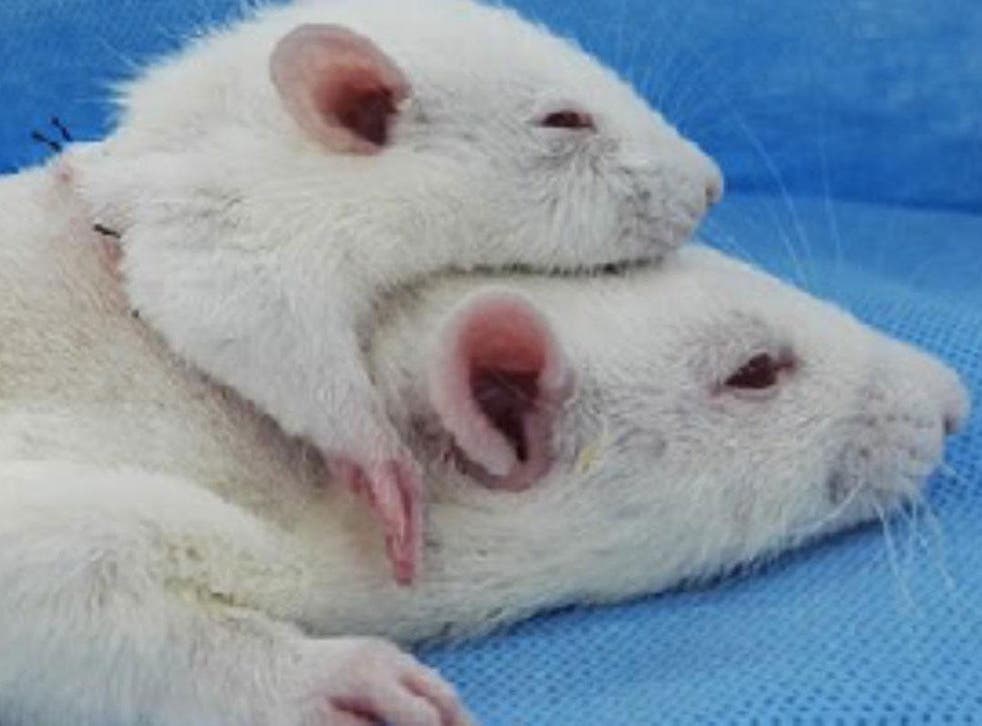 Scientists in China claim to have conducted a successful head transplant on a rat.
Controversial surgeon Sergio Canavero and colleague Xiaoping Ren attached the head of a smaller rat onto a larger one while maintaining the brain activity of the donor.
A third rat was used to keep up blood pressure on the rats being operated on, which otherwise would have been catastrophic and killed the animals.
First human head transplant - interview with Professor Sergio Canavero
The experiment was repeated on a number of other rats. Most only survived for around 36 hours after the procedure.
But it was hailed as a success by Dr Canavero because its goal was to avoid major blood loss.
Images of the rats appear to show the donor's front paws and head stitched to the upper neck of the recipient rat.
Dr Canavero has previously conducted a similar experiment on a dog, in which its spinal cord was severed, but it is unknown how long it survived for.
Last year, he claimed to have successfully carried out a head transplant on a monkey, which survived for 20 hours before being euthanised for ethical reasons.
Despite the poor survival rate of the rats, Dr Canavero maintained the experiment was a crucial step forward towards head transplants on humans.
But other neurosurgeons have disputed this claim. Responding to the dog experiment, neuroscientist at Case Western Reserve University Jerry Silver told the New Scientist: "These papers do not support moving forward in humans."
Dr Canavero has announced he and Dr Xiaoping will attempt to carry out the first head transplant later this year in Harbin, China.
He first announced his intention to carry out the procedure in 2013 and has been encouraged by his latest success.
A Russian man with the degenerative Werdnig-Hoffman's disease named Valery Spiridonov was going to undergo the procedure but Dr Canavero has now said a Chinese citizen will undergo the process.
In a statement, Dr Canavero said a "high number of volunteers from all over the world came forward".
Science news in pictures

Show all 20
He added: "The final decision is only made immediately prior to the operation, as it also depends on the body donor, who has to be compatible with the receiver in many ways."
Other scientists have strongly criticised the plan.
"I would not wish this on anyone," said Dr Hunt Batjer, the president of the American Association for Neurological Surgeons, in 2015. "I would not allow anyone to do it to me as there are a lot of things worse than death."
Join our new commenting forum
Join thought-provoking conversations, follow other Independent readers and see their replies