Human ancestors may have walked like people far earlier than previously thought
'It kicks us out of this old paradigm of thinking about human evolution'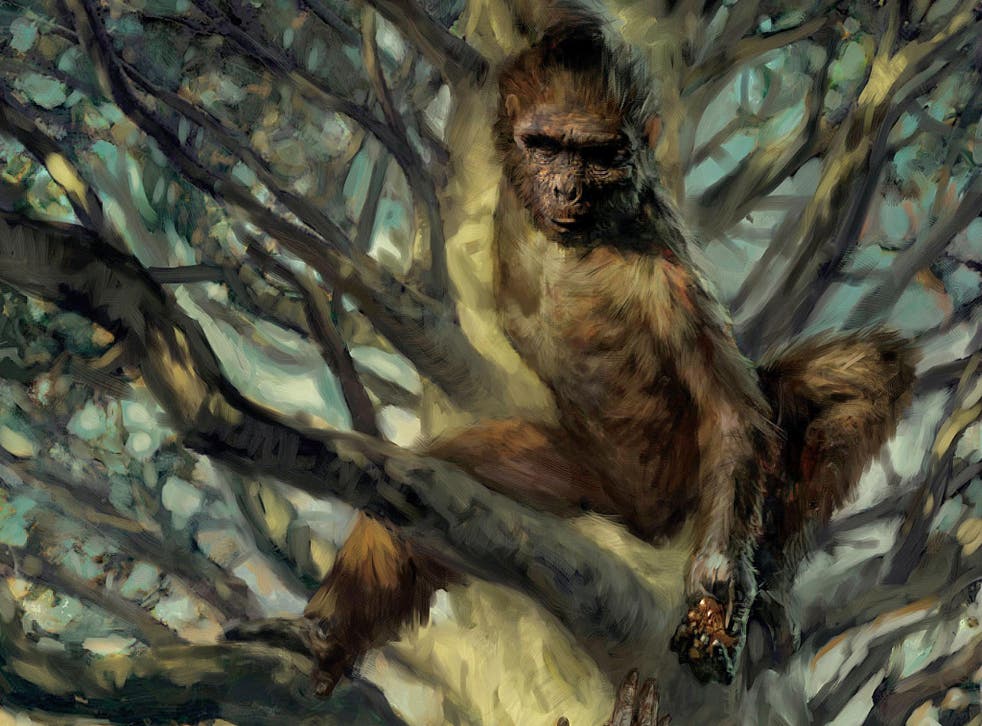 Some ancient humans were able to walk on hind legs without losing their ape-like ability to climb trees, according to new research.
Analysis of a skeleton belonging to a 4.4-million-year-old Ardipithecus ramidus nicknamed Ardi suggested this prehistoric hominin was able to walk like a human.
The discovery suggests our ancestors were walking like modern humans far earlier than previously thought, and it challenges fundamental ideas about how they behaved.
"It kicks us out of this old paradigm of thinking about human evolution," Professor Herman Pontzer, one of the anthropologists who undertook the analysis, told The Independent.
"In that old picture that is everywhere where you have the evolution of man going from crouching thing to upright thing to a human – as much as we have known that is not right, I still think people have it in their heads.
"This says no: the first guy should be standing up straight just like everybody else."
Instead of existing on a simple spectrum of "ape-like" to "human-like", Professor Pontzer said more complex solutions evolved that allowed our ancestors to be adept on the ground and in trees.
The results of this analysis, led by graduate student Elaine Kozma at the City University of New York, were published in the journal Proceedings of the National Academy of Sciences.
Cheddar Man: Groundbreaking analysis has revealed the first modern Briton had "dark to black" skin
Researchers have traditionally assumed that ancient humans such as the 3.1-million-year-old Australopithecus Lucy were not adept walkers as they were still partially adapted to living in trees.
In order to test this, Ms Kozma and her collaborators looked at the hip bones of ancient specimens belonging to Ardi, Lucy and others.
They also examined living apes including chimpanzees and gibbons, filming their movements to observe how their hips and legs worked when they adopted an upright gait.
Based on these observations, the scientists concluded that extinct human ancestors – even the ancient tree-dweller Ardi – would have had essentially the same range of motions seen in modern humans.
This conclusion makes sense, according to Professor Pontzer, because walking in the intermediate crouched gait often depicted in that famous image would require a lot of energy to maintain.
"From an evolutionary point of view, life boils down to turning calories into babies, and calories wasted on an inefficient gait can't be used for other things that natural selection would actually favour," he said.
Crucially, the ability to walk does not appear to have come at the cost of other abilities in these ancient creatures.
"This shows in fact there are these other solutions that evolved that allows our early ancestors to be good at both – climbing and walking – in way we don't see in living apes or living humans," said Professor Pontzer.
Register for free to continue reading
Registration is a free and easy way to support our truly independent journalism
By registering, you will also enjoy limited access to Premium articles, exclusive newsletters, commenting, and virtual events with our leading journalists
Already have an account? sign in
Register for free to continue reading
Registration is a free and easy way to support our truly independent journalism
By registering, you will also enjoy limited access to Premium articles, exclusive newsletters, commenting, and virtual events with our leading journalists
Already have an account? sign in
Join our new commenting forum
Join thought-provoking conversations, follow other Independent readers and see their replies