'Human computer' Katherine Johnson opens Nasa research facility named in her honour
The 99-year-old, a central character in the hit film 'Hidden Figures', played a key role in helping the United States win the space race at a time when racist laws were still widespread in her country
Ian Johnston
Science Correspondent
Sunday 24 September 2017 09:13 Comments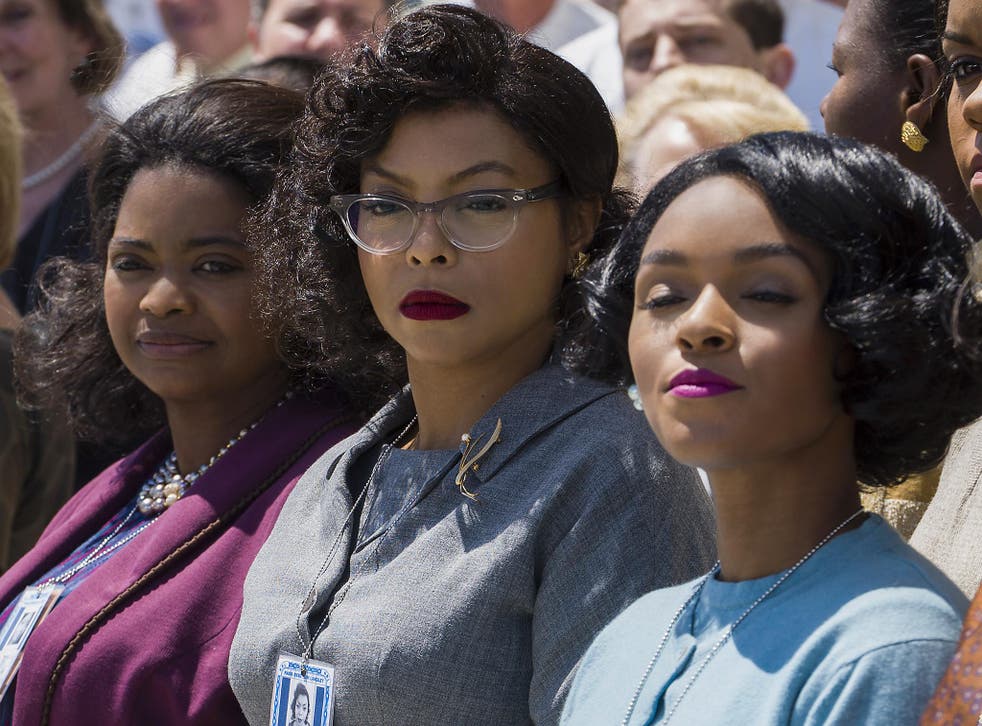 One of Nasa's "human computers", who helped plan the mission that saw an American astronaut orbit the Earth for the first time, has opened a new research centre named in her honour.
The key contribution of Katherine Johnson, 99, and other African-American women to the US space programme was recounted in the film Hidden Figures, which gave overdue recognition to their work. The film was the highest grossing Best Picture nominee at the Oscars.
The maths involved in the orbital mission was highly complex, and the computers of the day were prone to technical hiccups.
So as astronaut John Glenn was going through the preflight checklist – upon which his life depended – he insisted that Ms Johnson double check the calculations.
"If she says they're good," Ms Johnson remembered Mr Glenn saying, "then I'm ready to go."
The success of the flight, during which he orbited the Earth three times, was seen as a turning point in the space race with the-then Soviet Union, which had previously been ahead after cosmonaut Yuri Gagarin became the first human to leave Earth and enter outer space in 1961.
But, as Ms Johnson was helping the US triumph over its Cold War adversary, racist laws were still widely enforced – the Civil Rights Act ending local and state segregation did not come into force until 1964.
She also had to overcome the sexist stereotype that women are inferior mathematicians to men.
But, at the opening of the Katherine G Johnson Computational Research Facility in Hampton, Virginia, Ms Johnson didn't seem to get what all the fuss was about.
"You want my honest answer? I think they're crazy," she said, when asked about the decision to name the facility after her.
She added that the decision "gives credit to everybody who helped".
Others were happy to spell out what an important figure she was.
Terry McAuliffe, the governor of Virginia, said: "You have been a trailblazer. When I think of Virginia and the history of what we've gone through ... you're at the top of that list.
"Thank goodness for the book and movie to come out, so people got to understand what this woman meant to our country.
"She really broke down the barriers."
And David Bowles, director of Nasa's Langley Research Centre, added: "We're here to honour the legacy of one of the most admired and inspirational people ever associated with Nasa.
"I can't imagine a better tribute to Mrs Johnson's character and accomplishments than this building that will bear her name."
Nasa's most stunning pictures of space

Show all 30
The keynote speaker at the opening ceremony was Margot Lee Shetterly, author of the book Hidden Figures, on which the film is based, whose central character was Ms Johnson.
"We are living in a present that they willed into existence with their pencils, their slide rules, their mechanical calculating machines – and, of course, their brilliant minds," the writer said.
"At every fork, her talent, her hard work and her character pulled her toward her destiny.
"At every turn, she made a choice to become the protagonist in her own story and then of ours."
She told Ms Johnson that "telling your story has been an honour" and that she and fellow human computers Mary Jackson and Dorothy Vaughan had been revolutionary simply by doing their jobs.
"Your work changed our history and your history has changed our future," Ms Shetterly said.
Johnson had a fascination for numbers since her childhood in West Virginia, but said she never imagined where it would take her.
"I like the stars, and the stories we were telling, and it was a joy to contribute to the literature that was going to come out," she said.
"But little did I think it would go this far."
Register for free to continue reading
Registration is a free and easy way to support our truly independent journalism
By registering, you will also enjoy limited access to Premium articles, exclusive newsletters, commenting, and virtual events with our leading journalists
Already have an account? sign in
Join our new commenting forum
Join thought-provoking conversations, follow other Independent readers and see their replies