Humans arrived in North America '10,000 years earlier than thought'
Researchers say finding suggests small tribe lived in isolation in modern-day Canada for thousand of years
Benjamin Kentish
Tuesday 17 January 2017 17:53 Comments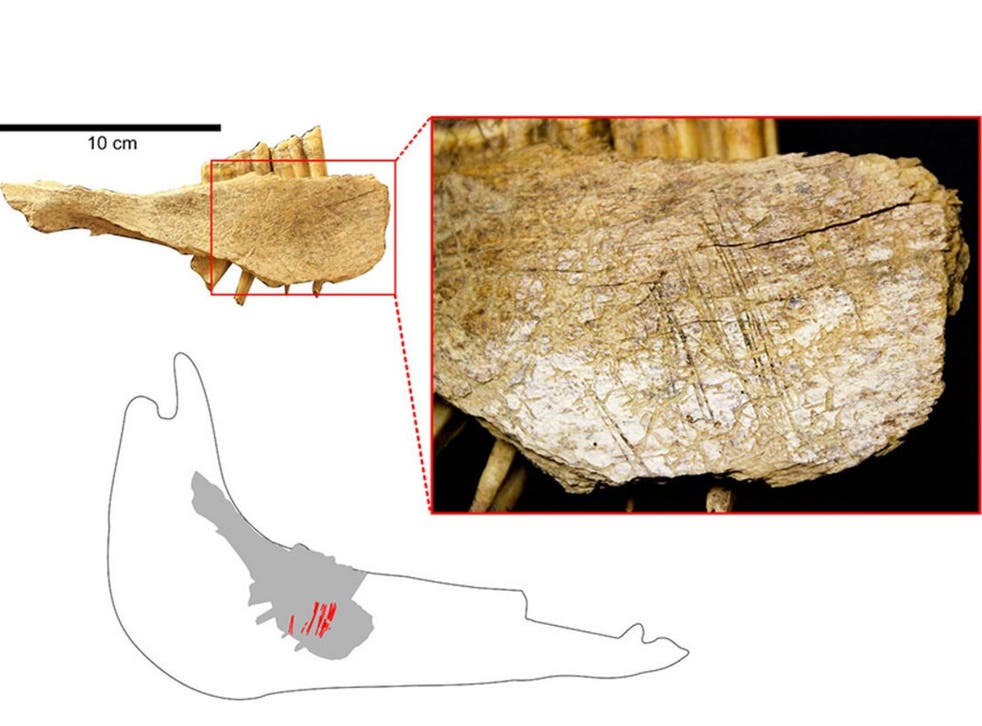 Humans may have arrived in North America 10,000 years earlier than originally thought.
Researchers from the University of Montreal claim they have demonstrated "beyond a shadow of a doubt" that humans settled in modern-day Canada as early as 22,000BC – much earlier than 14,000BC, as has previously been suggested.
Scientists made the discovery by carrying out radiocarbon dating on artefacts and animal bones found in the Bluefish Caves in Canada, close to the Alaska border. The site was excavated by the archaeologist Jacques Cinq-Mars between 1977 and 1987.
In the latest experiment, researchers examined 36,000 bone fragments as part of a two-year project. They found "undeniable traces of human activity" on 15 bones. 20 other fragments showed "probable" traces of human involvement. The findings were published in the PLoS One journal.
"Series of straight, V-shaped lines on the surface of the bones were made by stone tools used to skin animals," said Professor Ariane Burke, who led the research in conjunction with her PhD student, Lauriane Bourgeon. "These are indisputable cut-marks created by humans."
"Our discovery confirms previous analyses and demonstrates that this is the earliest known site of human settlement in Canada," said Burke. It shows that Eastern Beringia was inhabited during the last ice age."
The bones were also sent for radiocarbon dating, which is used to estimate how old artefacts are. The oldest fragment, part of a horse's jawbone, was found to be between 23,000 and 24,000 years old and showed marks from a stone tool that researchers believe was used to remove the animal's tongue.
Humans are thought to have reached North America by crossing the Bering Strait from what is now Russia. The new proposed date is in the middle of the last ice age, when the sea could have been frozen over.
The scientists said their findings support the theory a small tribe of humans lived in isolation in the Beringia region of north-western Canada and north-eastern Russia for thousands of years. During the ice age, the area was separated from the rest of the American continent by huge glaciers too difficult to cross.
Thousands of years later, when the ice thawed, the tribe was able to travel west and south – eventually colonising the whole continent all the way down to South America.
Register for free to continue reading
Registration is a free and easy way to support our truly independent journalism
By registering, you will also enjoy limited access to Premium articles, exclusive newsletters, commenting, and virtual events with our leading journalists
Already have an account? sign in
Join our new commenting forum
Join thought-provoking conversations, follow other Independent readers and see their replies