Hunt for Viking DNA in Normandy riles anti-racism campaigners who fear the results could contribute to increasing xenophobia in France
The notion of 'true Normans and false Normans,' a possible infringement of French laws that forbid any form of racial classification and the study being hijacked by racist groups are among the concerns expressed over the project
John Lichfield
Thursday 18 June 2015 06:30 Comments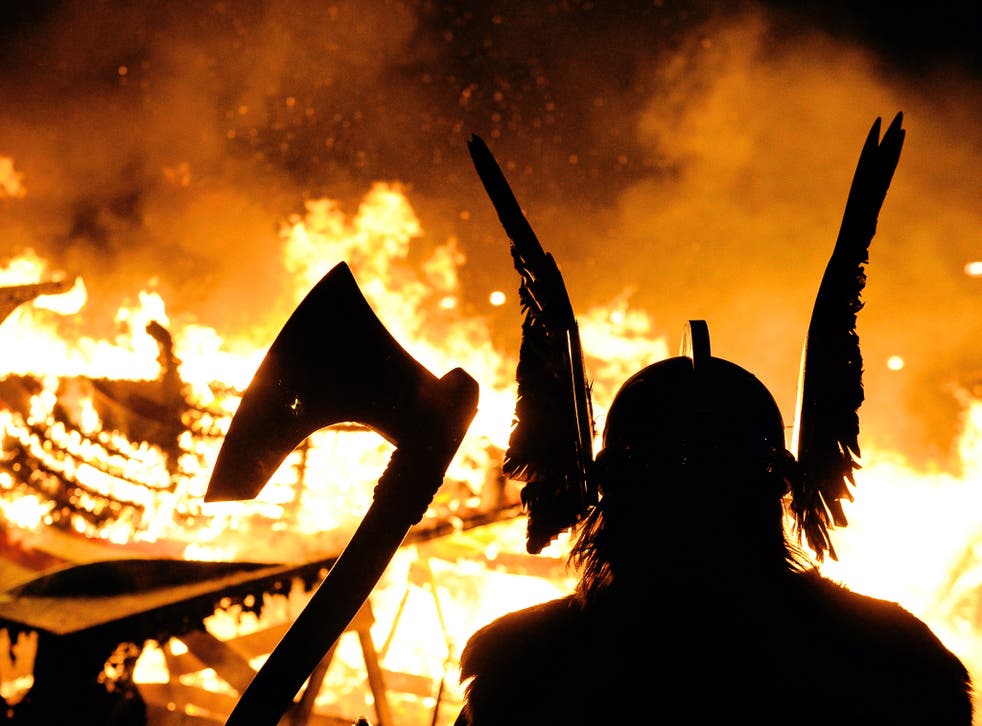 It's been more than 1,200 years since the Scandinavian longships first invaded Western Europe – but France remains scared of Vikings.
A study of the DNA of a handful of rural Normans by a British academic team searching for Viking "roots" has been condemned by anti-racist campaigners and some French academics.
They fear that any attempt to identify long-distant Viking ancestry in Normandy could awaken racial antagonism and disturb the legally enforced notion that France is indivisible and that all French people are uniformly French.
"We fear that this will encourage the idea that there are true Normans and false Normans," said Jacques Declosmenil, president of the Mouvement Contre le Racisme (movement against racism) in Manche, lower Normandy.
"When you see pictures in local papers of Viking warriors wielding their weapons under the headline 'Have you got Viking blood?', you can't help being worried."
A team from the University of Leicester – the same institution which identified the DNA of King Richard III in Britain – gathered saliva samples from a small number of people in the Cotentin Peninsula near Cherbourg this week. Similar DNA tests have already been carried out in three areas of Britain known to have been colonised by Vikings from around AD 850.
"The objective is to explore the intensity of the Scandinavian colonisation of Cotentin in the 9th and 10th centuries," said Richard Jones, head of the Leicester University team in France. "We also want to know whether the invaders stuck to themselves or intermarried with the local people."
The researchers asked in April for male volunteers with a surname of Scandinavian origin – such Ingouf, Osouf or Anquetil – whose four grandparents had all been born locally. They received an avalanche of applications, including one from a man called Rolland, who claimed to be descended from the Viking chief Rollo, who became the first Duke of Normandy in AD 911. Only 100 volunteers were selected. The results of the survey will be published next year.
Dr Jones dismissed the suggestion that the research could open a racial Pandora's box. The study covered, at most, 2 per cent of any individual's DNA, he said. That left 98 per cent of ancestors of other kinds.
More specifically, the Leicester team is looking for the DNA of a "haplogroup" of hunter-gatherers who came to Europe 10,000 years ago and whose genes are common in Scandinavia to this day. However, finding such DNA is a useful "indication" but not a proof of Viking ancestry.
Mr Declosmenil of the movement against racism said that he was worried that, however innocent the intentions of the research team, their findings could be hijacked by racist groups.
"In the present context of increasing xenophobia, this is extremely dangerous," he said. "Certain racists could say, for instance, I have proof that I have no Arab blood."
The study was also criticised as a possible infringement of French laws that forbid any form of racial classification. The keeping of any form of ethnic statistics is illegal in France on the grounds that, under the constitution of the Republic, French people are "indivisible".
"I warned my British colleagues that these questions were extremely sensitive in France," said Pierre Bauduin, professor of medieval history at the University of Caen. "This is not the kind of thing that we do. You have to be very careful that such research is not exploited for political ends."
Register for free to continue reading
Registration is a free and easy way to support our truly independent journalism
By registering, you will also enjoy limited access to Premium articles, exclusive newsletters, commenting, and virtual events with our leading journalists
Already have an account? sign in
Join our new commenting forum
Join thought-provoking conversations, follow other Independent readers and see their replies