Jupiter's great red spot is a huge swirling storm that heats up parts of the planet by hundreds of degrees
The spot is three times as big as Earth – and so large that it takes winds days to make their way around
Andrew Griffin
Thursday 28 July 2016 16:58 Comments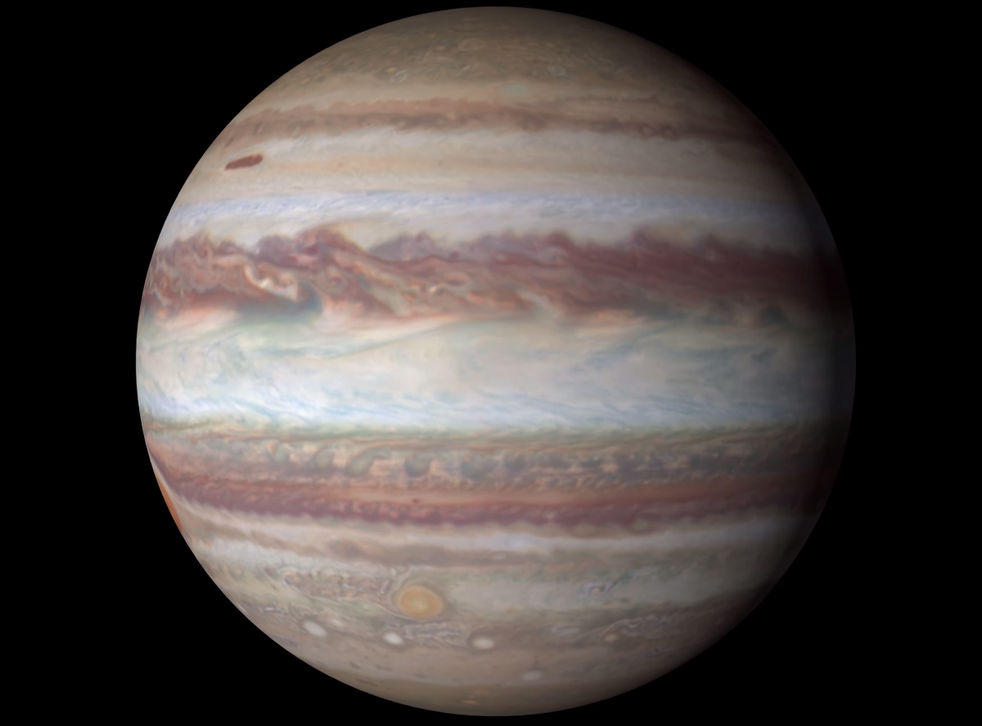 A huge hurricane on Jupiter is heating up parts of its upper atmosphere.
The whirling storm – called the Great Red Spot – has been going for over a century and is more than three times the size of Earth. And it seems to be responsible for mysterious hot points on Jupiter's atmosphere.
Scientists say that the storm system is making the areas above it hundreds of degrees warmer than anywhere else.
The most incredible space images of Earth

Show all 30
Scientists measured the temperature of the atmosphere using infrared light emissions. By watching those, they could also measure the temperature on the planet.
High up, 500 miles above the tops of the visible clouds, are hot temperatures that can't be accounted for by warming from the sun.
"We could see almost immediately that our maximum temperatures at high altitudes were above the Great Red Spot far below - a weird coincidence, or a major clue?" said Dr James O'Donoghue, a member of the team from Boston University in the US.
The Great Red Spot was first officially identified in 1831. But it looks to have been swirling for much longer – and might be the thing that Italian astronomer Giovanni Cassini spotted in 1665.
It is caused by a hurricane—like system of swirling gas that whirls as fast as 425mph. The huge size of the spot means that winds can take six days to get all the way around.
Those storms cause "acoustic waves" of energy that vibrate and heat the upper atmosphere.
The same effect can be seen on Earth, over the Andes mountains.
Study co-author Dr Luke Moore, also from Boston University, said: "The Great Red Spot is a terrific source of energy to heat the upper atmosphere at Jupiter, but we had no prior evidence of its actual effects upon observed temperatures at high altitudes."
Register for free to continue reading
Registration is a free and easy way to support our truly independent journalism
By registering, you will also enjoy limited access to Premium articles, exclusive newsletters, commenting, and virtual events with our leading journalists
Already have an account? sign in
Join our new commenting forum
Join thought-provoking conversations, follow other Independent readers and see their replies