Stars lost behind light pollution for majority of people in England, census shows
'It's deeply disappointing that the vast majority were unable to experience the natural wonder of a truly dark sky, blanketed with stars'
Alex Matthews-King
Wednesday 17 April 2019 06:55 Comments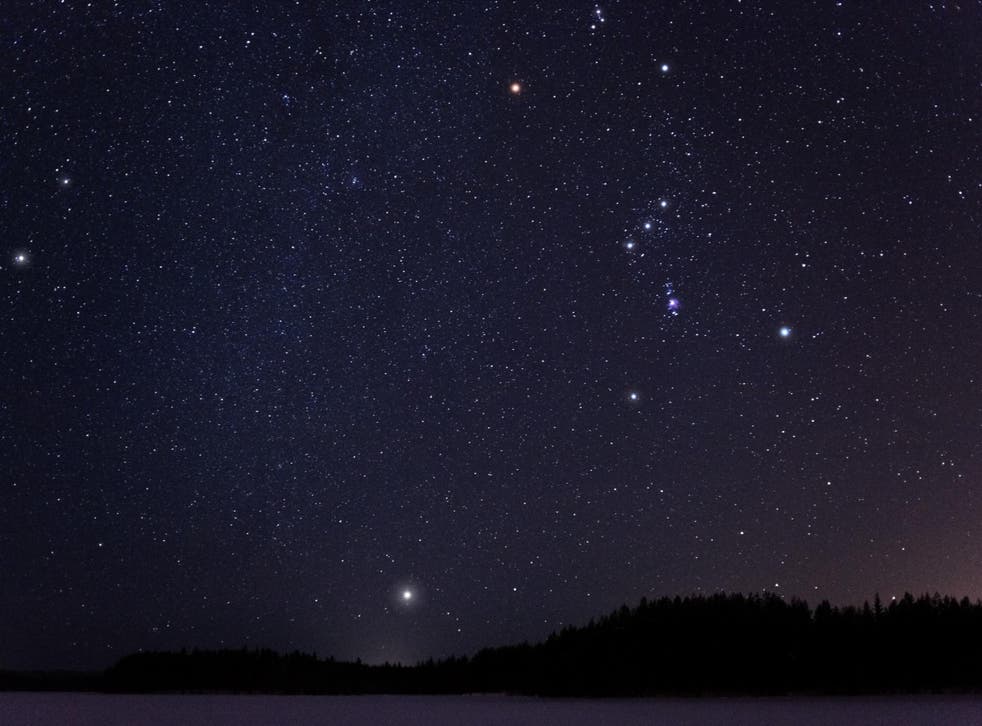 The twinkle, twinkle of passing cars rather than night sky stars are more familiar to people in England, according to a major census which found light pollution obscured the night sky for the majority of people.
Across the country 57 per cent of people said they could pick out fewer than 10 stars with the naked eye, the research by the Campaign to Protect Rural England (CPRE) found.
Just two per cent of participants experienced "truly dark skies", enabling them to count more than 30.
City dwellers and more rural residents were asked to count stars within the constellation of Orion, which is only visible in the winter months.
The star count, supported by the British Astronomical Association, showed many people are now denied "one of the countryside's most magical sights – a dark, starry night sky", campaigners said.
Environment news in pictures

Show all 8
After logging the findings on a map, the campaign is targetting councils, government and the public to do more to tackle artificial lights polluting the night sky.
"It's deeply disappointing that the vast majority were unable to experience the natural wonder of a truly dark sky, blanketed with stars," said Emma Marrington, dark skies campaigner at CPRE. "Without intervention, our night sky will continue to be lost under a veil of artificial light, to the detriment of our own health, and the health of the natural world.
Recent studies have shown how bright street lights interfere with the body clocks of insects, birds and other animals – with some calling for them to be switched off to save money and the environment.
The CPRE campaign is calling for better-designed street lighting, and dimming or part-lighting schemes to minimise carbon emissions.
"Light doesn't respect boundaries," Ms Marrington said. "Careless use can see it spread for miles from towns, cities, businesses and motorways, resulting in the loss of one of the countryside's most magical sights – a dark, starry night sky."
The CPRE star count ran for the first three weeks of February and involved 2,300 people.
Register for free to continue reading
Registration is a free and easy way to support our truly independent journalism
By registering, you will also enjoy limited access to Premium articles, exclusive newsletters, commenting, and virtual events with our leading journalists
Already have an account? sign in
Join our new commenting forum
Join thought-provoking conversations, follow other Independent readers and see their replies