UK research into malaria set to be halted after government cuts vital funding
Reduction in funding for overseas malaria projects has sparked fierce backlash among scientists and experts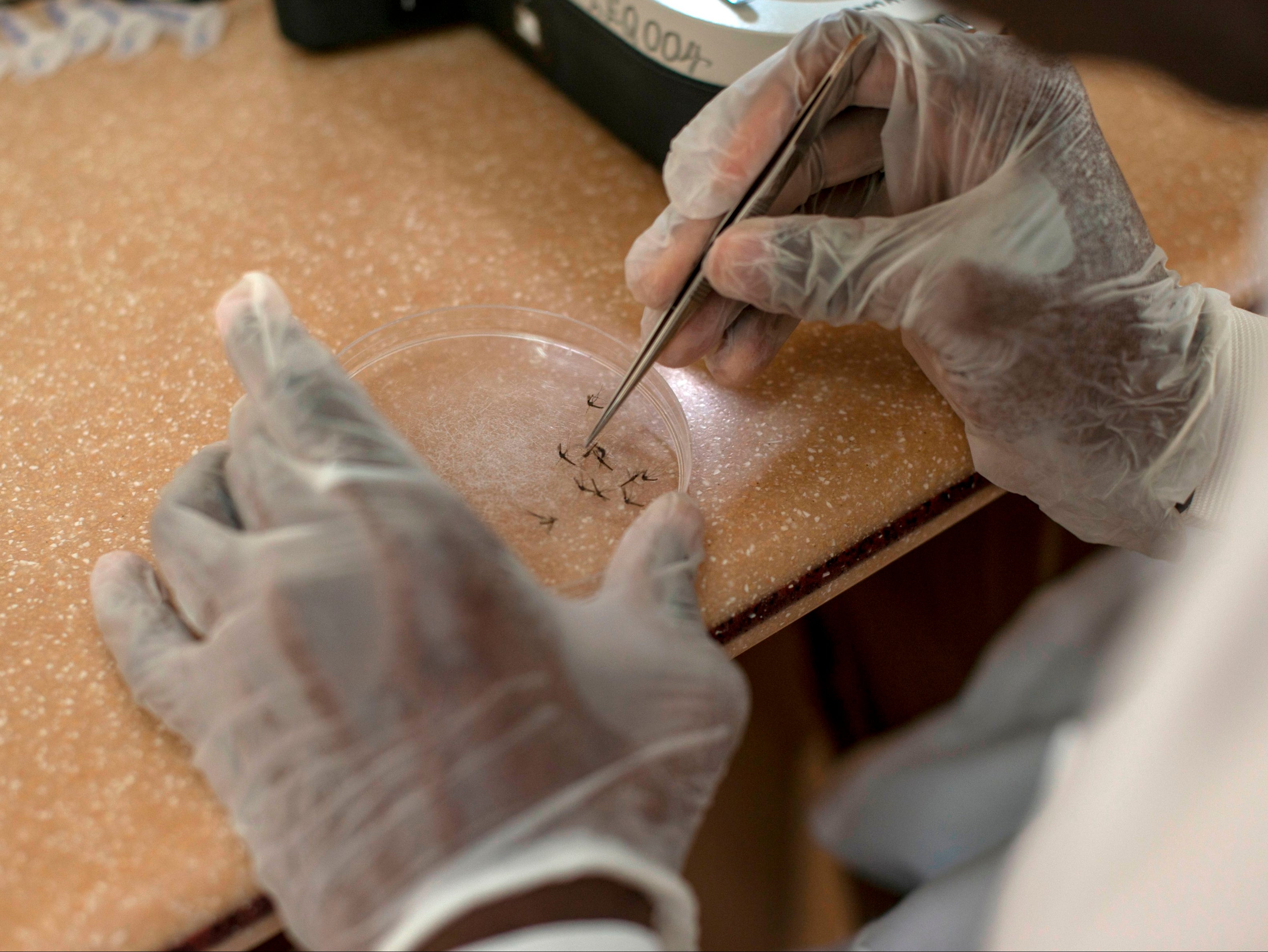 British research into malaria is set to be halted and stripped back following government cuts to vital scientific funding.
UK Research and Innovation (UKRI), a national agency which directs the government's science investments, has warned of a £120m hole in its budget after the decision was made to reduce funding for international development aid in the wake of the Covid-19 crisis.
Known as Official Development Assistance (ODA), this money has helped the UKRI to establish and run overseas research into deadly infectious diseases such as malaria, HIV and tuberculosis, along with other projects into improving health care systems and sustainability in lower-income nations.
But these initiatives are now under threat after the government scaled back its ODA – a decision that has been widely condemned by the scientific community, which has called on Downing Street to reverse the cuts.
Scientists working on malaria have warned that the funding reductions could carry repercussions that threaten not just lower-income nations, but richer countries too.
Read more:
Dr Aubrey Cunnington, a malaria and infectious disease researcher at Imperial College London, is set to lose £19m in funding from his research into the development and implementation of high-tech diagnostics for infectious diseases in Africa.
These diagnostics have the potential to transform the ability of local health authorities to detect and tackle malaria, along with many other diseases which cause a huge burden in African countries but are not easily diagnosed, Dr Cunnington said.
"These diagnostics would also be the ideal tests for detecting and stopping the next pandemic, which will undoubtedly emerge, it is just a question of when," he added.
His project was launched last year by the UKRI's Global Challenge Research Fund, but the withdrawal of £19m – which is needed for the next phase of the initiative – looks set to bring his research to an end as of next month.
"Focusing specifically on malaria, we know that you cannot stand still with efforts to drive down cases and move towards elimination and eradication," Dr Cunnington said.
"Cutting R&D funding for these diagnostics risks a future in which we see resurgence of malaria and all of the achievements of previous investment being wiped out."
At the London School of Hygiene and Tropical Medicine, Dr Colin Sutherland, co-director of the university's malaria centre, said "it is now clear that there will be an enormous impact from these cuts".
His research into malaria drug resistance is due to receive only four months of funding for the next year. There are "no promises as to what will happen after that", Dr Sutherland said, with the project just nine months into a four-year cycle.
Although his work is "90 per cent UK lab-based", Dr Sutherland is expected to absorb a two-thirds cut in the next 12 months that will "solely" affect his laboratory staff.
"In general, existing grants appear to be cut by 66.7 per cent for the next 12 months," he said. "I believe some specific programmes are completely axed going forward."
He warned that the funding cuts threatened to undermine the government's efforts to better prepare the UK for the next pandemic, pointing to the example of the Oxford Covid-19 vaccine, which was the byproduct of two decades' worth of research into malaria.
"The vaccine team at Oxford that developed the AZ Sars-CoV-2 jab were malaria researchers – Adrian Hill, Sarah Gilbert – and originally developed the chimp adenovirus vectors used in the vaccine for their malaria vaccine programmes, as well as their tuberculosis work," said Dr Sutherland.
"Imagine if they had not been funded for this work on diseases of poverty 15-20 years ago? Good science needs investment in diverse areas; benefits can accrue in unexpected ways. The Covid vaccine success is an important example of this."
Malaria No More UK (MNMUK) warned that cuts to malaria research and development budgets will "ultimately serve only to make the British people, and children around the world, less safe".
Estimates suggest that malaria kills over 400,000 people every year, the majority of whom are children under the age of five. And the World Health Organisation is fearful this figure may have risen in the last 12 months due to disruption to prevention and treatment efforts caused by Covid-19.
Gareth Jenkins, an advocacy director at MNMUK, told The Independent: "British scientists and institutions have been at the forefront of developing new ways to detect, diagnose, test and treat malaria. 
"If Covid has taught us anything, it's that this type of science and technology is vital to ending disease and keeping new threats at bay. 
"By chopping down budgets that enable British scientific institutions to solve one of the world's deadliest diseases, we are standing our science superpower down when the world needs it most. 
"The government should reconsider cuts to malaria research and development. Now is not the time to cut back on science when it holds the key to solving deadly disease."
A government spokesperson said: "The UK remains a world-leading aid donor. This year alone, we will spend more than £10 billion to address poverty, tackle climate change, fight Covid and improve global health.
"We are working with our delivery partners, including UK Research and Innovation, to implement a new research and development settlement for 2021/22 as part of our wider commitment to maintain the UK's world class reputation for science, research and innovation."
Join our commenting forum
Join thought-provoking conversations, follow other Independent readers and see their replies