'It's going very well': Hope rises for Oxford's malaria vaccine after success of Covid jab from same team
Exclusive: Professor Adrian Hill says his team at the Jenner Institute are 'very excited' by the prospects of their vaccine, which enters into large-scale testing in Africa this month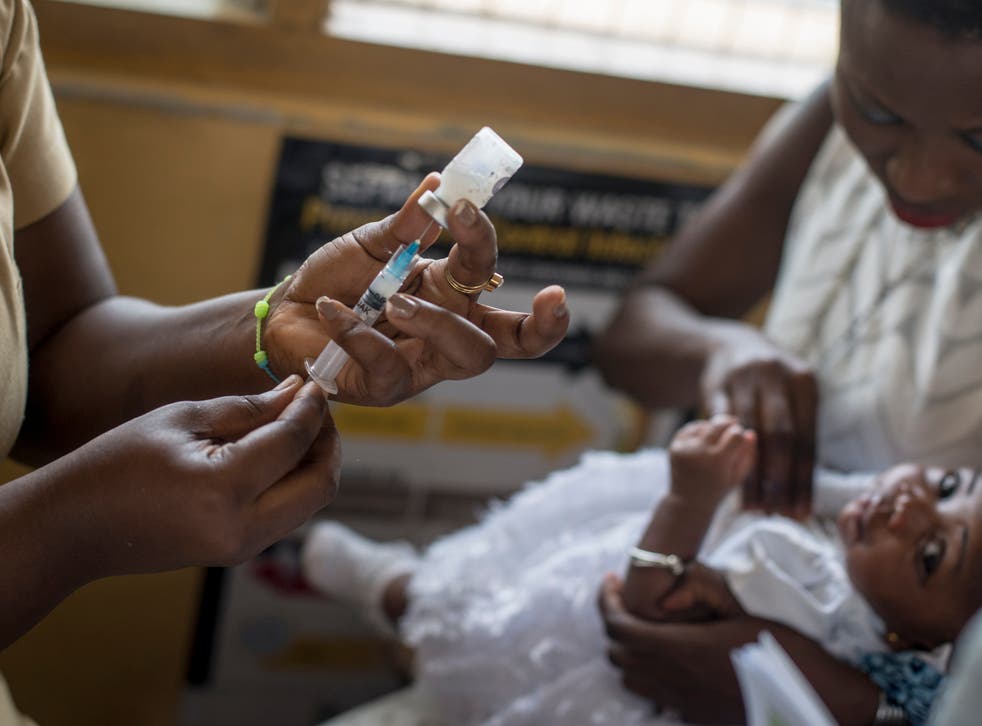 The scientists who developed the Oxford coronavirus jab are hopeful that their vaccine against malaria will be able to bring the mosquito-borne disease under control and possibly eradicate it within 20 years.
Professor Adrian Hill, director of the Jenner Institute, said his team was "very excited" by the prospects of their vaccine, which is "looking good" in providing protection against malaria.
Large-scale testing of the jab starts this month, with up to 5,000 children across five different sites in east and west Africa set to be recruited into the phase three trial. The study is expected to last for a minimum of two years.
Malaria kills more than 400,000 people annually, the majority of whom are children under the age of five. The World Health Organisation is fearful this figure may have risen in the last 12 months due to disruption to prevention and treatment efforts caused by Covid-19.
Prof Hill, whose research alongside professor Sarah Gilbert set the foundations for the Oxford Covid jab, said malaria has killed five times more people than coronavirus in Africa over the past year.
His vaccine against the tropical disease has already undergone its phase one and two testing, the data of which "looks exciting". A paper outlining these results is due to be published in the coming weeks.
"That's why we're going into phase three," Prof Hill said, marking the second only time in history that a vaccine candidate for malaria has reached this stage of development. "It's going very well." 
Scientists have been trying to produce a jab against malaria, caused by the Plasmodium parasite, since 1907. But despite more than one century's worth of research, few have come as close as Prof Hill and his team.
Although GlaxoSmithKline has succeeded in taking its approved vaccine into a piloted implementation programme in Africa, the jab has been plagued by nagging efficacy concerns. Four doses offer only 30 per cent protection against severe malaria, for no more than four years.
Due to the size of the malaria parasite, which is much bigger than a virus, finding the right protein in its genome to target and neutralise is remarkably difficult, making both natural and artificially induced immunity hard to achieve. 
"Unlike viruses which maybe have 10 genes, and you can often pick the one you should target as it's the one on the outside, malaria has 5,000," Prof Hill said. "It's co-evolved with humans. It's been adapting to our immune system for millions of years."
However, Prof Hill is confident that his vaccine, which uses similar technology to Novavax's Covid-19 jab, will be able to overcome these challenges. "It's producing exceptionally high antibody responses," he said.
The vaccine includes a minuscule "complex" protein taken from the malaria parasite which is then presented to the body's immune system. A strong agent called an adjuvant is also used to enhance and strengthen the subsequent response.
"This really is a very potent vaccine technology," Prof said. "What we've found in malaria over the years is that you can get some protection, but it's for weeks or months and then it really tails off very quickly.
"We've managed to get higher levels and they last longer. We still have to boost every year. So we think in a few years most African children will not just be getting three doses of our vaccine when they're infants, but a dose every year to see them through to five years of age."
As with Oxford's coronavirus vaccine, the Jenner Institute has teamed up with the Serum Institute of India to manufacture the malaria jab, with between up to 300 million doses set to be supplied by the pharmaceutical giant.
Prof Hill is confident manufacturing costs will be kept down through this partnership, making doses cheap and accessible for some of the poorest countries in the world.
Although he said there was always the prospect of "something going wrong at the last minute", the Oxford team has high hopes for its vaccine. "A very effective vaccine should eradicate malaria eventually," Prof Hill added. "It won't happen in five years but it might well happen in 20."
Azra Ghani, professor of infectious disease epidemiology at Imperial College London, said the threat posed by malaria should not be forgotten amid the focus on Covid-19.
She said a highly effective vaccine against the disease would help to both reduce deaths but also ease "the burden that malaria imposes on health systems, leaving countries better equipped to focus on other health priorities and thereby improving global health security".
The malaria vaccine is yet another example, she said, of the revolutionary "impact science can have on tackling global disease threats."
James Whiting, CEO of the charity Malaria No More UK, said: "The Jenner Institute's groundbreaking work on both the new Covid-19 and malaria vaccines demonstrates just how much humanity's safety is dependent on new science."
Both warned that recent government cuts to overseas development aid is threatening to undermine the progress that has been made in combating malaria. 
Britain pledged in 2016 to spend £500m a year on the disease, but scientists warned earlier this week that their research is set to be halted following funding reductions made to the UK Research and Innovation, which is responsible for handling the government's science investments.
The Jenner Institute's progress "comes at a time when the UK government is proposing cuts to vital malaria research," Mr Whiting said. "By withdrawing funding that enables British scientists and institutions to solve one of the world's deadliest diseases, we are standing our science superpower down when the world needs it most."
Join our new commenting forum
Join thought-provoking conversations, follow other Independent readers and see their replies