Man on parole for child abuse kills infant after growing 'frustrated,' officials say
Juan Canales-Hernandez was convicted of beating a child in 2013. He is now charged with murder in the death of an 11-month-old girl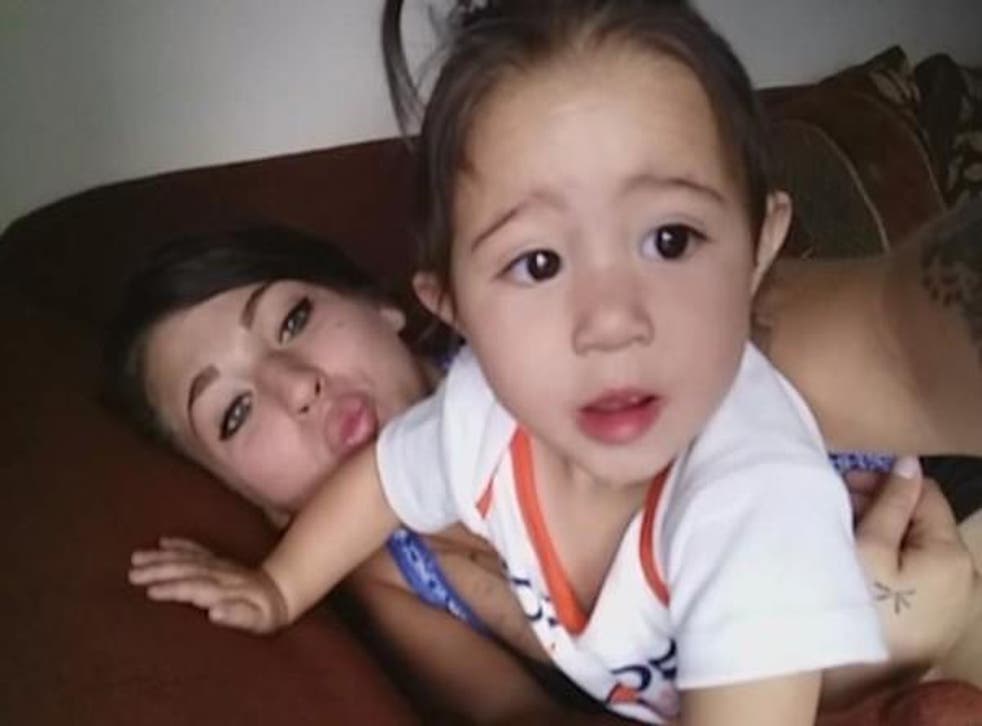 When Juan Canales-Hernandez was arrested last week after police say he swung a chair at an infant and killed her, it wasn't the first time the 24-year-old was accused of harming a child.
Canales-Hernandez, of Fort Collins, Colo., was on parole for a child abuse conviction when he was left to care for his girlfriend's daughter, 11-month-old RaeLynn Martinez, the Coloradoan reported.
According to an arrest affidavit, Canales-Hernandez told detectives that he became "frustrated" with RaeLynn, so he hit her with a chair. RaeLynn died Friday, two days after she was taken to the hospital.
Canales-Hernandez was charged with first-degree murder on Tuesday, nearly three years after he was accused of beating a previous girlfriend's son, according to court records.
In the 2013 case, the boy was found with more than 100 bruises and several bite marks on his body, according to an affidavit. His liver was bruised and his pancreas was torn in half. Canales-Hernandez told detectives at the time that he and the boy were wrestling and rough-playing, and that he didn't hurt him intentionally.
The boy survived. Canales-Hernandez, who is not related to the victims in either case, pleaded guilty to child abuse resulting in serious bodily injury.
He was sentenced to four years in prison, the Coloradoan reported and was later placed on parole.
Explanations varied about how RaeLynn was injured.
After police responded to a call of an injured child on Sept. 7, Alexia Coria, the girl's mother, told investigators that she was in the bathroom when RaeLynn fell while trying to climb up her high chair, according to the affidavit. The child was bleeding from the mouth and became "dangly" as her arms hung at her sides, Coria told detectives on Sept. 7.
Canales-Hernandez told police that he was in another apartment two doors down when Coria called and texted him, telling him that RaeLynn was hurt, the affidavit said.
Coria said she spent about 30 to 45 minutes trying to keep RaeLynn awake by placing her in water, according to the affidavit. When the child's condition didn't improve, Coria and Canales-Hernandez took her to the hospital.
RaeLynn went into cardiac arrest and had a severe brain injury that was not consistent with Coria's explanation to police, the affidavit said.
The child died two days later.
On Sept. 8, the day after RaeLynn was injured, detectives were given a different explanation.
Coria said she was out picking up her other child from school when she got a call from Canales-Hernandez, telling her that something happened to RaeLynn, the affidavit said.
Canales-Hernandez confessed that he was left alone with RaeLynn while Coria was out. He told police he was playing with the child by tossing her in the air when she fell and hit her head, the affidavit said.
RaeLynn started crying, Canales-Hernandez told detectives, so he tried to feed her and then placed her on a high chair.
The child was not seated properly, and Canales-Hernandez said he became "frustrated," according to the affidavit. He picked up a chair and swung it at RaeLynn, knocking the child off her high chair.
While talking to detectives, Canales-Hernandez said he knew he made a "mistake," according to the affidavit. He also admitted that he asked his girlfriend to tell police that RaeLynn accidentally fell off her chair because he didn't want to go back to prison.
In addition to the murder charge, Canales-Hernandez is facing charges including child abuse resulting in death, a second-degree felony, and attempt to influence a public servant, a fourth-degree felony.
According to the Coloradoan, investigators are still determining whether Coria will face charges.
The mother of three defended herself during a candlelight vigil Sunday, saying she hadn't been told the "real truth."
"I love each and every one of you for coming out here and showing me that you guys love me and my babies," Coria said, according to the Coloradoan.
In 2012, state and local child protective services nationwide received about 3.4 million reports of children being abused or neglected, according to the Centers for Disease Control and Prevention. A majority of them, 78 percent, were victims of neglect, while 18 percent suffered physical abuse.
RaeLynn and her father, Isaac Martinez. (GoFundMe) RaeLynn and her father, Isaac Martinez. (GoFundMe)
About 80 percent of perpetrators were parents, according to the CDC, while 6 percent were relatives other than parents. Four percent of perpetrators were the parents' unmarried partners.
Two GoFundMe accounts have been set up to cover hospital, funeral and other expenses. One of the accounts was created on behalf of RaeLynn's father, Isaac Martinez. The other one was created for Coria. About $4,500 has been raised.
According to the GoFundMe page created for Martinez, he will use the funds to help pay for legal fees to ensure he gets custody of his two other children with Coria. RaeLynn is the youngest of their three children.
A spokeswoman for the Larimer County District Attorney's Office said the agency could not comment because of the ongoing investigation.
Canales-Hernandez, who is being held without bail in the Larimer County Jail, is scheduled to appear in court Friday, online jail records show.
Register for free to continue reading
Registration is a free and easy way to support our truly independent journalism
By registering, you will also enjoy limited access to Premium articles, exclusive newsletters, commenting, and virtual events with our leading journalists
Already have an account? sign in
Register for free to continue reading
Registration is a free and easy way to support our truly independent journalism
By registering, you will also enjoy limited access to Premium articles, exclusive newsletters, commenting, and virtual events with our leading journalists
Already have an account? sign in
Join our new commenting forum
Join thought-provoking conversations, follow other Independent readers and see their replies