Mantis shrimps pack powerful punch thanks to ultra-strong hammers on limbs, finds study
Creatures use resilient clubs with composite structure to smash into prey, inspiring researchers aiming to create new synthetic materials
Josh Gabbatiss
Science Correspondent
Tuesday 16 January 2018 20:17 Comments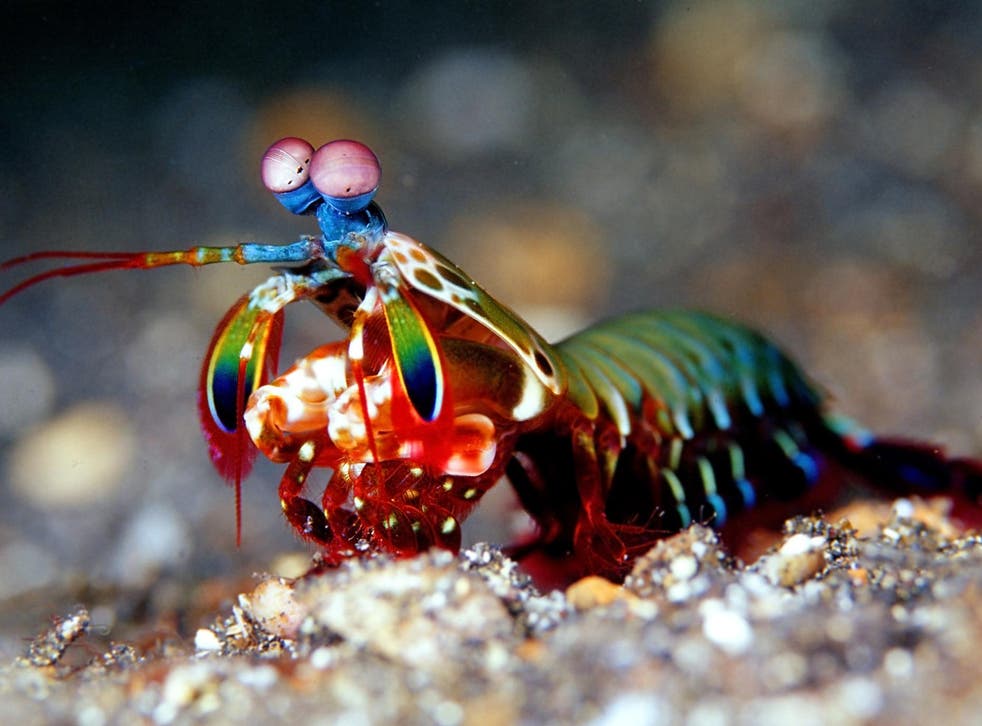 Mantis shrimps kill their prey by smashing them with hammer-like appendages known as dactyl clubs.
These move at up to 23 metres per second and accelerate faster than bullets, giving the creature one of the fastest blows in the animal kingdom.
Despite being used to break into snails and other hard-shelled animals, these appendages are remarkably resilient and tend not to break, a new study has found.
Scientists examined the material that makes up the clubs of the "smasher" mantis shrimps, as well as the harpoon-like structures seen in closely related "spearers", which target soft-bodied prey.
They think understanding the resilient material found in these underwater creatures will help them develop ultra-strong materials for the aerospace and sports industries.
Previous research by Dr Kisailus and his collaborators has demonstrated that dactyl clubs are complex, composite structures made up of a substance called chitin and arranged into three distinct regions.
The "striated region" found inside each club consists of fibres that wrap around it and provide support.
"We believe the role of the fibre-reinforced striated region in the smasher's club is much like the hand wrap used by boxers when they fight: to compress the club and prevent catastrophic cracking," said Dr David Kisailus, an engineer at the University of California, Riverside.
"Together, the impact, periodic and striated regions form a club of incredible strength, durability and impact resistance."
The research was published in the Advanced Materials journal.
Similar structure was also seen in the pointed appendages of the spearer mantis shrimps, suggesting their "spears" provided the evolutionary prototype for the smashers' "hammers".
The rarest animals in the world

Show all 23
Besides their reinforced design, the new research also revealed how mantis shrimp appendages are able to move so fast.
The clubs have a "teardrop" design that allows them to move rapidly through water.
Dr Kisailus said that nature provides many "design cues" that can assist in the development of new materials, and mantis shrimp hammer are just one example of this.
"Interestingly, aerodynamic cycling helmets and golf clubs already incorporate this design, suggesting that nature was one step ahead of humans in achieving high performance structures," he added.
Register for free to continue reading
Registration is a free and easy way to support our truly independent journalism
By registering, you will also enjoy limited access to Premium articles, exclusive newsletters, commenting, and virtual events with our leading journalists
Already have an account? sign in
Join our new commenting forum
Join thought-provoking conversations, follow other Independent readers and see their replies