Medical technology that could eliminate need for animal testing wins design award
'Revolutionary' Organs-on-Chips could change the way pharmaceutical trials are conducted, writes Nick Clark
Nick Clark
Tuesday 23 June 2015 11:02 Comments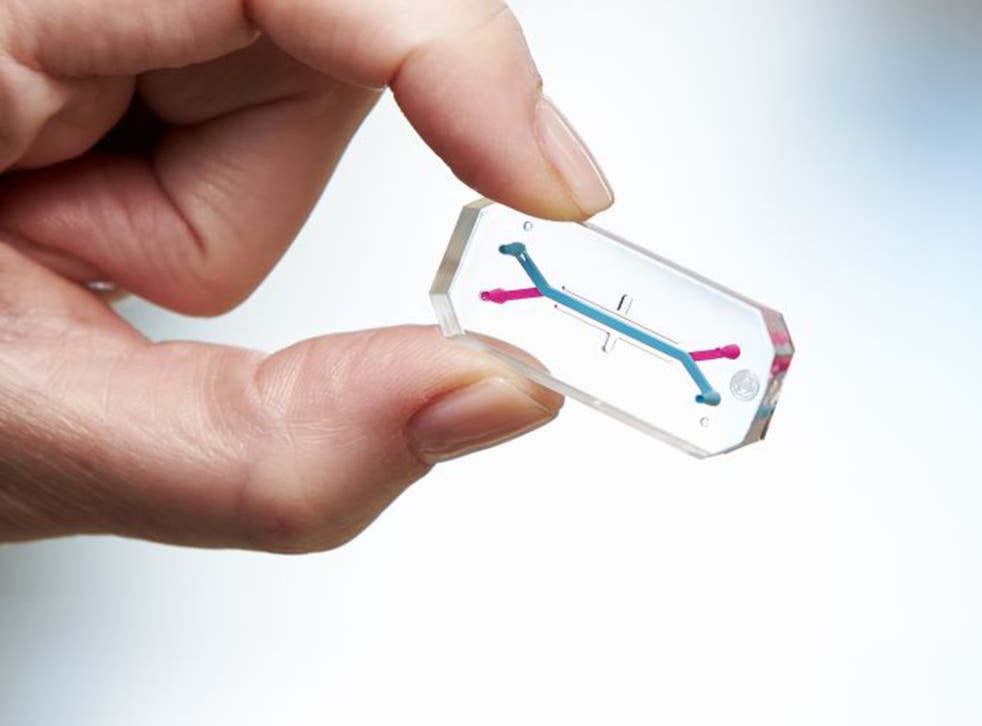 It may look like a simple piece of plastic with a few pretty patterns, but the winner of 2015 London Design Museum's Design of the Year Award is lined with human cells and may revolutionise medical trials, tailoring cures for individuals and cutting out the need for animal testing.
Organs-on-Chips, designed by Donald Ingber and Dan Dongeun Huh at Harvard University's Wyss Institute, won the UK's most prestigious design award, which was set up by the Design Museum eight years ago. The "revolutionary" chips, the result of nearly seven years of research, are micro-devices lined with living human cells that mimic the actual tissue structures, functions and motions of whole organs from liver to lungs and intestines.
"Cell architects" can recreate human organs – such as a living, breathing lung – on a chip to study the effects of pharmaceutical drugs or bacteria on them. Experts at Emulate Inc, the for-profit company spun out of the Wyss Institute for Biologically Inspired Engineering that develops the Organs-on-Chips, believe that current systems of testing – either with cells in Petri dishes or using animals – are not up to scratch as neither accurately replicates the responses of human cells.
So far, the scientists have recreated the functions of 15 organs and plan to continue.
According to bio researcher Geraldine Hamilton, who is president and chief scientific officer of Emulate, Organs-on-Chips could be a "game changer" for pharmaceutical and make-up testing without using animals. "It could change clinical trials forever," she added.
The lung chip is the size of a small computer memory stick and is armed with a membrane containing human lung and blood capillary cells. A machine is used to expand and contract the cell, exerting the same force as when people breathe. The scientists can then test exactly how the cells respond.
Artist Anish Kapoor, chair of this year's prize jury, called it a "really big idea," adding it "incorporates technology and design to eliminate the problem of having to use animals to test a product. It feels like one of those questions of the future."
It marks the first time a design from the field of medicine has won the top prize in the Design of the Year competition. The prize was last year controversially awarded to the Heydar Aliyev Centre in Baku, Azerbaijan, designed by Dame Zaha Hadid. Yet human rights groups criticised the awarding of a prize to a building that promoted a repressive former leader. But this year's winner looks bound for universal acclaim.
Deyan Sudjic, director of the Design Museum, said: "The team of scientists that produced this remarkable object don't come from a conventional design background. But what they have done is clearly a brilliant piece of design." He said that the team identified a serious problem – how to predict how human cells will behave – "and then they solved it with elegance and economy of means, putting technology from apparently unrelated fields to work in new ways".
Tony Bahinski, lead senior staff scientist at the Wyss Institute, said: "It's really great to be recognised not just because of the science but also for the design. It's very elegant and simple but mimics the key attributes of human organs."
The idea of replacing animal testing has proven popular in research circles. "We've had a lot of interest from groups that are interested in animal [testing] alternatives," said Dr Bahinski. "Initially where this system can be of benefit is where it can help refine and reduce the number of animal studies.
"Then the hope is that in the near future they'll start to replace animal studies – most likely one at a time. Then the ultimate goal, which is clearly much further out in the future, is that it can be remodelled.
"The issue with not only the pharmaceutical industry and the other aspects is that the animal model is not very predictive. It has clearly hindered new drugs getting to patients. The hope is that in developing these systems that utilise human cells, and that mimic the key functions of human organs, is that we might have better translation and actually better predictivity."
Dr Anthony Holmes of the National Centre for the Replacement, Refinement and Reduction of Animals in Research (NC3Rs), said: "Organs-on-Chips represent potentially revolutionary opportunities for the biosciences."
"From better understanding of human and animal health, to the development of safer and more efficacious drugs, household products and cosmetics, and better understanding of the impact of these products on the environment, Organs-on-Chips can have significant application. And all of this without requiring animals, where animals may have traditionally been used."
He added: "Despite the possibilities this technology offers, it is still in its infancy, and a great deal more research, development and validation is required before they are used routinely. Nevertheless, rapid advances in the biofabrication technology combined with stem cells... offers the potential for personalised models to predict patient specific toxicity and efficacy, leading to more efficient human trials, reduced animal testing and better drugs reaching patients more quickly."
Register for free to continue reading
Registration is a free and easy way to support our truly independent journalism
By registering, you will also enjoy limited access to Premium articles, exclusive newsletters, commenting, and virtual events with our leading journalists
Already have an account? sign in
Register for free to continue reading
Registration is a free and easy way to support our truly independent journalism
By registering, you will also enjoy limited access to Premium articles, exclusive newsletters, commenting, and virtual events with our leading journalists
Already have an account? sign in
Join our new commenting forum
Join thought-provoking conversations, follow other Independent readers and see their replies