Migrant moths arriving from Europe to eat Britain's ivy
Spectacular insects include silver-striped hawk-moth which is more often found in Africa and south Asia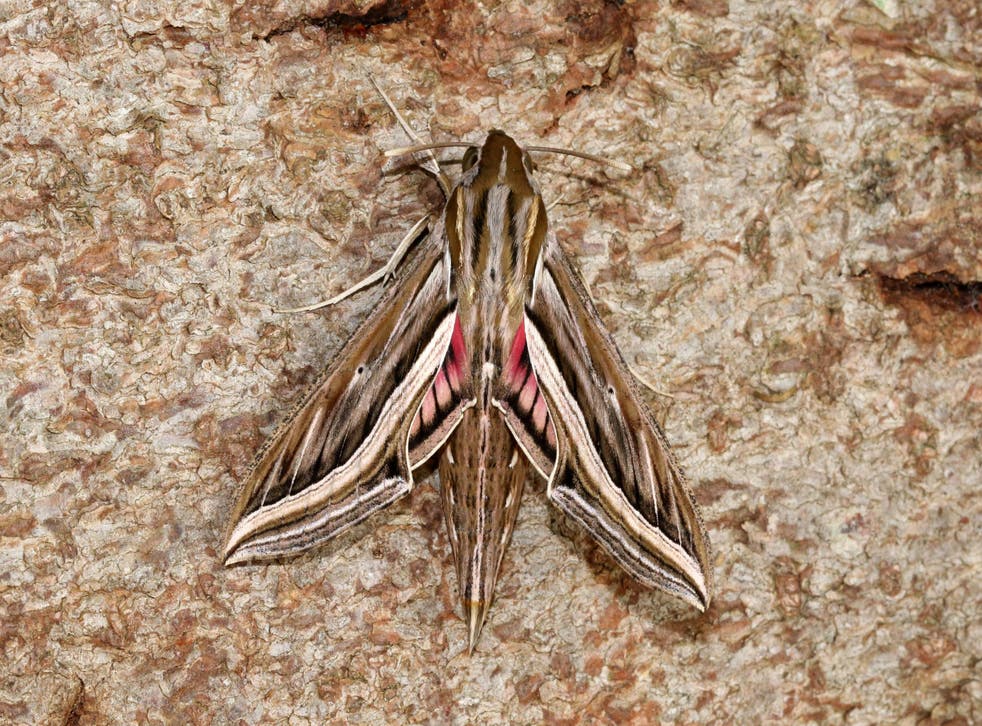 Hungry migrant moths from Europe are arriving in Britain and eating the nation's ivy, with warm weather from the continent expected to drive a surge in numbers.
Over the next three nights nature lovers are being urged to investigate local patches of ivy, which produces a lifeline to moths and butterflies as it flowers late in the year when other sources of nectar have disappeared.
The spectacular moths include the silver-striped hawk-moth, which is more often found in Africa and south Asia, and the giant convolvulus hawk-moth, which has a wingspan of up to four inches.
Richard Fox, Butterfly Conservation Head of Recording, told The Independent that rare moths are being "blown up by the wind" and into Britain.
"We've got very mild temperatures, which is really good for our resident moths," he said. "On top of that we've got these southerly winds that are likely to bring migrant moths up to Britain."
Describing rare species such as the silver-striped Hawk-moth and Radford's Flame Shoulder as "pioneers", Mr Fox said the insects were leaving their homes in southern Europe for the "fantastic wide beyond in the hope of colonising".
As part of this year's Moth Night, organisers are asking the public to make visits to patches of flowering ivy and count the moths they find.
This will help experts gather more information on the plant's importance to the insects.
Mr Fox said: "A quick check of ivy blossom on a sunny autumn day will reveal bees, hoverflies, butterflies and other insects, all making the most of this seasonal bonanza of nectar.
The most incredible nature moments ever caught on camera

Show all 6
For this year's Moth Night, the scientist advises finding some big patches of ivy flowers and going back with a torch after the sun has set. "It's a fantastic and easy way to see some of the beautiful moths that are on the wing in autumn," he said.
Moth Night 2017 is organised by Atropos, Butterfly Conservation and the Centre for Ecology and Hydrology, and runs from 12 to 14 October.
For information about events and to submit sightings visit www.mothnight.info.
Register for free to continue reading
Registration is a free and easy way to support our truly independent journalism
By registering, you will also enjoy limited access to Premium articles, exclusive newsletters, commenting, and virtual events with our leading journalists
Already have an account? sign in
Register for free to continue reading
Registration is a free and easy way to support our truly independent journalism
By registering, you will also enjoy limited access to Premium articles, exclusive newsletters, commenting, and virtual events with our leading journalists
Already have an account? sign in
Join our new commenting forum
Join thought-provoking conversations, follow other Independent readers and see their replies