Iceberg twice the size of New York City set to break away from Antarctica, says Nasa
The iceberg would represent the largest break off since scientists first began monitoring the area
Clark Mindock
New York
Monday 25 February 2019 22:14 Comments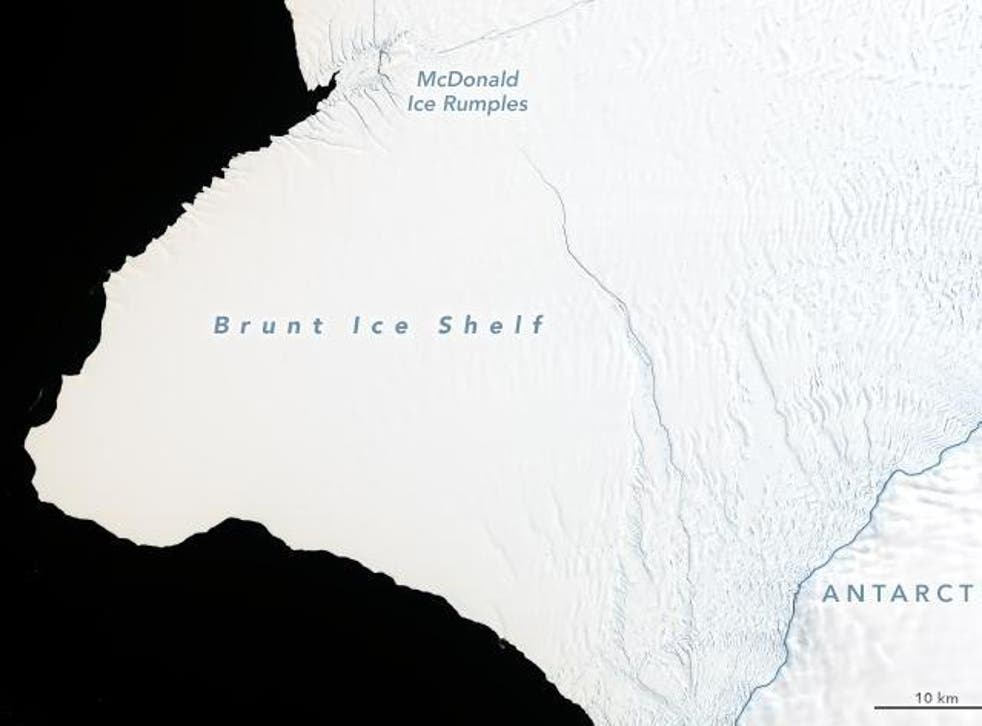 An iceberg twice the size of New York City is poised to break away from the Brunt Ice Shelf in Antarctica, sparking safety concerns for scientists in the area.
The iceberg would represent the largest break off there since scientists first began monitoring the area, in 1915.
In a release, Nasa says that a crack has been growing at a rate of about 2.5 miles (4km) per year since 2012, and that the chasm was dormant before that time. That northward growing crack could soon meet with another growing chasm, the so-called "Halloween crack" that was discovered in October of 2016 growing eastward form the McDonalds Ice Rumples.
Nasa scientist Chris Shuman told The Independent that the size of the iceberg — around 1,700 square kilometers, or about 656 square miles — would make it the fifth largest iceberg that is currently being tracked by the National Ice Centre in Suitland Maryland.
"What is driving this is the natural, long-term flow of glacial ice off of the margins of Antarctica so that the advancing ice begins to float on the sea (in this case the Weddell Sea, forming the Brunt Ice Shelf)," Mr Shuman said. "Year-by-year, the ice moves farther offshore as it is supplied by the glaciers inland until the forces of tides, currents, storms etc... begin to crack the floating ice".
Lisa Murray's climate change photography

Show all 12
If the two cracks merge, the ice shelf could become "destablised", said Joe MacGregor, a glaciologist at NASA's Goddard Space Flight Centre.
"The near-term future of Brunt Ice Shelf likely depends on where the existing rifts merge relative to the McDonald Ice Rumples," said Mr Joe MacGregor in a statement. "If they merge upstream (south) of the McDonald Ice Rumples, then it's possible that the ice shelf will be destabilized."
The discovery that the large iceberg could detach from the continent has raised concerns for researchers at the British Antarctic Survey's Halley Station, which is a major base that typically operates year-round. While the base has been rebuilt and relocated previously, uncertainty in the ice there has already caused the station to be closed down twice in recent years.
Nasa notes that calving — when ice breaks from the edge of a glacier — is a regular phenomenon, but that the changes seen recently are not regular to the ice shelf.
Support free-thinking journalism and attend Independent events
"We don't have a clear picture of what drives the shelf's periods of advance and retreat through calving," said Nasa glaciologist Chris Shuman. "The likely future loss of the ice on the other side of the Halloween Crack suggests that more instability is possible, with associated risk to" operations base on the shelf.
Register for free to continue reading
Registration is a free and easy way to support our truly independent journalism
By registering, you will also enjoy limited access to Premium articles, exclusive newsletters, commenting, and virtual events with our leading journalists
Already have an account? sign in
Join our new commenting forum
Join thought-provoking conversations, follow other Independent readers and see their replies