Nasa releases stunning image of lightning strike from space as part of new 'lightning lab'
The image above shows the strike, click for a larger size
James Vincent
Tuesday 25 March 2014 11:32 Comments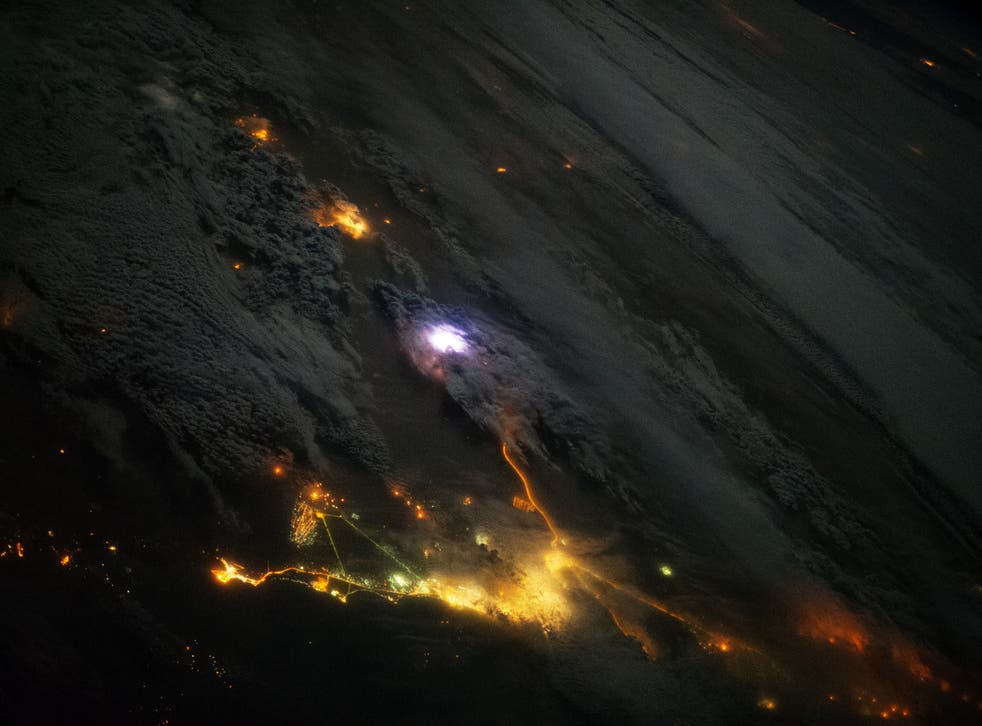 Nasa has released a stunning photo of a lightning strike as seen by an astronaut aboard the International Space Station (ISS) as part of the launch of Firestation, a new instrument on the station dedicated to tracking lightning.
The image shows a cloudy outlook over the Arabian peninsula with a pale purple glow indicating where the lightning has struck. The mass of orange at the bottom edge of the photo is Kuwait City, while the smaller cluster of lights towards the top of the picture is the city of Hafar Al Batin in Saudi Arabia.
The photo was taken last December but has only just been released as a part of the new Nasa initiative. Images like this one might be rare but lightning bolts themselves are extremely common, crackling across Earth's atmosphere at a rate of roughly 50 times a second.
All this activity adds up to 4.3 million strikes every day or 1.5 billion a year, says Nasa. However, the space agency is only really interested in one type of lightning: the comparatively rare strikes that emit gamma rays, a type of radiation usually only created by exploding stars and during nuclear fusion.
Lightning strikes of this sort are known as TGFs or terrestrial gamma-ray flashes, and they're so powerful that they actually create antimatter in the Earth's atmosphere for fractions of a second.
TGFs weren't spotted on Earth until the 1990s but it's stilll not known how lightning can create this sort of radiation. Even though lightning strikes are powerful enough to heat the air they travel through to temperatures three and a half times hotter than the surface of the sun, scientists say they're still 10 times too weak to produce gamma radiation.
"Somewhere in the atmosphere momentarily there's just an incredible amount of energy release and what happens in that region is something of a witch's brew," said Doug Rowland, principle investigator for Firestation at Nasa's Goddard Space Flight Centre.
"You get energetic neutrons that basically you never see in the quiet atmosphere, that you only associate with nuclear reactions, that are happening in our atmosphere whenever these things go off. That's one of the first fundamental science reasons [to study these strikes]: it's part of our planet; we don't understand it; we want to understand it."
Register for free to continue reading
Registration is a free and easy way to support our truly independent journalism
By registering, you will also enjoy limited access to Premium articles, exclusive newsletters, commenting, and virtual events with our leading journalists
Already have an account? sign in
Join our new commenting forum
Join thought-provoking conversations, follow other Independent readers and see their replies