Dippy the Diplodocus: Natural History Museum dinosaur to be replaced with giant blue whale skeleton
Museum director: 'The blue whale reminds us of the scale of our responsibility to the planet'
Steve Connor
Thursday 29 January 2015 01:03 Comments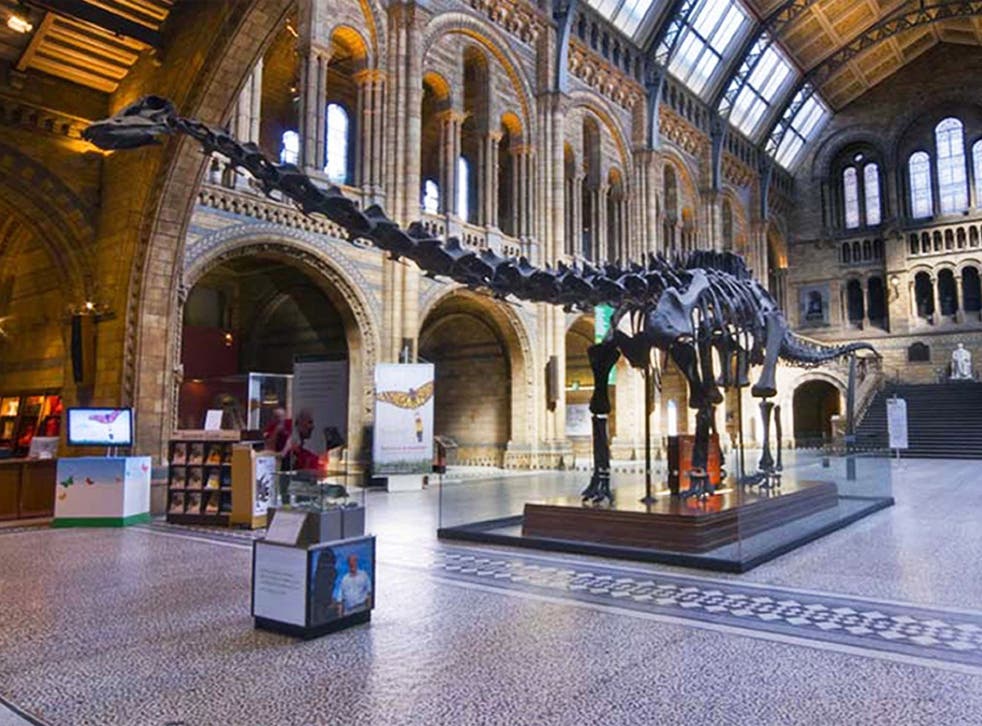 A giant skeleton of a blue whale is to replace the iconic replica skeleton of a dinosaur affectionately known as "Dippy" in the main entrance hall of the Natural History Museum in London, it has been announced.
Museum officials are risking the wrath of thousands of schoolchildren – and their parents – who have come to associate the massive Diplodocus with the wonder and awe of a visit to one of the world's leading natural history museums.
Dippy is composed of plaster casts of 356 bones, including the 70 vertebrae in its long tail. It is a near replica of a Diplodocus carnegii skeleton unearthed in the United States in 1898 and it first went on display in 1905.
However, the museum's director Sir Michael Dixon said that it was time to recognise the importance of the living species in the world today that are under threat of extinction.
"As the largest known animal to have ever lived on Earth, the story of the blue whale reminds us of the scale of our responsibility to the planet," Sir Michael said.
"This is an important and necessary change. As guardians of one of the world's greatest scientific resources, our purpose is to challenge the way people think about the natural world, and that goal has never been more urgent," he said.

The 26-metre (85 feet) Diplodocus, a plant-eating sauropod dinosaur that lived 150m years ago, was packed away during the Second World War but then reassembled and placed in the central hall of the museum in 1979, where it has greeted generations of visitors.
There are plans to make a weather-proof resin copy of Dippy so that it could be placed outside in the museum's garden. Sir Michael said that the original replica might also be taken "on tour" around the UK so that it can be seen by a wider audience.
Dippy will be replaced by a real skeleton of a 25.2-metre blue whale, which the museum bought for £250 in 1891. It will be suspended from the roof of the hall and arranged in the diving position looking down on museum visitors.
The female blue whale died after she was beached at the mouth of Wexford Harbour in Ireland after being injured by a whaler.
Whale hunting in previous centuries saw the population of blue whales fall from about 250,000 at the start of the 19th century to about 2,300 by the end of it. Since 1972, when they became a protected species, their numbers of risen to between 10,000 and 25,000 today.
"Species and ecosystems are being destroyed faster than we can describe them or even understand their significance. The blue whale serves as a poignant reminder that while abundance is no guarantee of survival, through our choices we can make a real difference," Sir Michael said.
Register for free to continue reading
Registration is a free and easy way to support our truly independent journalism
By registering, you will also enjoy limited access to Premium articles, exclusive newsletters, commenting, and virtual events with our leading journalists
Already have an account? sign in
Join our new commenting forum
Join thought-provoking conversations, follow other Independent readers and see their replies