New astronauts, and caviar, arrive at International Space Station on Soyuz spacecraft
The Russian spacecraft has taken an espresso machine and Italy's first female astronaut to the space station, as well as 450 grams of Caviar for the team's New Year feast
Andrew Griffin
Monday 24 November 2014 10:00 Comments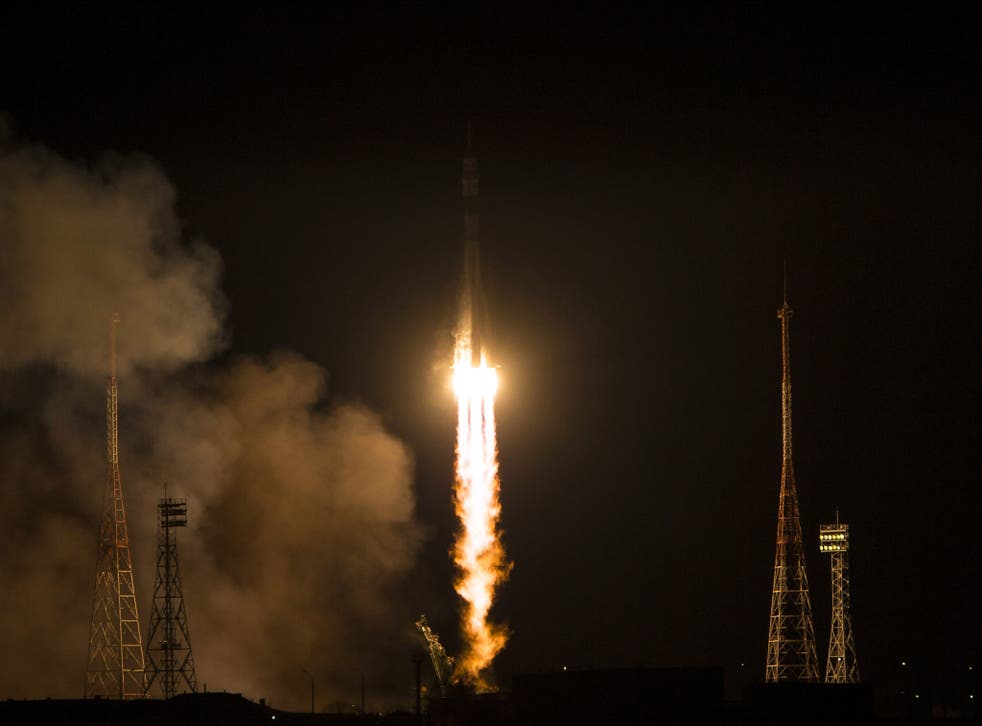 Three new visitors arrived at the International Space Station (ISS) on Sunday night, bringing with them coffee, caviar and worms.
Terry Virts of Nasa, the Russian Space Agency's Anton Shkaplerov and Samantha Cristoforetti set off from Kazakhstan on Sunday afternoon. Cristoforetti is Italy's first female astronaut and all three can be found on Twitter.
The ship arrived about six hours later on Sunday night, docking with the ISS above the Pacific Ocean, near the coast of Ecuador.
The arrival of the new astronauts takes the space station's inhabitants to three. They join one Nasa astronaut and two others from the Russian Space Agency, who arrived there in September.
The three already at the station will return in March 2015. The new arrivals will get back in May.
They took with them 15 30-gram cans of sturgeon caviar, according to Russian state news agency Tass, as well as apples, oranges, lemons and black tea. The normal rations cost around $532 a day, the head of the ISS nutritional department told the news agency.
The caviar will be a part of the team's feast to celebrate New Year, the agency said.
They will also take a specially designed coffee machine, created by coffee makers Lavazza and engineering firm Argotec, which can work in space.
While on the ship they will work on scientific investigations and technological demonstrations on their six month trip. They will look at the genetic makeup of roundworms, the effect of aerosols in the atmosphere and liquid metals, according to Nasa.
The worms will be used to study epigenetics — changes that can be inherited but don't alter the DNA. They will grow four generations of worms to see whether the effects of having less gravity is passed down through the family.
The aerosols will be studied through a new instrument that will be delivered by Elon Musk's SpaceX in December. It will look at the earth and explore how pollutants, which can affect climate, aeroplanes and human health, are distributed through the atmosphere.
The International Space Station has been continuously occupied by humans since November 2000. It has seen more than 200 visitors since then and is expected to keep receiving them until 2024.
Register for free to continue reading
Registration is a free and easy way to support our truly independent journalism
By registering, you will also enjoy limited access to Premium articles, exclusive newsletters, commenting, and virtual events with our leading journalists
Already have an account? sign in
Join our new commenting forum
Join thought-provoking conversations, follow other Independent readers and see their replies