New dog-sized dinosaur species found in Australia
'My jaw dropped. I had to try hard to contain my excitement, it was so beautiful'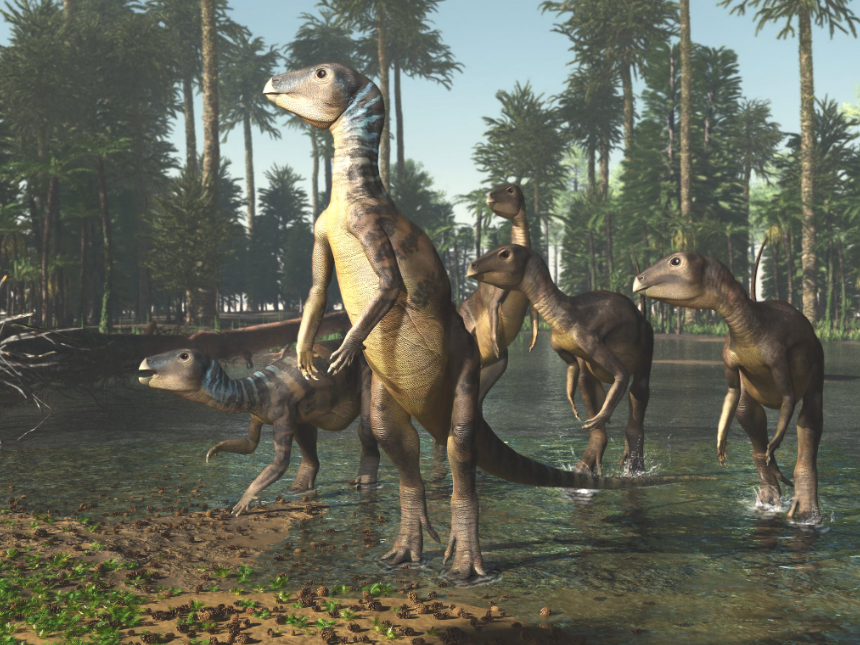 A new species of dinosaur has been discovered after a "supremely rare" fragment of jawbone fossilised in glittering opal was found among a bucket of rejected shards from an opal mine in Australia.
The fossil is from a dog-sized reptile, which lived in the Cretaceous Period, about 100 million years ago and is part of a group of plant-eating dinosaurs called ornithopods.
Discovered near Lightning Ridge, New South Wales, this group had beaks with serrated teeth, walked on two legs and were particularly abundant on the ancient floodplains which covered the region at the time.
It has been named Weewarrasaurus pobeni in recognition of the fossil's location, at Wee Warra opal field and in reference to Mike Poben, the Adelaide-based Opal buyer who spotted the jaw bone and donated it for research.
"I was sorting some rough opal when, astonishingly, I saw two fan-like ridges protruding from the dirt around one oddly-shaped piece," he said. "Time froze. If these were teeth, then this was an opalised jawbone fragment."
Lightning Ridge is believed to be the only place in the world where all fossils found exist because they have been preserved in opal – a multi-coloured iridescent precious stone.
Australia's opal deposits account for over 95 per cent of the world's supply, and Lightning Ridge is the main source of black opal. As a result, the area is home to numerous mines.
The fossil discoveries are "almost exclusively a result of the mining process, which unfortunately results in the breakage and/or disassociation of remains and the loss of detailed stratigraphic information," notes a research paper about the find, published in the journal Peer J.
Photographs show wide serrated teeth emerging from a dazzling blue-green jawbone.
Palaeontologist Dr Phil Bell from the University of New England in nearby Armidale, who led the research, said: "I remember Mike showing me the specimen and my jaw dropped. I had to try hard to contain my excitement, it was so beautiful".
Dinosaurs in the Wild
Show all 18
He added that he regarded Lightning Ridge as a world-class fossil resource because it has preserved a number of unique Cretaceous fauna.
"If these fossils were in surface rock, like those found in China and Mongolia, it would be an absolute treasure-trove," he said. "Unfortunately, the fossil remnants we see are almost always part of mining spoil, because they sit in rock strata that is lies up to 30 metres underground. The mining process breaks the fossils into fragments – but on the other hand, we would never get to see even those fragments if it wasn't for mining."
Jenni Brammall, palaeontologist, gemmologist and manager of the Australian Opal Centre in Lightning Ridge, described the jawbone as "a supremely rare and unlikely discovery".
She said: "This incredible little object is both the 100 million-year-old jaw of a new dinosaur species and a precious gemstone."
The Weewarrasaurus jaw is now part of the Australian Opal Centre collection, the world's most diverse public collection of opalised fossils.
Join our commenting forum
Join thought-provoking conversations, follow other Independent readers and see their replies