New dinosaur related to T rex discovered on Isle of Wight
Species roamed planet 115 million years ago, scientists say
Liam James
Wednesday 12 August 2020 07:04 Comments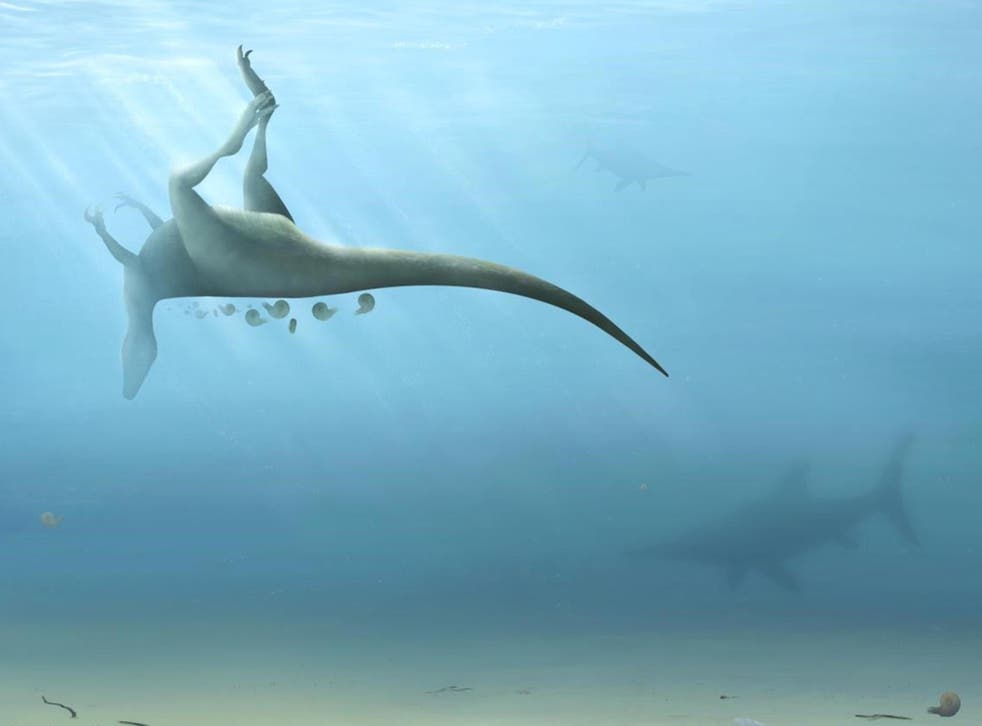 A collection of bones found on the Isle of Wight belong to a new species of dinosaur from the same family as Tyrannosaurus rex, scientists say.
Vectaerovenator inopinatus, as the dinosaur has been named, walked the earth 115 million years ago in the Cretaceous period and is estimated to have been up to four metres long, according to palaeontologists from the University of Southampton.
The dinosaur is a new species of theropod, the group that includes Tyrannosaurus rex and modern-day birds.
Four bones were found last year on the coast at Shanklin on the Isle of Wight and are thought very likely to be from the same individual dinosaur.
Scientists say it is likely that the Vectaerovenator inopinatus lived in an area just north of where its remains were discovered, with its carcass having washed out to sea.
The Isle of Wight is famed for its dinosaur remains, with over 25 species having been found on the island. Only 21 species have been found in England, for example, a land which is more than three hundred times larger.
The new fossils were unearthed in three separate discoveries just weeks apart in 2019; two were found by individuals and one by a family – all of whom handed in their finds to the nearby Dinosaur Isle museum at Sandown.
Robin Ward, a regular fossil hunter from Stratford-upon-Avon, was on a family trip to the Isle of Wight when they made their discovery.
He said: "The joy of finding the bones we discovered was absolutely fantastic. I thought they were special and so took them along when we visited Dinosaur Isle museum.
"They immediately knew these were something rare and asked if we could donate them to the museum to be fully researched."
After studying the four vertebrae, palaeontologists from the University of Southampton confirmed that the bones are likely to belong to a genus of dinosaur previously unknown to science.
Their findings will be published in the journal Papers in Palaeontology.
Chris Barker, a PhD student at the university who led the study, said: "You don't usually find dinosaurs in the deposits at Shanklin as they were laid down in a marine habitat.
"You're much more likely to find fossil oysters or driftwood, so this is a rare find indeed."
Additional reporting by Press Association
Register for free to continue reading
Registration is a free and easy way to support our truly independent journalism
By registering, you will also enjoy limited access to Premium articles, exclusive newsletters, commenting, and virtual events with our leading journalists
Already have an account? sign in
Join our new commenting forum
Join thought-provoking conversations, follow other Independent readers and see their replies