Nobel Prize 2014: Inventor of the red LED hits out at committee for 'overlooking' his seminal 1960s work
Blue LED creators were honoured this week for their breakthrough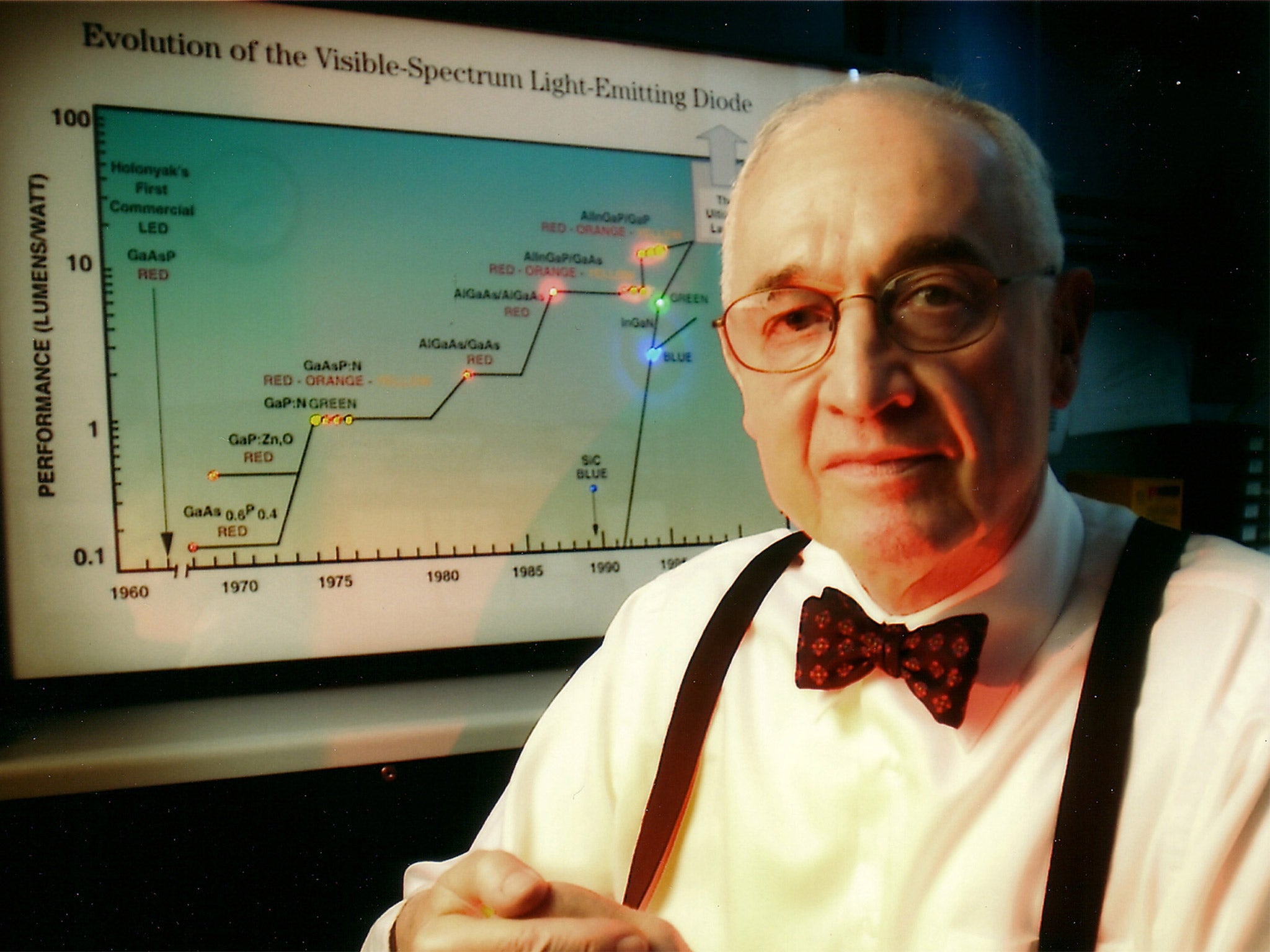 An amazing scientific reaction is usually guaranteed to elicit a sharp intake of breath, and the one emanating from a care home in the United States this week was no different.
As Professor Nick Holonyak watched the Nobel Prize in Physics being awarded to three men for creating a new kind of light-emitting diode (LED), the 85-year-old harrumphed and said he found it "insulting".
The retired American engineering professor from the University of Illinois invented the first visible spectrum, the red LED, in 1962 while working for General Electric, and colleagues have spent years saying the Nobel committee has unjustly overlooked his achievement.
For years Prof Holonyak, 85, has said his work is more important than any recognition, but upon hearing that Japanese researchers Isamu Akasaki, Hiroshi Amano and Japanese-born US citizen Shuji Nakamura had won the prestigious award, and a share of £750,000, he vented his anger.
The trio created blue LEDs. Before their work, scientists had produced red and green light with LEDs but to make white light, a goal sought for about 30 years, a blue LED was needed. Experts now predict the use of LED lights – already used in the glowing screens of computers, TVs and smartphones – will increase rapidly. The American Institute of Physics called blue LEDs "a fundamental invention that is rapidly changing the way we bring light to every corner of the home, the street and the workplace".
Speaking from his care home in Urbana, Illinois, Prof Holonyak said the blue LED would never have happened without the work he and others carried out in the early 1960s, which enabled others to build on their achievements.
He said: "The LED as you know it today comes from us," he said, sitting next to his bed thumbing through The Bright Stuff, a book written about him and his invention. "The blue LED? You cannot get to it, [without his work]. Hell, I'm an old guy now, but I find this one insulting."
The Royal Swedish Academy of Sciences, the body that awards Nobel prizes, briefly referenced Prof Holonyak's work in the scientific background issued with the prize, but made no reference to him not winning the award.
Prof Holonyak said he was not diminishing the work of the scientists who were honoured, and that he knows Mr Nakamura. However, he believes the work on the blue LED cannot be separated from his team's work on the first visible LED they created.
"I don't think it's fair to [them]," he said of early LED researchers adding that he has "no idea" why his work has not merited the Nobel.
Delaina Amos, a University of Louisville professor who works with LEDs, said the blue LED was worthy of recognition, but believed Prof Holonyak's invention also was.
She said: "There's no question that his work is very foundational, very deserving."
Prof Holonyak's claim could itself be challenged as Russian scientist and inventor Oleg Losev created the first LED, which future scientists were able to build on. However, as he died in 1942, two decades before any practical use was made of his discovery, the Nobel committee has overlooked him too.
Join our commenting forum
Join thought-provoking conversations, follow other Independent readers and see their replies