Nobel Prize in Chemistry awarded to scientists for 'ingenious' tool for building molecules
German Benjamin List and British-born David MacMillan created a greener and cheaper way for driving the creation of molecules
Samuel Lovett
Science Correspondent
Wednesday 06 October 2021 19:50 Comments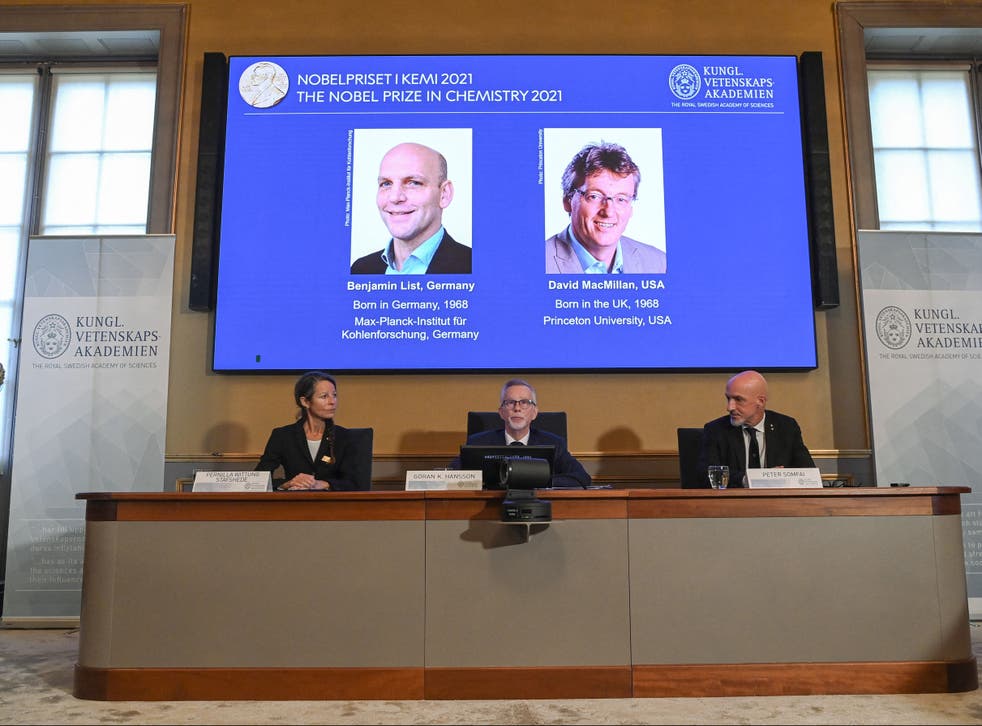 The Nobel Prize in Chemistry has been awarded to two scientists who developed a new method for building molecules which can be used in a number of everyday applications, from making new drugs or food flavourings, to capturing light in solar cells.
German Benjamin List and British-born David MacMillan were announced as the winners of the prestigious accolade, and will share the prize money of 10 million krona (£836,000).
Described as "simple" and "ingenious" by the Nobel Committee, the scientists created a technique for generating the formation of chemical molecules, called asymmetric organocatalysis.
Making molecules – which requires linking individual atoms together in specific arrangement – is a difficult and slow task. Until the beginning of the millennium, chemists were only able to use certain metals and complex enzymes as catalysts to speed up the process.
That all changed in 2000, when Professor MacMillan and Professor List independently reported that small organic molecules can be used to do the same job.
The judges said the new generation of catalysts were both more friendly for the environment and cheaper to produce and have been the key to making new substances such as pharmaceuticals, plastics, perfumes and flavours.
"Organic catalysts can be used to drive multitudes of chemical reactions," said the Royal Swedish Academy of Sciences, which awards Nobel Prizes.
"Using these reactions, researchers can now more efficiently construct anything from new pharmaceuticals to molecules that can capture light in solar cells."
Pernilla Wittung-Stafshede, a member of the Nobel panel, said the technique developed by the two scientists was "already benefiting humankind greatly" and is "used widely today".
Since their discovery, the tool has been further refined, making it many times more efficient, said Prof List, adding that the "real revolution" was only just beginning.
Peter Somfai, another member of the Nobel Committee, stressed the importance of the discovery for the world economy.
"It has been estimated that catalysis is responsible for about 35 per cent of the world's GDP, which is a pretty impressive figure," he said. "If we have a more environmentally friendly alternative, it's expected that that will make a difference."
On Monday, the Committee awarded the Nobel Prize in Physiology or Medicine to Americans David Julius and Ardem Patapoutian for their discoveries into how the human body perceives temperature and touch.
World news in pictures

Show all 50
The Nobel Prize in Physics was awarded on Tuesday to three scientists whose work found order in seeming disorder, helping to explain and predict complex forces of nature, including expanding our understanding of climate change.
Over the coming days prizes will also be awarded for outstanding work in the fields of literature, peace and economics.
Register for free to continue reading
Registration is a free and easy way to support our truly independent journalism
By registering, you will also enjoy limited access to Premium articles, exclusive newsletters, commenting, and virtual events with our leading journalists
Already have an account? sign in
Join our new commenting forum
Join thought-provoking conversations, follow other Independent readers and see their replies