Deadly disease killing olive trees 'could cost over £20bn' across Europe
Disease, spread by spittlebugs, capable of infecting over 300 plant species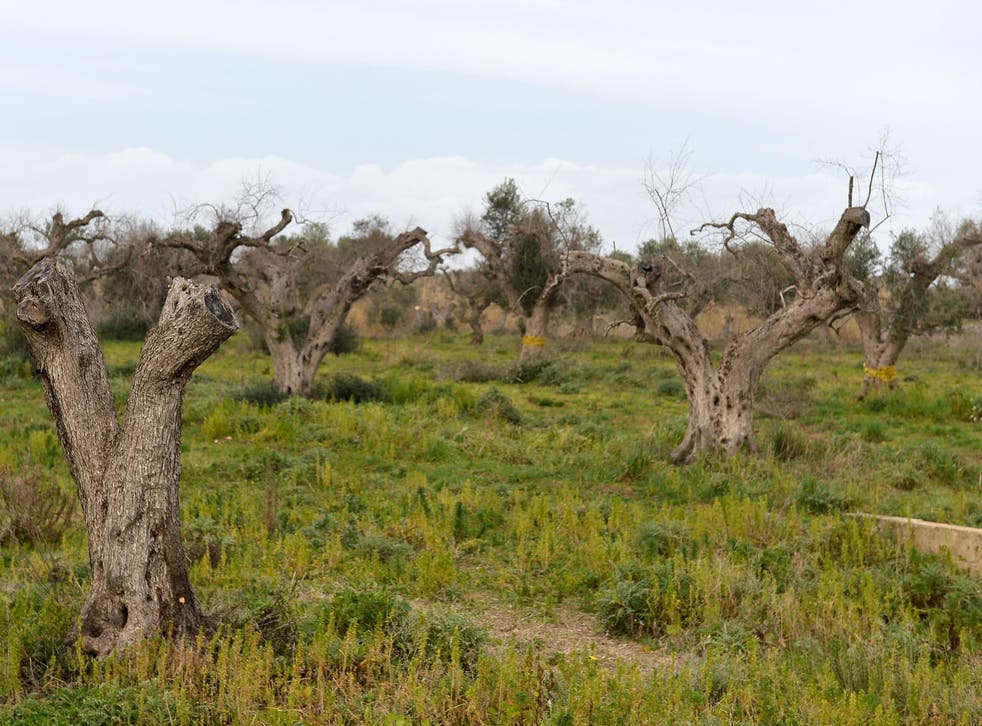 A deadly plant disease affecting olive trees across Europe could cause losses of more than £20bn over the next 50 years, researchers said.
The bacteria Xylella fastidiosa, which is spread by insects known as spittlebugs, is considered to be one of the most dangerous plant pathogens in the world.
It has already caused widespread problems in Italy and Spain, wiping out entire groves of ancient olive trees.
Experts have also warned the bacteria is capable of infecting over 300 plant species, including lavender, rosemary and flowering cherry.
In a new study published in the journal Proceedings of the National Academy of Sciences (Pnas), researchers calculated the potential economic impact in Italy, Spain and Greece, which account for 95 per cent of olive oil production, if nothing is done to stop the spread of the bacteria.
Science news in pictures

Show all 20
Their findings suggest losses could as high as €5bn (£4.2bn) for Italy, €17bn (£14.5bn) for Spain, and €2 (£1.7bn) for Greece over the next five decades.
The team, led by Dr Kevin Schneider from Wageningen University in the Netherlands, said that drastic action such as felling seemingly healthy trees would be required to stop the spread of the disease.
"Even under slow disease spread and the ability to replant with resistant cultivars, projections of future economic impact in affected countries run in the billions of euros," the authors write.
"Our findings highlight the importance of minimising disease spread and implementing adaptation measures in affected areas."
The research model compared two different scenarios – one where all growing ceased due to tree death and another where trees were replanted with resistant varieties.
If measures are taken to protect olive groves, the overall economic impact could be lowered to around 1.6 billion euros (£1.3 billion) in Italy, €5b (£4.4bn) in Spain and €0.6bn (£0.5bn) in Greece.
But this increase in costs could also see a rise in the price of olive oil, according to the study.
"Most olives are used as an input for processing into olive oil," the researchers write. "In turn, the simulated price increase would result in higher costs of production for oil processors. This could affect the consumer price for olive oil."
Additional reporting by agencies
Register for free to continue reading
Registration is a free and easy way to support our truly independent journalism
By registering, you will also enjoy limited access to Premium articles, exclusive newsletters, commenting, and virtual events with our leading journalists
Already have an account? sign in
Register for free to continue reading
Registration is a free and easy way to support our truly independent journalism
By registering, you will also enjoy limited access to Premium articles, exclusive newsletters, commenting, and virtual events with our leading journalists
Already have an account? sign in
Join our new commenting forum
Join thought-provoking conversations, follow other Independent readers and see their replies