Omicron: Experts fear new Covid variant will impact effectiveness of key drugs for vulnerable patients
Lab-made antibody treatments may not be as effective in neutralising the variant due to its high number of mutations
Samuel Lovett
Science Correspondent
Wednesday 01 December 2021 20:09 Comments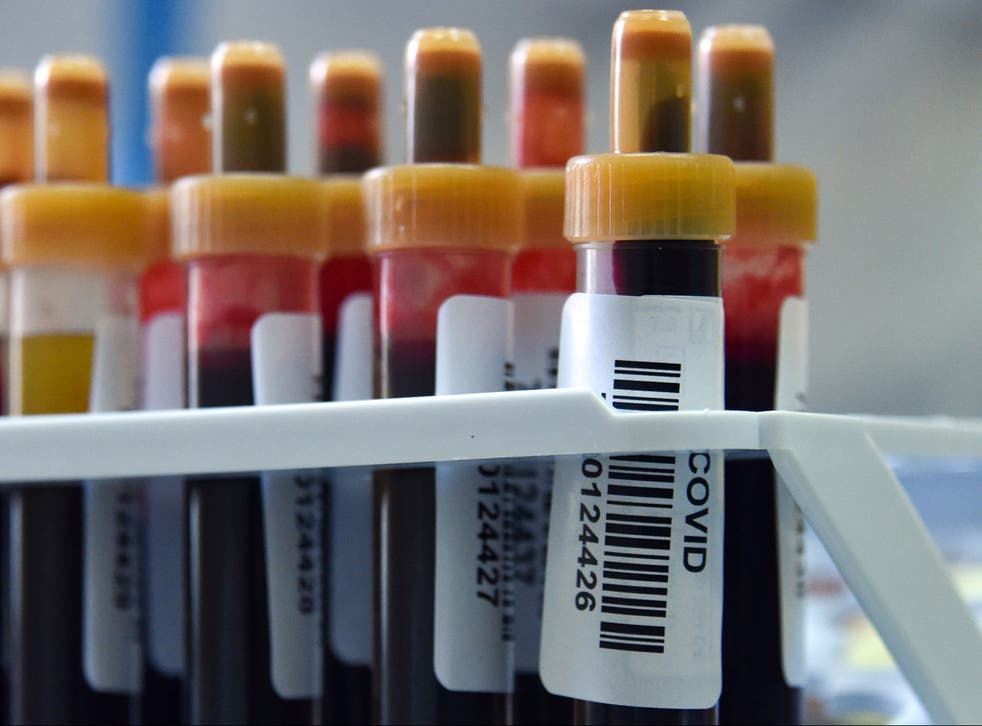 Scientists fear the omicron coronavirus variant will reduce the effectiveness of key drugs that are used to treat Covid-19 in vulnerable patients.
As with the vaccines, it remains unclear as to what extent omicron will dent the protective levels provided by lab-made antibodies – a treatment that is available via the NHS for those people who struggle to mount a strong immune response against Covid-19.
But due to the high number of mutations in the variant's spike protein, which is targeted by the antibodies, it's expected that this type of treatment may need to be tweaked to better identify and neutralise omicron.
A number of antibody cocktails have been manufactured, though the UK has only approved one type, Ronapreve.
The drug, made by Regeneron and administered by injection or infusion, is being offered to hospitalised patients without Covid antibodies who are aged over 12 and considered immunocompromised.
However, the US maker said on Tuesday that analysis suggested its drug may be impacted by the mutations present in omicron. It said: "There may be reduced neutralisation activity of both vaccine-induced and monoclonal-antibody conveyed immunity."
Scientists expect the same outcome for similar antibody-based treatments, such as from AstraZeneca.
Professor Lawrence Young, a virologist at the University of Warwick, said: "These monoclonal antibodies are likely to be less effective. I think that's a big issue."
Professor Wendy Barclay, a virologist at Imperial College London and member of Sage, said the mutations identified in omicron's spike protein, which allows it to attach and gain entry to our cells, indicated the lab-made antibodies "won't work as well as they would do against the wild type [original] virus".
She added: "That is really a cause of concern because those antibodies are available as a treatment now for patients who, for example, don't make a good immune response themselves.
"And such patients may not benefit as much as we would hope for that kind of treatment if affected with this virus."
Blood Cancer UK, which supports patients who are immunocompromised and particularly vulnerable to Covid-19, said research was needed to determine to what extent omicron will impact Ronapreve as a treatment.
If further analysis confirms scientists' worst fears, "then it will mean a vital tool for the protection of immunosuppressed people has been lost," said Dr Stephen Griffin, a virologist at Leeds University.
"The simple fact is that clinically vulnerable people have been completely overlooked with respect to current UK policy ... and what little reassurance in terms of a rescue therapy existed previously, will be removed should omicron turn out to indeed possess the properties predicted from its range of mutations."
Despite concerns around Ronapreve, there is optimism that omicron won't diminish the effectiveness of two antiviral drugs that have been ordered by the government and which are set to be made available for the clinically vulnerable.
Consumed orally, the pills – manufactured by Merck and Pfizer – have been found to be highly effective in cutting the risk of hospitalisation and death in people recently infected with Covid.
Unlike the lab-made antibodies, these drugs work by interfering with the way in which the virus replicates after it has gained entry to a cell. This then hinders its ability to further spread throughout the body.
Testing suggests that omicron has not acquired any mutations which, "would signal any resistance or change in susceptibility of the virus", to these antiviral pills, said Prof Barclay.
"The target of these two drugs, there's no mutation, so they should be just as effective against omicron as they are with other variants," Prof Young said.
The UK has secured 480,000 courses of the treatment developed by Merck, which was approved by the medicines regulator.
Regulatory approval has not yet been granted for Pfizer's antiviral, though it's expected to be given the green light on account of its promising trial data, which suggest it's 90 per cent effective in cutting the risk of hospitalisation and death among vulnerable groups. The UK has ordered 250,000 courses.
UK news in pictures

Show all 50
As for pre-existing drugs that have been used throughout the pandemic to treat people hospitalised with Covid, such as dexamethasone, experts are confident they will continue to be beneficial in those infected with omicron.
These drugs target and treat the symptoms generated by Covid infection, rather than blocking the virus's entry to our cells, as with the antibody cocktails, or hindering its replication, as with the antiviral pills.
Sir Martin Landray, a professor of medicine and epidemiology at the University of Oxford, who helped identify the benefits of dexamethasone, said these types of treatment, "will continue to have the effects that we've seen in the past".
He added: "I don't have worries about them. The benefits we've seen… for those sorts of drugs are highly likely to remain."
Register for free to continue reading
Registration is a free and easy way to support our truly independent journalism
By registering, you will also enjoy limited access to Premium articles, exclusive newsletters, commenting, and virtual events with our leading journalists
Already have an account? sign in
Join our new commenting forum
Join thought-provoking conversations, follow other Independent readers and see their replies