The Independent's journalism is supported by our readers. When you purchase through links on our site, we may earn commission.
Parkinson's symptoms reversed in monkeys by groundbreaking new treatment
Leading expert hails 'major leap forward' as scientists in Japan prepare to hold first human trials of stem cell technique, which could restore control of movement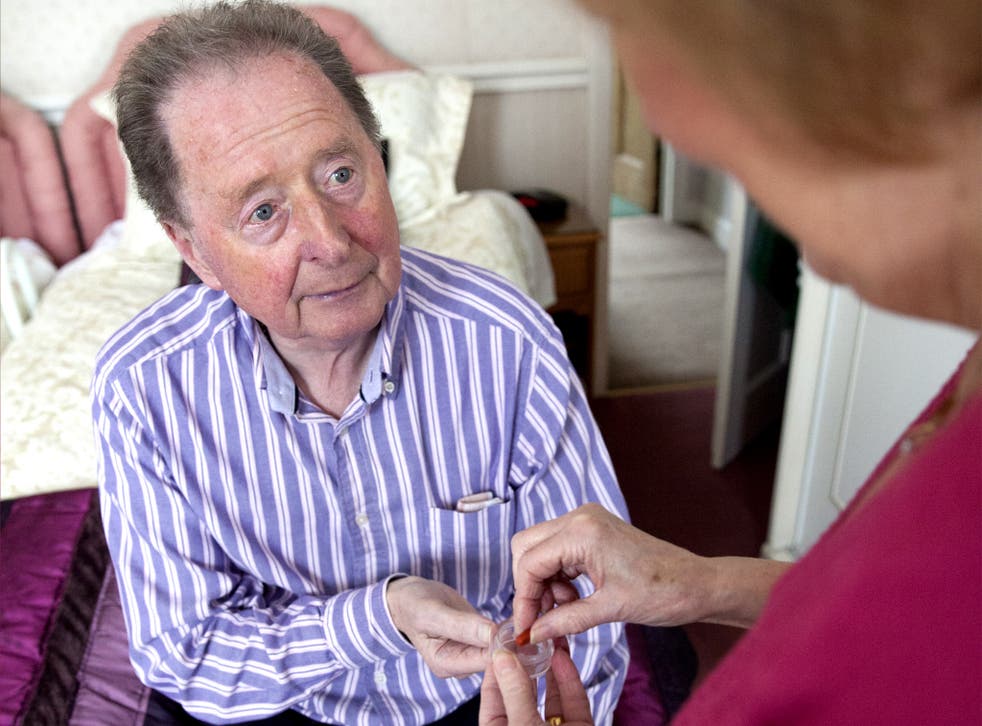 A treatment that could reverse some of the main symptoms of Parkinson's disease – potentially enabling patients to recover enough control of their movements to play tennis – is set to be trialled in humans for the first time.
In what was described as a "major leap forward", scientists in Japan managed to significantly improve the condition of monkeys given an artificially induced version of the disease.
They did this by taking tissue from adult humans and turning it into stem cells, which are capable of becoming any kind of cell. These were then used to create new brain cells in the monkeys, with dramatic results.
Parkinson's involves a progressive loss of brain cells that release a chemical called dopamine, causing the trademark uncontrollable shaking and loss of balance.
The success of the experiment raises hopes of reproducing astonishing results achieved by transplanting brain tissue from foetuses into Parkinson's patients in the 1990s. This appeared to be hugely successful, until major side effects were discovered and the trials had to be stopped.
The scientists in Japan monitored the monkeys for signs of cancer and other feared side effects, but have concluded it was now safe to proceed to clinical trials in people.
Writing in the journal Nature, the researchers said they had found a 40 to 55 per cent improvement in the motor skills of the monkeys after the new brain cells were transplanted.
One of the scientists, Professor Jun Takahashi of Kyoto University, said the treatment had helped the monkeys' movement control and balance.
"Judging from our data and previous clinical trials using foetal mid-brain tissues, I think a stem cell-based therapy is effective for Parkinson's disease," he told The Independent in an email.
However, Parkinson's disease also causes dementia and cognitive problems.
"In this study, we did not evaluate their memory, because memory function is not deteriorated in this [disease] model. So, I have no idea about the effect of this therapy on memory function," Professor Takahashi said.
Asked how close science was to a complete cure, he said: "It depends on the definition of 'complete cure'. A stem cell-based therapy can replace lost neurons, but cannot delete a cause of the disease.
"If somebody finds the way to delete the cause of the disease and a stem cell-therapy is combined, it will be a 'complete cure.'"
Dr Tilo Kunath, of Edinburgh University, said the "extremely promising research" demonstrated that a "safe and highly effective cell therapy for Parkinson's can be produced in the lab".
Asked what it would mean if it worked as well in human as in the monkeys, he said: "I think it would be a huge deal for the patients that it works for. It would be the first therapy that can reverse symptoms and reduce the need for medication.
"I think people are not wanting to call it a cure because Parkinson's is still ongoing, and still can cause a lot of the non-motor problems such as cognitive decline and dementia, but serious motor symptoms can be solved with this.
"The patients that had foetal grafts in the 1990s, where it worked well; the patients' lives were transformed, they got their lives back and could do a lot of things … play tennis.
"But some of them ended up in disaster … very serious side effects. Foetal grafts had to stop because of side effects that made patients worse."
Health news in pictures

Show all 40
Professor David Dexter, director of the Parkinson's UK Tissue Bank, sounded a similarly optimistic note.
"Stem cells and talk about cures for Parkinson's have been around for a long period of time, but this is now a major leap forward," he said.
"For the first time, patient-derived stem cells from healthy volunteers, and also from people affected by Parkinson's, have been transplanted into a primate model of Parkinson's. In the past, stem cells have been plagued by a number of problems."
It had been thought that a patient's own cells could be reprogrammed to become stem cells and then replacement brain cells, but doing this on an individual basis has proved prohibitively expensive.
Instead, Professor Dexter said it was thought that a bank of cells could be built up from about 150 people who were a good match for some 90 per cent of the UK population.
This would mean patients would probably have to take immune suppressing drugs. One side effect in the trial involving monkeys was a "very mild" immune response.
Professor Tom Foltynie, a consultant at the UK's National Hospital for Neurology & Neurosurgery, said the study provided reassurance that brain cells made from stem cells could "survive and function" for a significant period after they were transplanted.
"Most importantly, the team found no evidence for tumour development, at least until the two-year time point," he said.
However, Professor Foltynie cautioned that the model of Parkinson's created in the monkeys did not get progressively worse as the real disease does in humans.
"As such, there will be concerns about how transplants might fare in the long term in humans with Parkinson's disease, which was also the case for the previous foetal cell trials, although long-term improvements in movement have been previously reported in two patients who had foetal cell transplants in the 1990s," he said.
"Overall, the results they report in the short term are encouraging, and provide some reassurance that these cells can function as sources of dopamine to address those movement symptoms of Parkinson's disease that relate to dopamine loss.
"No one expects that transplants will address the non-dopamine, non-movement aspects of Parkinson's disease, such as dementia and falls, which ultimately emerge with very long-term follow up.
"However, by conducting this research, the authors have confronted most of the major issues associated with the development of a cell therapy for Parkinson's disease – its safety, the main factors predictive of efficacy, and the availability of adequate tissue."
Current medications can only help manage the symptoms of the disease.
Parkinson's UK's website says: "We don't yet have any treatments that can cure, slow, stop or reverse the progression of Parkinson's. This means the condition continues to progress as do the symptoms and side effects of taking more medication."
Register for free to continue reading
Registration is a free and easy way to support our truly independent journalism
By registering, you will also enjoy limited access to Premium articles, exclusive newsletters, commenting, and virtual events with our leading journalists
Already have an account? sign in
Register for free to continue reading
Registration is a free and easy way to support our truly independent journalism
By registering, you will also enjoy limited access to Premium articles, exclusive newsletters, commenting, and virtual events with our leading journalists
Already have an account? sign in
Join our new commenting forum
Join thought-provoking conversations, follow other Independent readers and see their replies