Nasa releases mesmerising new image of Pluto
Photo shows shimmering atmosphere and mountainous surface of dwarf planet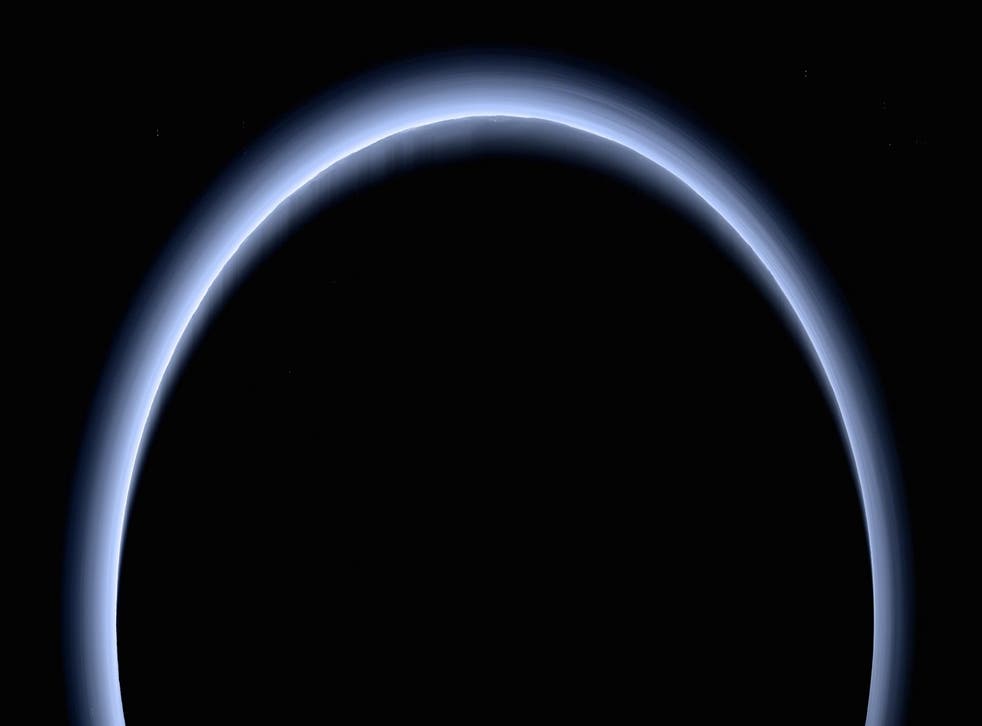 A stunning new photograph of Pluto, showing the dwarf planet silhouetted in front of the sun, has been released by Nasa.
Taken by the New Horizon spacecraft as it passed around 120,000 miles away, it was pieced together from six separate images that were taken on 14 July 2015, but not released until now.
It shows the unusual blue haze in Pluto's atmosphere. Scientists are unsure what caused the phenomenon but believe the colour comes from sunlight hitting methane in the planet's atmosphere.
This produces hydrocarbons that clump together, blocking sunlight and creating a blue shimmer. A similar process takes place in the Earth's atmosphere.
The particles that produce the haze form numerous layers in the atmosphere, some of which extend for to up to 120 miles above the planet.
The outline of mountains on Pluto's surface can also be seen near the top of the image. Each one pixel of the picture is the equivalent of one kilometre in distance.
Nasa has named the photo "Farewell to Pluto" because it was taken as the New Horizons module moved away from the dwarf planet.
In pictures: Nasa mission to Pluto

Show all 5
The spacecraft launched in 2006 and spent nine years travelling to Pluto for a six-month observation.
Pluto was declassified as a planet in 2006 after scientists decided it should instead be categorised as a "dwarf planet" because it orbits the sun in a different way to other planets.
Register for free to continue reading
Registration is a free and easy way to support our truly independent journalism
By registering, you will also enjoy limited access to Premium articles, exclusive newsletters, commenting, and virtual events with our leading journalists
Already have an account? sign in
Register for free to continue reading
Registration is a free and easy way to support our truly independent journalism
By registering, you will also enjoy limited access to Premium articles, exclusive newsletters, commenting, and virtual events with our leading journalists
Already have an account? sign in
Join our new commenting forum
Join thought-provoking conversations, follow other Independent readers and see their replies