The Independent's journalism is supported by our readers. When you purchase through links on our site, we may earn commission.
Scientists discover 3,000-year-old baby bottle
'They look like little mythical animals. It's a testament to the playfulness of the people who made the pots'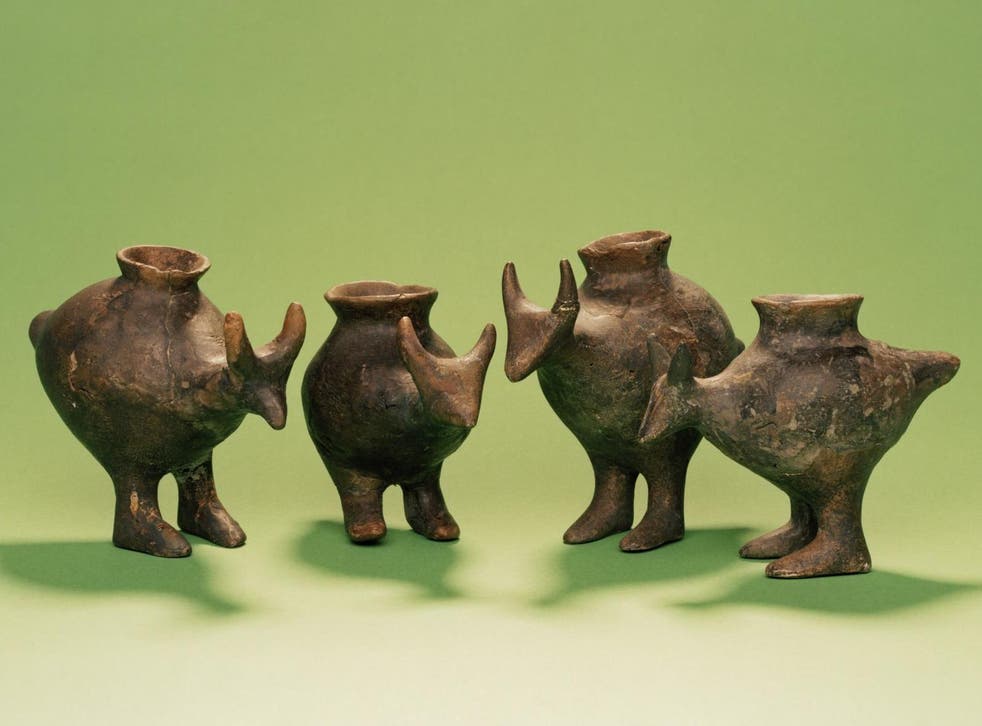 Prehistoric mothers were giving their infants clay baby bottles crafted into the shape of little animals more than 3,000 years ago, showing they "lavished their children with love and attention", researchers say.
Scientists found a bottle containing residues of animal milk from a Bronze Age children's grave that dates to 1200BC. The vessel is small enough to fit in a baby's hand and has a little spout which the baby would have suckled from.
This is the first evidence to show prehistoric babies during this period drank animal milk when they were being weaned off their mothers.
Lead researcher Dr Julie Dunne from the University of Bristol told The Independent: "They look like little mythical or magical animals. It's a testament to the kind of creativity and playfulness of the people who made the pots.
"Also if you think about how cute and funny they are, probably when they gave them to a baby they would have laughed. You get a real connection with the potter and it's really telling us that these prehistoric parents lavished their children with love and attention, they really cared about them."
UK news in pictures

Show all 50
However, researchers also believe our Neolithic ancestors could have been using the bottles thousands of years earlier.
"These vessels first appear in the Neolithic, around 7,000 years ago. I suspect the Neolithic ones were used for the same purpose but we can't confirm that until we've examined them," said Dr Dunne.
Weaning a child earlier using animal milk could have helped counteract a period of infertility that can happen when a mother breastfeeds.
Hunter-gatherers were having children about once every five years yet early agriculturalists were probably having them every couple of years. Scientists believe these little vessels could help explain why there was a 'baby boom' during the Neolithic period.
Dr Dunne said: "Humans become agriculturalists and they start growing cereals. Once people are settled and they've got food on tap to feed babies they start having more babies and more often. Fertility increases which then leads to a baby boom and a massive increase in the population."
Scientists looked at three vessels found in child graves in Bavaria – two of which were from an early Iron Age cemetery dating between 800 and 450BC and the other from the late Bronze Age, dating to between 1200 and 800BC. The items were found next to children between zero and six years old.
Each one was between five and 10cm across and had an extremely narrow spout that fitted inside the baby's mouth. Because the spouts are so small it has been difficult to determine what they contained and before analysing them researchers thought they could have been used to nourish sick adults or the elderly.
To understand what was inside them researchers did a chemical analysis on the fatty acids from animal products. They found two of the vessels had been used for milk from a ruminant animal (cattle, sheep or goats) whereas the other was non-ruminant milk (probably from a pig or human).
The study, published in Nature, is the first research to look at how infants were weaned in these prehistoric cultures. Similar vessels have been found in ancient Rome and Greece and researchers would now like to investigate whether they served the same purpose.
Scientists say the study provides a crucial insight into the diet of children in prehistoric human populations.
"Bringing up babies in prehistory was not an easy task. We are interested in researching cultural practices of mothering, which had profound implications for the survival of babies," said researcher Dr Katharina Rebay-Salisbury from the Institute for Oriental and European Archaeology at the Austrian Academy of Sciences.
"It is fascinating to be able to see, for the first time, which foods these vessels contained," she said.
Join our new commenting forum
Join thought-provoking conversations, follow other Independent readers and see their replies