Quinoa helped ancient hunter-gatherers avoid starvation and build a new civilisation
A population surge prompted the introduction of farming in eastern North America about 5,000 years ago, researchers believe
Ian Johnston
Science Correspondent
Tuesday 02 August 2016 22:36 Comments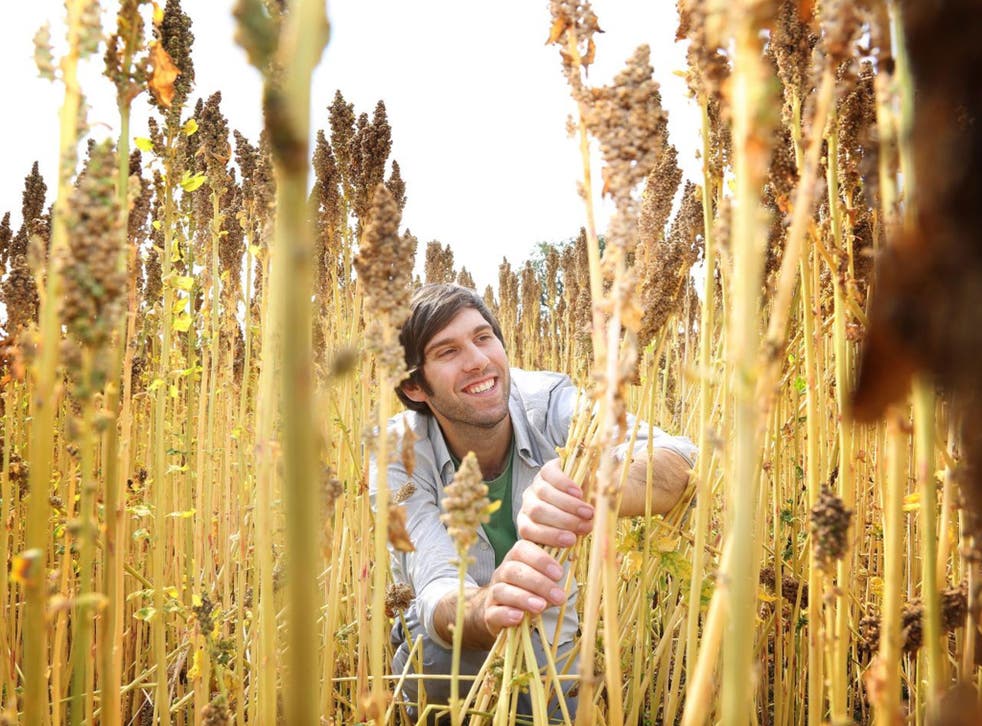 Quinoa is now famous as the supposed superfood beloved of Islington foodies, but thousands of years ago it may have helped bands of hunter-gatherers avoid starvation and build a new civilisation.
Evidence has been found that pitseed goosefood, a close relative of quinoa, was among the first crops farmed in what is now Illinois.
Some scientists have suggested that farming developed for the first time because hunter-gatherers had such an easy life that they had time to invent agricultural techniques. But a new study supports a different theory: a surge in the population forced people to find new ways of producing food or starve.
Researchers used ancient artefacts that have been radiocarbon-dated to give an estimate of what was happening to the population at the time, figuring that more people would leave behind more things for archaeologists to find.
They discovered the population in eastern North America nearly doubled about 6,900 years ago and continued rapid growth until 5,200 years ago, shortly before plants were domesticated for the first time in the region about 5,000 years ago.
One of the researchers, Elic Weitzel, an anthropologist at Utah University, said: "We argue that human populations significantly increased prior to plant domestication in eastern North America, suggesting that people are driven to domestication when populations outstrip the supply of wild foods.
"The transition to domesticating food allowed human populations to increase drastically around the world and made our modern way of life possible. People start living near the fields. Whenever you've got sedentary communities, they start to expand. Villages expand into cities. Once you have that, you have all sorts of social changes. We really don't see state-level society until domestication occurs."
Farming was "invented" on 11 different occasions around the world, with the first believed to be the domestication of wheat around 11,500 years ago in the Middle East. The first evidence in eastern North America is squash farming at Phillips Spring, Missouri, some 5,025 years ago.
This was followed by the planting of sunflower seeds 4,840 years ago at Hayes, Tennessee, and large quantities of pitseed goosefoot, along with squash, sunflower and marshelder, in Riverton, Illinois, about 3,800 years ago.
Mr Weitzel, the first author of a paper in the journal Royal Society Open Science, added: "For most of human history, people lived off wild foods – whatever they could hunt or gather. It's only relatively recently that people made this switch to a very different method of acquiring their food. It's important to understand why that transition happened."
To estimate population levels, the researchers divided 3,750 dated artefacts into 100-year periods over the past 15,000 years.
"The assumption is that if you had more people, they left more stuff around that could be dated," Mr Weitzel said. "So if you have more people, you conceivably should have more radiocarbon dates."
They found six periods of significant population increase or decrease during that time, including the sudden rise just before the introduction of farming. Professor Brian Codding, who also took part in the research, stressed the people at the time would still have hunted for animals like fish, deer, birds and turtles.
"These people were producing food to feed themselves and their families [by farming], they're still hunting and foraging," he said.
By the time Europeans arrived in Illinois, there were well-established and productive farms, although by this time quinoa appears to have been replaced as the favourite crop.
French explorer Jacques Marquette wrote in 1669: "The Illinois [tribe] … raise Indian corn, which they have in great abundance, have squashes as large as those of France, and have a great many roots and fruits. There is fine hunting there of wild cattle, bears, stags, turkeys, ducks, bustards, pigeons, and cranes."
And he added later: "They live by hunting, game being plentiful in that country, and on Indian corn, of which they always have a good crop; consequently, they have never suffered from famine."
Register for free to continue reading
Registration is a free and easy way to support our truly independent journalism
By registering, you will also enjoy limited access to Premium articles, exclusive newsletters, commenting, and virtual events with our leading journalists
Already have an account? sign in
Join our new commenting forum
Join thought-provoking conversations, follow other Independent readers and see their replies