Photos show 'ambitious' Redback spider eating deadly snake in Australia
The Eastern Brown snake is the second-deadliest snake in the world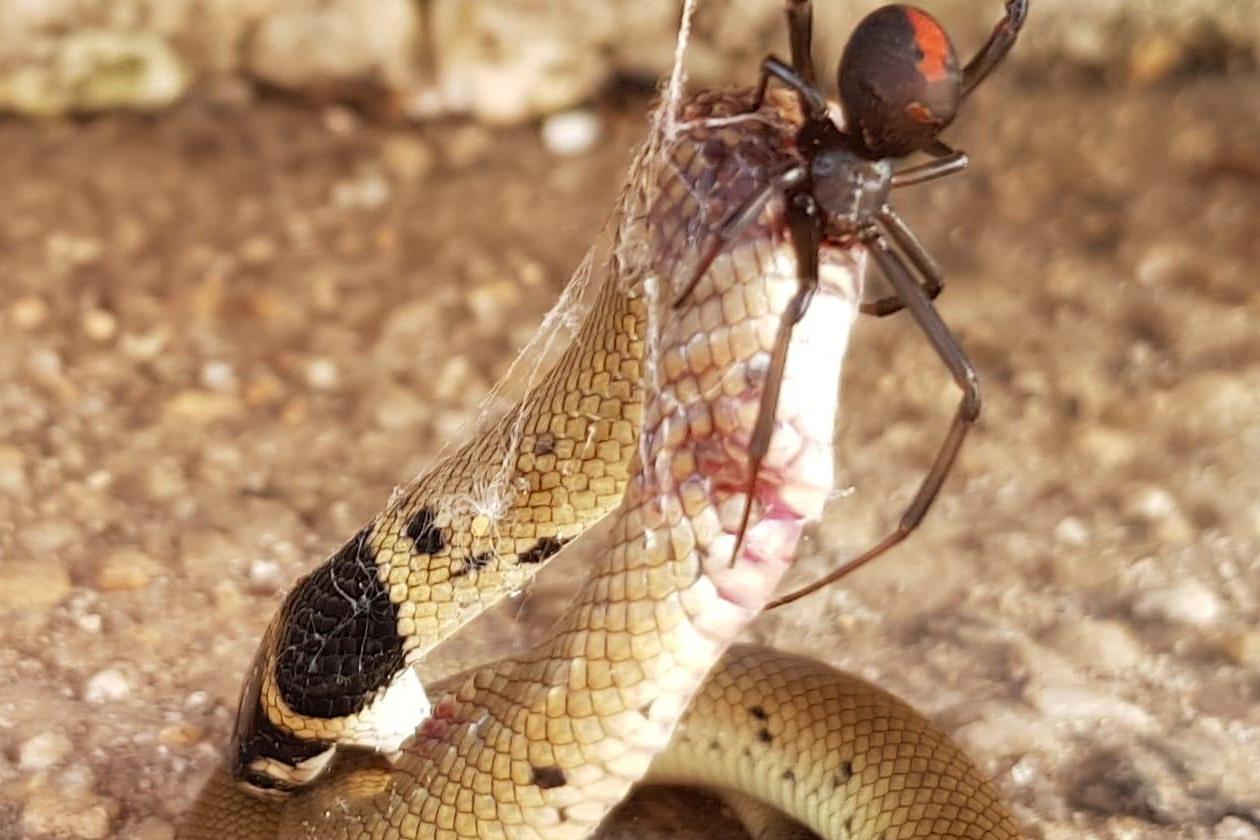 Photos of a venomous spider consuming an equally-venomous snake in Australia have gone viral after a woman captured the battle.
Robyn McLennan, from Bright, Victoria, was visiting a winery when she happened to see the Redback spider attempting to eat the Eastern Brown snake - which she then shared to the Facebook group Field Naturalists Club of Victoria.
"Took this shot today at [a winery] in North East Victoria. I believe the baby snake is an Eastern Brown," McLennan wrote, alongside three photos.
She then added an update to the post, describing the spider's tactics.
"The spider has now brought the entire snake off the ground and it is [suspended] mid-air, just under the lower lip of the tank," she wrote.
The most stunning images of spider webs
Show all 8
In the photos, the giant spider can be seen lowering itself onto the coiled snake, trapping it in its web.
According to members of the group, while the photos are "astonishing," the natural occurrence of Redbacks attacking and eating Eastern Brown snakes is not uncommon.
"Yes that is an Eastern Brown snake," one person commented. "They seem to get caught by Redbacks reasonably frequently based on social media photos and videos."
A member of the Facebook group Brisbane Snake Catchers confirmed this, writing in a separate post regarding the photos: "Many people would think this would be an unlikely event, but it is a fairly common occurrence, just not witnessed by the public often.
"All animals are opportunistic feeders, as in they'll eat what they can, to survive."
Others were simply impressed by the battle between the two deadly animals.
"Deadly vs deadly," one person wrote, while another said: "That's a pretty big snack for a small spider."
The native Eastern Brown snake is the second deadliest snake in the world, according to the Australia Zoo.
However, Redback spiders, which are also native to Australia, are one of the most dangerous spiders in the country, according to the University of Michigan's Animal Diversity Web (ADW).
When hunting for prey, typically insects, lizards, and other spiders, the Redback constructs complex silk webs that trap the prey before killing it.
Support free-thinking journalism and attend Independent events
Often the spider wraps the dead prey completely in its web before carrying it home, where it may be saved for later.
Join our commenting forum
Join thought-provoking conversations, follow other Independent readers and see their replies