Revealed: Ordinary laboratory animals are outnumbered by GM counterparts for first time
'These represent the next generation of tools to understand complex conditions' says one researcher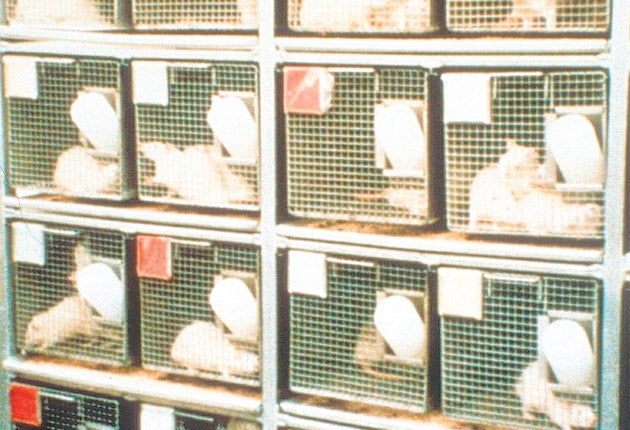 The number of genetically modified (GM) animals used in scientific research in Britain has exceeded the number of ordinary laboratory animals for the first time, according to official statistics that show a 9 per cent overall increase in the use of experimental animals last year.
Some 4,033,310 animals were used in scientific experiments started in 2012, an increase of 322,689, or 9 per cent over the previous year. There were 1.91 million scientific "procedures" used with GM animals in 2012 compared to 1.68.m procedures on normal animals.
The number of animal experiments increased by just over 8 per cent, to 4.11m procedures. The vast majority involved laboratory mice, with much of the increase due to the creation and breeding of GM animals, or "animals with harmful mutations", according to data released by the Home Office.
Using GM technology to alter the genes of laboratory mice, which can help to create animal "models" of human diseases, is largely to account for the significant increases in animal experiments over the past two decades, despite successive governments saying that they want to reduce research on animals.
"These represent the next generation of tools to understand complex conditions such as Parkinson's. The development of these models, which much more accurately reflect the condition, are vital for the development of new therapies," said Kieran Breen, director of research for the charity Parkinson's UK.
Dr Ted Bianco, Acting Director of the Wellcome Trust, said: "This year's increase reflects the use of powerful techniques to help us model with greater accuracy human disease. In particular, the inclusion of genetically-modified mice, whose breeding alone counts as a procedure, is largely behind this increase, but will ultimately allow us to reduce the number of animals used."
However, Katy Taylor, head of science at the British Union for the Abolition of Vivisection, said: "The sharp rise in the genetic modification of animals is especially disturbing. Such research raises strong ethical concerns because of the heavy welfare burden it imposes on the animals involved. Few animals show 'desired' characteristics, and so many animals who do not are killed even before any research can take place, while others die of severe and unrelated malformations caused by the genetic modification techniques themselves."
Nearly 380,000 more mice were used in animal procedures started in 2012 compared to 2011, an increase of 14 per cent. There were also significant increases in the number of sheep (5,157 or 14 per cent), goats (1,462 or 74 per cent), guinea pigs (1,203 or 10 per cent) and monkeys (545 or 22 per cent).
There were falls in the use of fish, amphibians, rabbits and pigs.
"The government must keep its promise to reduce the number of animals used in experiments. Refinement and reduction are not enough. We want animals out of laboratories and cutting-edge replacements in," said Ben Williamson of People for the Ethical Treatment of Animals.
Join our commenting forum
Join thought-provoking conversations, follow other Independent readers and see their replies