Richard Branson says he will be in space within six months
'My love for space is about how much it can do for people back here on Earth'
Caroline Mortimer
Tuesday 10 October 2017 12:54 Comments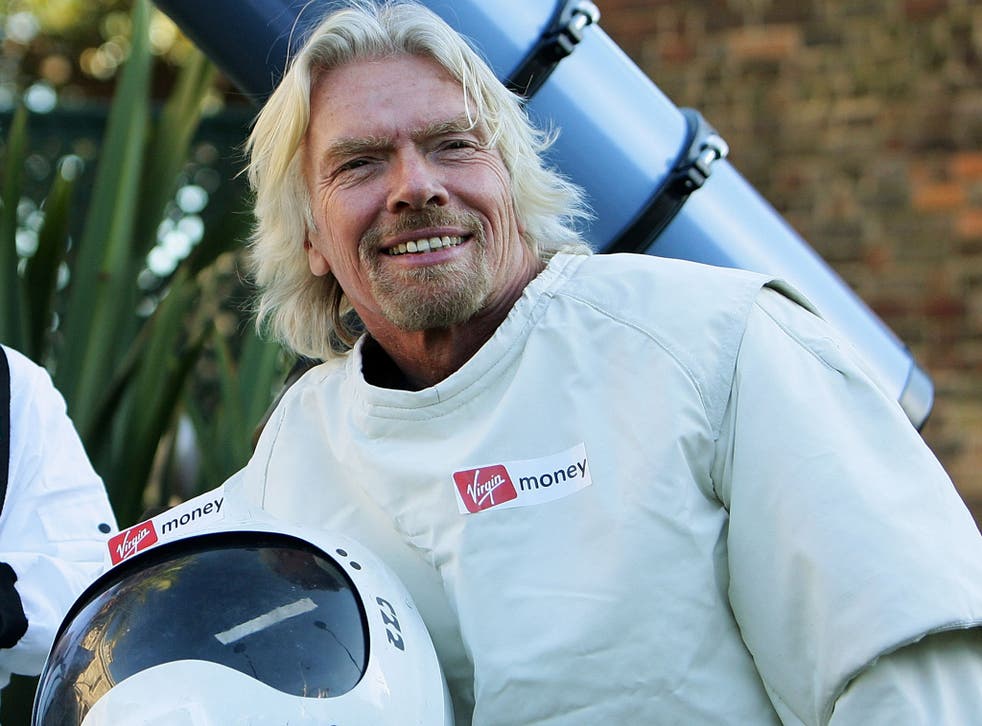 Richard Branson has claimed he will be able to go into space within the next six months.
The billionaire entrepreneur said he expects to make his first voyage with his Virgin Galactic space programme. He added that the company is still on target to send tourists into space by the end of next year.
He remained optimistic about the company's future three years on from a crash which resulted in the death of one pilot and injured another in California's Mojave Desert.
Despite this and a number of smaller setbacks, over 700 potential customers, including scientists such as Stephen Hawking and celebrities such as Brad Pitt and Ashton Kutcher, have signed up to take a $250,000 (£200,000) trip on one of its crafts.
Speaking at the Nordic Business Forum in Helsinki, Finland last week, Mr Branson said: "We are hopefully about three months before we are in space, maybe six months before I'm in space."
He added that his space exploration rival Elon Musk, who is behind the Space X programme to produce reusable rockets, was likely to reach Mars before him, the Daily Mail reported.
Stephen Hawking announces he will travel to space on board Richard Branson's ship
"I'm not as passionate about Mars as Elon is," he said. "My love for space is about how much it can do for people back here on Earth, and that's what Virgin Galactic is pushing towards."
Mr Musk recently announced plans to get to Mars by 2022.
Virgin Galactic's most recent successful test flight came in August when the VSS Unity space plane, an updated version of the one that crashed, completed a glide test – dumping water to stimulate the reduction in weight caused by the lost of rocket fuel.
Science news in pictures

Show all 20
On launch the plane is destined to enter space via suborbital rocket flight but – unlike Space X – it will not use a traditional rocket launch for take off.
Instead another carrier plane will propel it into the skies.
The company claims the rocket motor in the VSS Unity craft will engage "within seconds" and it will then travel approximately three and a half times the speed of sound.
Register for free to continue reading
Registration is a free and easy way to support our truly independent journalism
By registering, you will also enjoy limited access to Premium articles, exclusive newsletters, commenting, and virtual events with our leading journalists
Already have an account? sign in
Register for free to continue reading
Registration is a free and easy way to support our truly independent journalism
By registering, you will also enjoy limited access to Premium articles, exclusive newsletters, commenting, and virtual events with our leading journalists
Already have an account? sign in
Join our new commenting forum
Join thought-provoking conversations, follow other Independent readers and see their replies