Rosetta images: Philae sends back first ever picture from the surface of comet 67P
'Rosetta's lander Philae is safely on the surface of Comet 67P/Churyumov-Gerasimenko, as these first two CIVA images confirm,' say ESA
James Vincent
Thursday 13 November 2014 11:22 Comments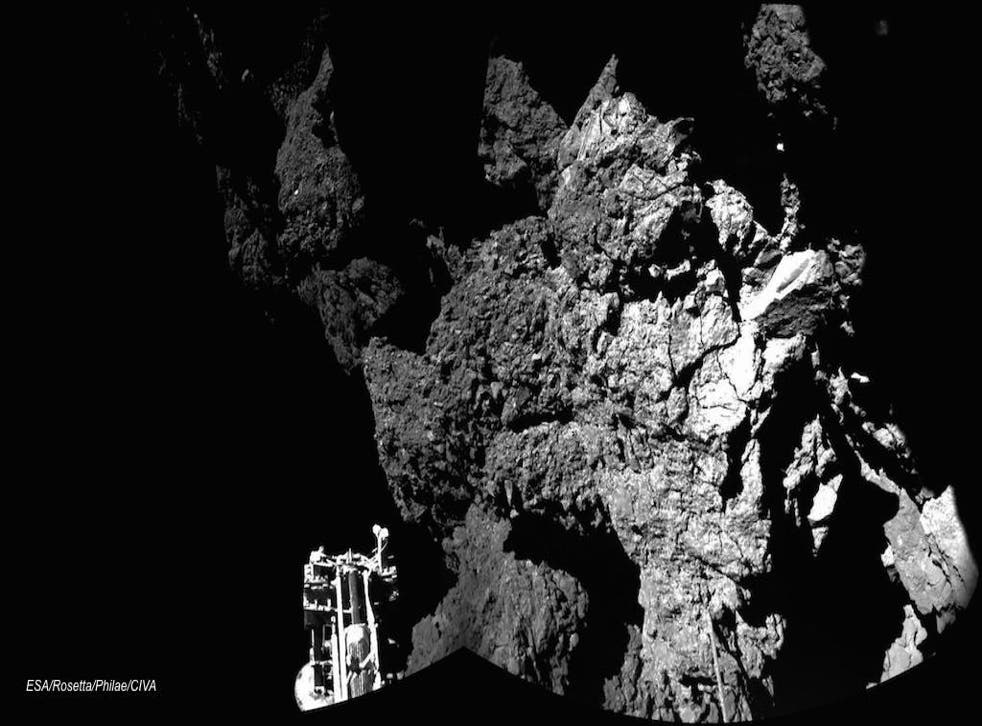 The Philae lander is now safely on the surface of comet 67P – and it's sent back the pictures to prove it.
The snapshot from the probe's CIVA camera will be a relief to scientists from the European Space Agency (ESA) who had a nerve-wracking night after Philae's harpoons failed to fire and the spacecraft bounced off the surface of the comet.
This first image shows one of the lander's three feet in the foreground, but experts have expressed some worry about the "worrying quantity" of shadow in the picture.
Planetary scientist Emily Lakdawalla tweeted: "Why I don't like shadow: bad for recharging solar panels, also may mean low operating temperatures."
In pictures: European Space Agency's Rosetta mission

Show all 22
ESA scientists will hopefully be addressing these issues when the first full panorama from CIVA is released this afternoon at 13.00 GMT, as well as giving more details about the long term stability on the probe.
Although Philae is now definitely safe on the surface of 67P, the failure of the harpoons to connect with the comet's surface means that scientists may be unable to drill for samples - a key part of the mission.
However, the rest of Philae's considerable array of instruments are all operational and even if drilling is out of the question, the lander should be able to analyze the surface of the comet.
Register for free to continue reading
Registration is a free and easy way to support our truly independent journalism
By registering, you will also enjoy limited access to Premium articles, exclusive newsletters, commenting, and virtual events with our leading journalists
Already have an account? sign in
Join our new commenting forum
Join thought-provoking conversations, follow other Independent readers and see their replies