Rosetta mission: Philae comet lander 'ready for operations' as it wakes up and makes first contact in 7 months
In November, scientists landed the unmanned craft onto the distant 67P comet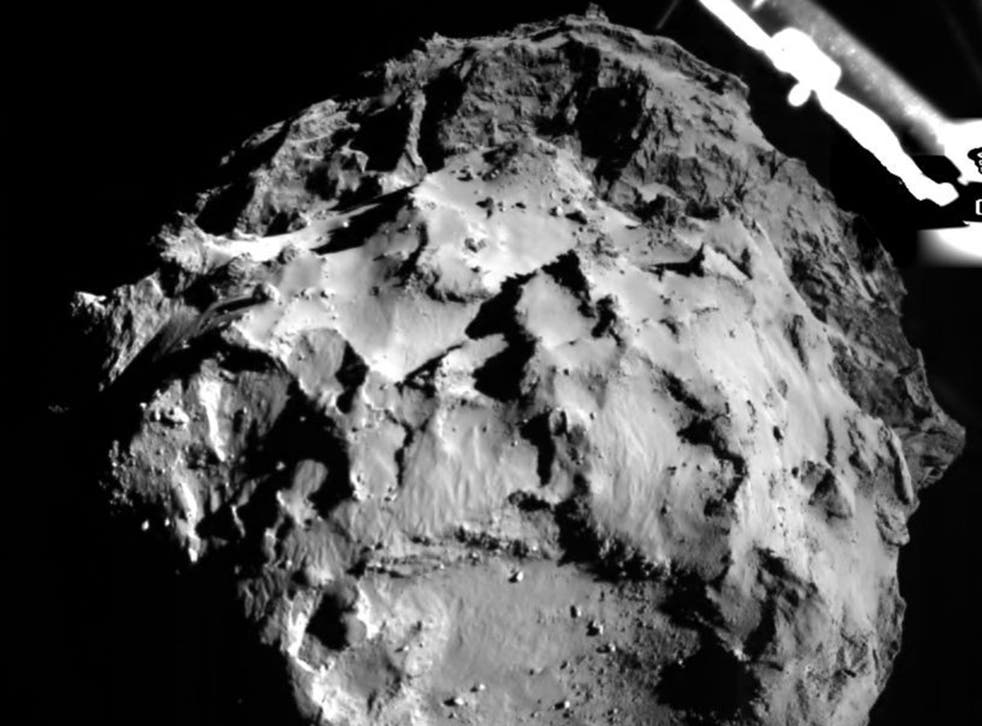 The Philae comet lander which lost power after the historic comet landing has woken up and contacted Earth, the European Space Agency (ESA) reports.
In November, scientists landed the unmanned craft onto the distant 67P comet, which powered down 60 hours after landing.
Moments after announcing the success of the landing, ESA Rosetta mission control announced that the lander's solar-powered battery appeared to be fast running out of power.
The new signals were received at ESA's European Space Operations Centre in Darmstadt at 22:28 CEST on 13 June.
More than 300 data packets have been analysed by the teams at the Lander Control Center at the German Aerospace Center (DLR).
DLR Philae Project Manager Dr. Stephan Ulamec said: "Philae is doing very well: It has an operating temperature of -35ºC and has 24 Watts available."
"The lander is ready for operations."
For 85 seconds Philae "spoke" with its team on ground, via Rosetta, in the first contact since going into hibernation in November.
The ESA reports that when analysing the status data it became clear that Philae also must have been awake earlier: "We have also received historical data - so far, however, the lander had not been able to contact us earlier."
Scientists are now awaiting further contact.
There are still more than 8000 data packets in Philae's mass memory which will give the DLR team information on what happened to the lander in the past few days on Comet 67P/Churyumov-Gerasimenko.
Philae shut down on 15 November 2014 at 1:15 CET. Since 12 March 2015 the communication unit on orbiter Rosetta was turned on to listen out for the lander.
The lander discovered organic molecules on the comet, results of which were sent back from Philae's Cosac instrument (one of the ten named instruments on board) just before the lander went into hibernation.
Philae, which is around the size of a washing machine, bounced over a kilometre when it first touched down on the comet, after a ten-year journey of approximately 500 million kilometres, since its launch in 2004.
The ESA said on Thursday that it may have found the exact location of the comet from images and other data from the mothership, which was previously unknown.
More to follow.
Join our new commenting forum
Join thought-provoking conversations, follow other Independent readers and see their replies