Science fiction becomes science reality as Chile unveils $1.4bn ALMA telescope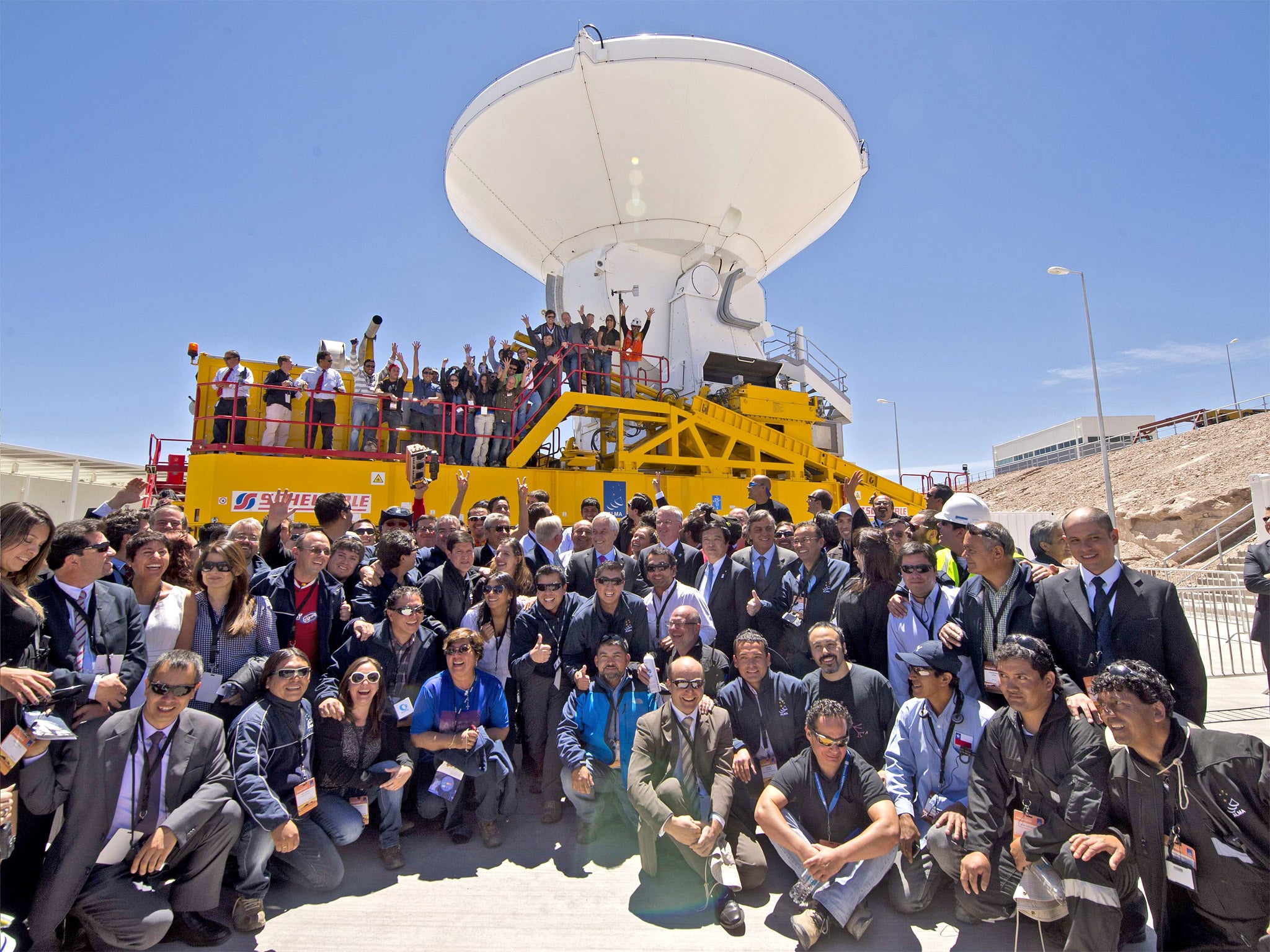 Science fiction became science reality today when a giant telescope imagined in a novel by one of Britain's greatest astronomers 40 years ago was officially unveiled high in the Andes mountains of Chile.
At a command from President Sebastian Pinera, the 66 house sized antennae that comprise the Advanced Large Millimetre Array (ALMA), the world's most powerful radio telescope, turned toward the sky on the Chajnantor plateau 5,000 metres up in the Atacama desert, one of the driest places on Earth.
"Today Chile has become the capital of world astronomy," President Pinera said, speaking from the base station 2,000 metres below the plateau. "Chile is a small country but in astronomy we want to become a real giant."
Earlier, in a greeting from the International Space Station, beamed live to the launch ceremony, US and Canadian astronauts urged the scientists to "enjoy your innovation."
The telescope, built at a cost of $1.4 billion over ten years, detects light that is invisible to the human eye and can see back to "the edge of time." In a paper published in Nature today, observations with ALMA, have shown that the most vigorous period in the universe's history when new stars were being created at a "furious pace" occurred a billion years earlier than previously thought, soon after the Big Bang.
The project is backed by an international coalition of nations in which the European Southern Observatory (EOS), representing 15 countries including the UK, has a 37.5 per cent share. Tim de Zeeuw, director general of ESO, told an audience of ministers, diplomats and scientists at the launch that the telescope had been imagined by Sir Fred Hoyle, the English astronomer and mathematician, in his novel, The Inferno, published in 1973.
In the novel, a plan for a new type of radio telescope detecting smaller wavelengths than were considered useful at the time to study the molecular composition of gases is proposed and its suggested location in Australia rejected in favour of the desert mountains of Chile. "That was written 40 years ago. I thought that was quite amazing, especially on a day like today," said Dr de Zeeuw.
Subra Suresh, director of the US national Science Foundation said ALMA was "big science". "But we should remember that we put a man on the moon before we put wheels on a suitcase."
Small innovations that will benefit humanity would be an important part of its legacy, he said.
Join our commenting forum
Join thought-provoking conversations, follow other Independent readers and see their replies