Scientists' claim to have found the cause of ME is 'premature'
British researchers say US team should have waited for more evidence of viral link before publishing findings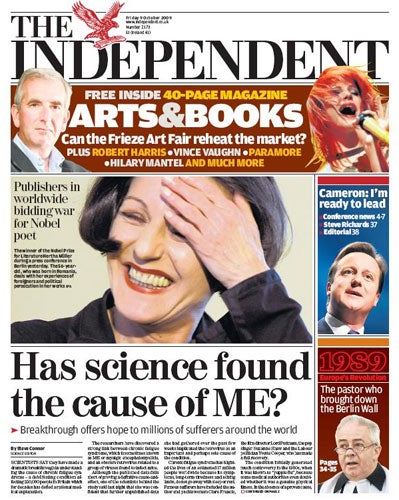 British scientists have failed to find a link between a new kind of retrovirus and chronic fatigue syndrome in a study that contradicts previous findings by American researchers claiming to have found a possible viral cause of the debilitating condition.
The UK scientists could not detect a recently discovered virus called XMRV in any of the blood samples collected from 186 patients with chronic fatigue syndrome, which is also known as myalgic encephalomyelitis (ME). The researchers believe this demonstrates that XMRV is not implicated in the illness, at least not in Britain.
One scientist involved in the latest research also criticised the previous study, which was published in the peer-reviewed journal Science, saying it was premature and that the journal should have waited until there was stronger, corroborating evidence of such a link.
"When you've got such a stunning result you want to be absolutely clear that you are 1,000 per cent right and there are things in that [previous study] I would not have done. I would have waited. I would have stalled a little," said Professor Myra McClure, a virologist at Imperial College London and a leading member of the British research team.
Chronic fatigue syndrome affects about three in every 1,000 people and results in severe physical and mental exhaustion. After the release of the apparent link with XMRV, many patients have asked their doctors about being tested for the virus and whether they should be taking antiretroviral drugs.
The earlier study, published last October, was carried out by a team led by Judy Mikovits, director of research at the Whittemore Peterson Institute in Reno, Nevada. They found the murine leukaemia virus-related virus (XMRV) in blood samples of 68 of 101 patients diagnosed with chronic fatigue syndrome. Just eight out of 101 healthy "controls" drawn at random from the same parts of the US also tested positive, suggesting that XMRV played a key role in triggering the condition. Dr Mikovits told The Independent at the time that further blood testing had found the virus in as many as 95 per cent of patients with chronic fatigue syndrome. She also said that preliminary testing on a batch of blood samples sent from Britain showed that the "same percentages are holding up".
However, Professor McClure's study, published in the online journal Plos One, failed to find any evidence of the XMRV's DNA in blood samples taken from 186 patients who had been diagnosed with chronic fatigue syndrome for at least four years. She also failed to find any virus related to XMRV.
"We are confident that our results show there is no link between XMRV and chronic fatigue syndrome, at least in the UK. The US study had some dramatic results that implied people with the illness could be treated with antiretrovirals. Our recommendation to people with chronic fatigue syndrome would be not to change their treatment regime, because our results suggest that antiretroviral would not be an effective treatment for the condition," Professor McClure said.
The British study was carried out under the most rigorous testing conditions that minimised the risk of cross contamination, Professor McClure said. The testing was also conducted "blind" meaning the scientists involved did not know which samples came from patients and which came from the healthy controls until the end of the experiment.
The DNA test used to detect the presence of XMRV in the blood samples is so sensitive that it would have shown up positive if just one molecule of the virus's genetic material had been present in the blood samples. However, the tests were only carried out on blood. It is possible the XMRV virus integrates its genetic material into other tissues of the body, although this is not supported by the American findings.
Anthony Cleare, reader in psychiatric neuroendocrinology at King's College London, which collected the blood samples, said the apparent link between chronic fatigue syndrome and XMRV generated a lot of excitement among doctors and patients but the latest study had failed to replicate those results.
Join our commenting forum
Join thought-provoking conversations, follow other Independent readers and see their replies