'Screaming mummy' could be hanged prince who plotted to kill his pharaoh father, say archaeologists
Mystery corpse thought to belong to Prince Pentewere, who conspired against the pharaoh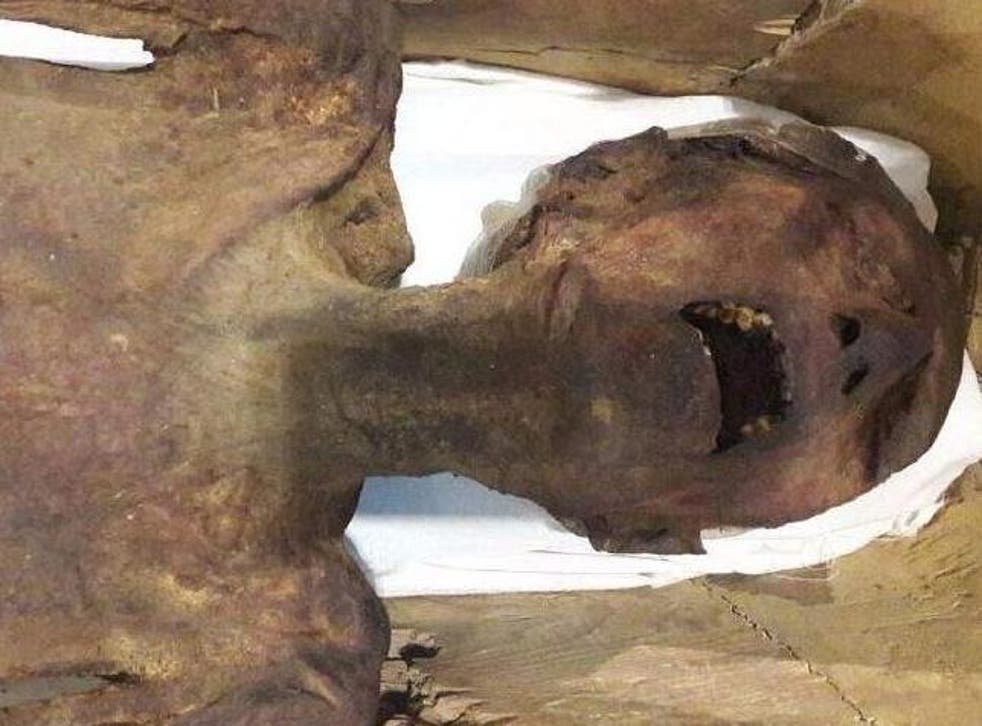 Archaeologists think they have solved the mystery of the "screaming mummy", an ancient Egyptian corpse preserved with its mouth open in a silent scream.
Known as "Unknown Man E", the identity of the body found in the Deir el-Bahari tomb complex in Egypt has long eluded researchers.
However, DNA analysis of the remains suggests they belong to Prince Pentewere, a son of the pharaoh Ramses III who was involved in a conspiracy to murder his father.
Historical records indicate the prince was sentenced to be hanged as a result of his treachery, and marks around the neck of the screaming mummy appear to confirm this account.
The remains are considered strange because they are not, in fact, properly mummified, despite being buried near the mummies of royalty.
Mummification is a complex process that involves removing internal organs and embalming a body carefully.
Instead, the corpse was simply left out to dry and wrapped in sheepskin instead of the fine linen used for most mummies. According to experts, sheepskin was considered impure by ancient Egyptians.
Taken together, the DNA evidence, the marks on the corpse and the manner of its burial suggest it does indeed belong to the disgraced prince.
"The gruesome mummy of Unknown Man E, also known as the 'screaming mummy', has long puzzled scholars," archaeologist Dr Zahi Hawass told Al-Ahram Weekly.
Scanner reveals details of Egyptian mummy inside casket

Show all 8
"Such unusual mummification has perplexed Egyptologists and no one has succeeded in knowing the story behind such a mummy until the launch of the Egyptian Mummy Project several years ago under my direction to create a complete database of forensic information related to the mummy collection at the Egyptian Museum."
The plot against Ramses III is outlined in the Harem Conspiracy Papyrus, which describes how the pharaoh's family, army commanders, servants, women from his harem and magicians all planned to murder him.
The papyrus outlines how the conspirators were captured and trialled, although it does not say whether or not their plot was successful. The only indication of any actual wrongdoing is a cryptic phrase that translates as the "royal barque [boat] was overturned".
Though analysis of Ramses III's remains has revealed he died at the age of 60 and suffered from ill health, scientists do not now think his death was merely the result of old age.
While it was long thought the pharaoh's body showed no signs of wounds, CT scans of his body conducted in 2012 found he likely died after his throat was cut, suggesting the plot may indeed have been a success.
Join our new commenting forum
Join thought-provoking conversations, follow other Independent readers and see their replies