Search for life on Jupiter's icy moons moves a step closer as work starts on Juice spacecraft
The spacecraft will search for evidence of alien life on Europa, Callisto and Ganymede
Lizzie Dearden
Saturday 25 July 2015 15:44 Comments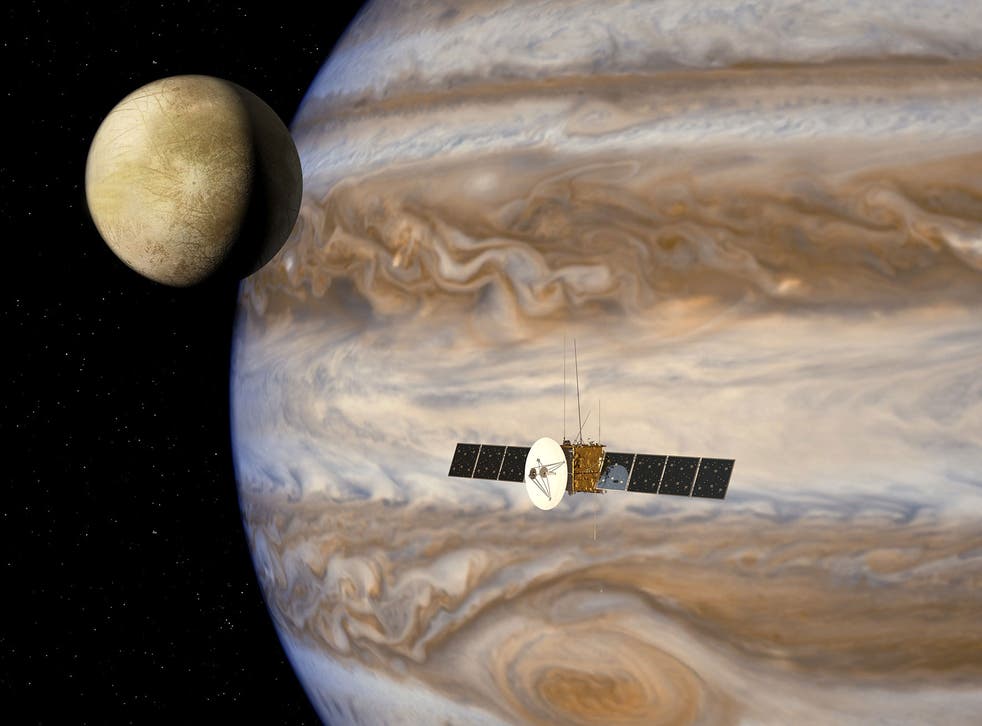 The search for alien life is moving to the icy moons orbiting Jupiter following the discovery of organic materials hailed as the "building blocks of life".
Work is due to start over the coming days on the development of a spacecraft for the European Space Agency (ESA) mission.
Named Juice (the JUpiter ICy moons Explorer), it is scheduled for launch in 2022 and arrive in the Jovian system around Jupiter eight years later.
A spokesperson for the ESA said: "For three and a half years, JUICE will sweep around the giant planet, exploring its turbulent atmosphere, enormous magnetosphere, and tenuous set of dark rings, as well as studying the icy moons Ganymede, Europa, and Callisto.
"All three of these planet-sized satellites are thought to have oceans of liquid water beneath their icy crusts and should provide key clues on the potential for such icy moons to harbour habitable environments."
Two targeted Europa flybys will focus on the composition of material on its frozen surface, and the first exploration below the surface of an icy moon.
In 2013, Nasa announced that data from its Galileo mission revealed the existence of clay-like minerals on the surface of the moon from an asteroid or comet impact.
"Finding the rocky residues of this comet crash on Europa's surface may open up a new chapter in the story of the search for life on Europa," research scientist Jim Shirley said at the time.
Europa is considered by many astronomers to be the most likely place in our Solar System to support alien life because of the combination of water in its subsurface ocean, an energy source and organic compounds.
Jupiter's polar region will also be observed and "frequent" passes of Callisto will assess the moon.
The mission will end with a dedicated, eight-month tour around Ganymede, where the spacecraft will perform detailed investigations of the moon and its interaction with the environment.
Juice will be equipped with 10 separate state-of-the-art instruments, including cameras, spectrometers, an ice-penetrating radar, an altimeter, radios and sensors to monitor the magnetic fields and charged particles in the Jovian system.
Another experiment will combine data from the spacecraft telecommunication system and ground-based instruments.
Juice will be Europe's first mission to reach the largest planet in the Solar System and has been several years in the making.
French company Airbus Defence and Space has been selected as the prime contractor for the Juice project in a deal worth €350.8 million (£250 million), which was struck last week.
The contract covers industrial activities for the design, development, integration, test, launch campaign and commissioning of the spacecraft.
It will be made in Tolouse but developed by teams spanning the UK and 15 other European countries, the USA and Japan, using national funding.
The development comes after Nasa's New Horizons probe took the clearest photographs of Pluto yet, revealing an icy world with glacier-like objects flowing on its surface.
Register for free to continue reading
Registration is a free and easy way to support our truly independent journalism
By registering, you will also enjoy limited access to Premium articles, exclusive newsletters, commenting, and virtual events with our leading journalists
Already have an account? sign in
Join our new commenting forum
Join thought-provoking conversations, follow other Independent readers and see their replies