Astronomers find first 'direct evidence' of snow around another star
'The distribution of water ice around a young star is fundamental to planet formation and even the development of life on Earth'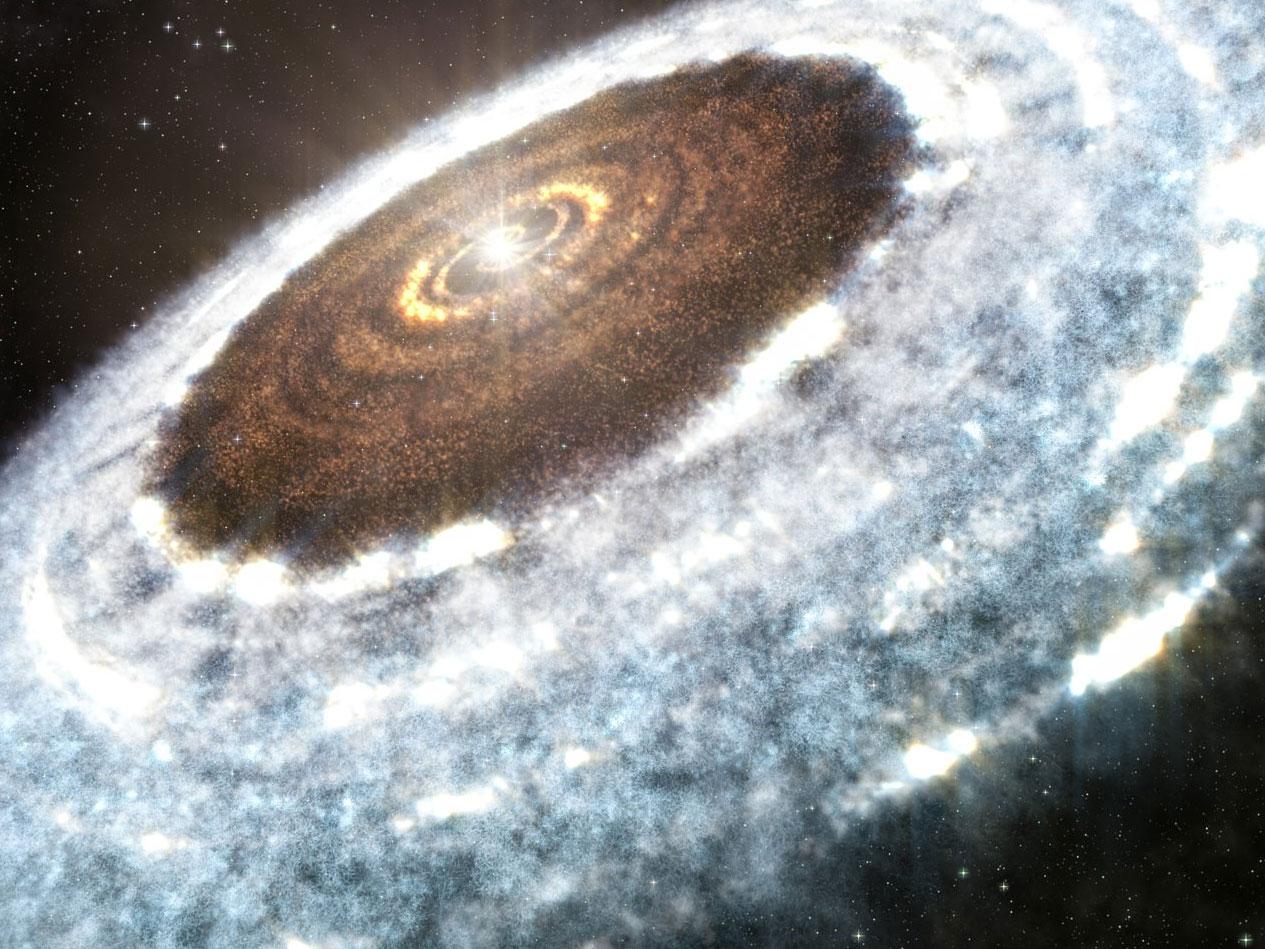 Astronomers have managed to take a picture of the 'snowline' around a star outside our solar system for the first time – a development that could have implications for the discovery of life in other parts of the universe.
A sudden, violent outburst by a young star called V883 Orionis "flash-heated" the disc of material around it and sent the snowline – the point at which it is cool enough for water to freeze – much further away than normal.
This enabled scientists at the Alma telescope in Atacama, Chile, to capture an image showing the yellow star, surrounded by an orange disc, with a dark snowline layer.
The star, about 1,350 light-years from Earth, is so young that planets are still to form out of the disc of material around it.
Dr Zhaohuan Zhu, an astronomer at Princeton University, New Jersey, and co-author of a paper about the discovery in the journal Nature, said: "The distribution of water ice around a young star is fundamental to planet formation and even the development of life on Earth.
"Alma's observation sheds important light on how and where this happens in protoplanetary disks when young planets are still forming.
"We now have direct evidence that a frosty region conducive to planet formation exists around other stars."
It is believed that conditions inside the snowline, where water is vapourised, help smaller, rocky planets like Mars and Earth to develop.
Outside the snowline, the presence of ice allows for the rapid formation of snowballs and comets, which help create massive gaseous planets such as Jupiter.
"Since water ice is more abundant than dust itself beyond the snowline, planets can aggregate more solid material and form bigger and faster there," Dr Zhu said.
"In this way, giant planets like Jupiter and Saturn can form before the protoplanetary disk is gone."
Join our commenting forum
Join thought-provoking conversations, follow other Independent readers and see their replies