Massive supernova explosion may have wiped out giant prehistoric sharks, scientists say
Megalodon may have been among creatures driven to extinction after cosmic particles drove up cancer rates, new study claims
Josh Gabbatiss
Science Correspondent
Wednesday 12 December 2018 15:04 Comments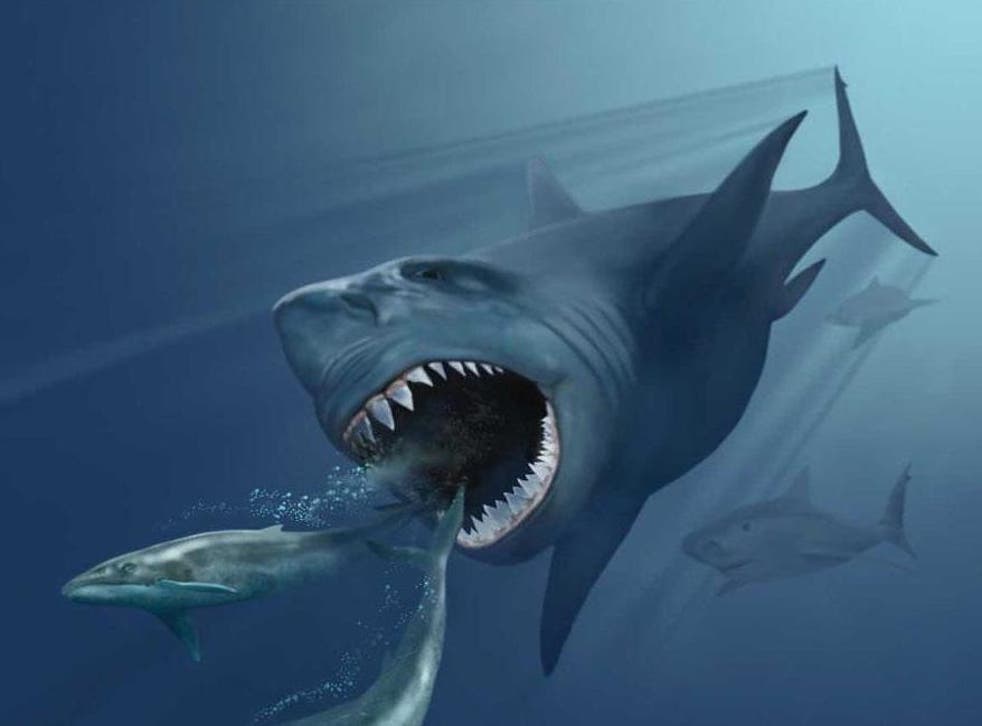 Exploding stars 2.6 million years ago may have contributed to a mass extinction event that swept Earth's prehistoric oceans wiping out creatures like the giant shark known as the Megalodon, according to a new scientific paper.
Cosmic particles from these supernovae showered the planet's surface at such high levels the researchers from the University of Kansas say they may have caused cancers in large marine creatures to spike.
Among the apparent casualties was the Megalodon - a shark the size of a bus - that vanished from the fossil record around this time.
The theory was laid out by a team led by Dr Adrian Melott, a physicist at the University of Kansas, in an attempt to join the dots between different strands of research.
"There really hasn't been any good explanation for the marine megafaunal extinction," he said. "This could be one. It's this paradigm change – we know something happened and when it happened, so for the first time we can really dig in and look for things in a definite way."
To arrive at this hypothesis, Dr Melott drew on his knowledge of historic supernovae and evidence for the impact they had on Earth.
Ancient seabed deposits of iron-60 isotopes – radioactive forms of iron – provided a crucial clue.
Publishing the findings in the journal Astrobiology, Dr Melott claimed there was no other way for these materials to have arrived on Earth except from a supernova, meaning they provided the "slam dunk" evidence for these events taking place.
Further support came from the structure of the surrounding universe. Earth sits on the edge of something termed the Local Bubble – an enormous region of hot, dense gas that astronomers think resulted from a series of supernovae explosions - the explosion of stars that have reached the end of their life.
Due to the structure of this bubble, it is possible that Earth could have been bathed in a cosmic rays, as the explosion bounced off the edges, for up to 100,000 years.
Science news in pictures

Show all 20
During this time, particles called muons would have fallen in large numbers onto the surface of the planet.
Muons – elementary particles similar to very heavy electrons – penetrate deep into living creatures including humans and are responsible for around a fifth of the radiation dose we receive.
Normally this is not a big problem, but with muon exposure increasing by hundreds of times Dr Melott and his colleagues think this could have led to an increase in rates of mutation and cancer.
Larger animals would have been particularly susceptible, as they would have caught a greater dose of radiation.
Support free-thinking journalism and attend Independent events
"We estimated the cancer rate would go up about 50 percent for something the size of a human—and the bigger you are, the worse it is," said Dr Melott.
This could explain why the Megalodon, as well as a third of other large sea creatures, failed to survive into the next epoch of the planet's history, known as the Pleistocene.
Previous work has suggested supernovae around this time could also have killed off small creatures crucial to ocean health by damaging the ozone layer and allowing a surge of UV light in.
Dr Melott said his work clarifying the impact of these star explosions during this key period in Earth's history was "another puzzle piece".
Often, mass extinction events are linked with dramatic changes to the Earth's climate, such as "The Great Dying" 252 million years ago that resulted from soaring temperatures and oxygen levels dropping in the oceans.
Though cosmic rays bombarding the atmosphere could also be linked to a changing climate, the authors of the study admit this is "a controversial claim".
Register for free to continue reading
Registration is a free and easy way to support our truly independent journalism
By registering, you will also enjoy limited access to Premium articles, exclusive newsletters, commenting, and virtual events with our leading journalists
Already have an account? sign in
Join our new commenting forum
Join thought-provoking conversations, follow other Independent readers and see their replies